<- What's New! ->

---
3 Steampunk Classes on CDs
by Susan Barmore
A Flying Blimp, A Steampunk Mermaid and Steampunk Wenzel!
New Sizes of Doll Joints
Five Sizes from 20mm to 55mm
New Straight Wool Colors
~ Chestnut ~ Charcoal ~
Did you know we also have 6 Colorful Blends of Varigated Straight Wool?
BacK In Stock

Cloth Doll Inspirations and Cloth Doll Making DVDs by Patti Medaris Culea
Click Here!

~ GRRRIP GLUE ~
~ All Sizes of Hemostats ~

~ Barbara Willis Stuffing Forks ~
~ All Colors of Tibetan Lamb ~
---
Don't Miss Out...
January 2017 Sale
20% Off Patterns in our
Animal Category!
---
New PDFs on Etsy..
.Click HERE!
---
---
DOLLMAKERS JOURNEY
DOLL-ARS!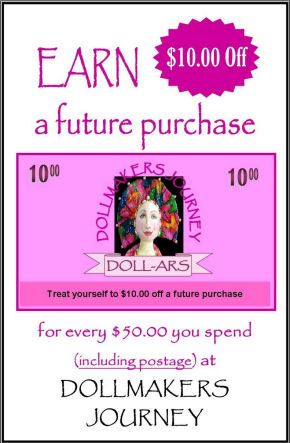 You will receive $10 worth of Dollmakers Journey DOLL-ARS For every $50 spent on an order (including the postage fees) to use on a future purchase .
That's just like getting a FREE pattern or having your POSTAGE PAID on your next order!
---
Now On Facebook!



Special Coupon for FANS!
"Like" us on Facebook!
---
FREE
Tips and Techniques
Videos!
---