Newest Pattern!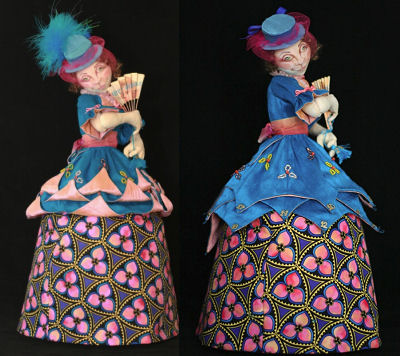 Counting Down the Days

The cleverly designed 1860's period costume of this shapely, free-standing 16.5" doll is full of surprises. Each point on the doll's overskirt can be looped up and hung from a bead, either to create a different look or to serve as an Advent Calendar marking the passing of each day before Christmas, thereby revealing the lining underneath and creating a whole new look for the doll in the lead up to the holidays. Construction details include applied eyelids, making a separate neck, opposable thumbs and a simple wire armature.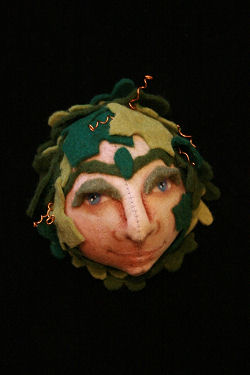 The Green Man

Make a 2-1/2" male cloth doll face learning the tricks of drawing, needle-sculpting and coloring. The finished face could be used as a brooch, fridge magnet or ornament.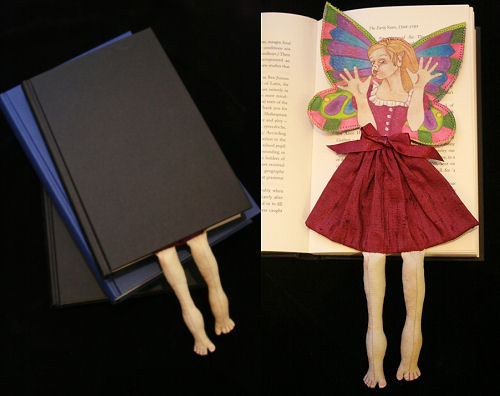 Dive Into A Book Bookmark

With a flat upper body this little 12" fairy looks like she's taken a dive into a book and been accidentally sandwiched between the pages until she was squashed flat. You'll learn the basics of stuffing and needle-sculpting tiny toes on her 3D legs and how to print onto fabric.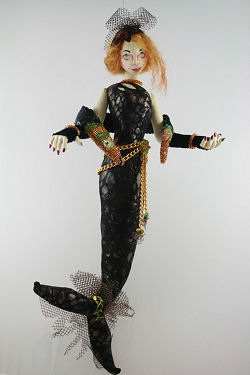 Fathoms: A Deep Sea Mermaid

The extremely simple wire armature of this mysterious 18" creature makes her strong enough to hang keys from her tail fins! You'll learn to use a heat gun to create a shaped felt hat, how to create stunning accessories for this deep sea beauty using bead embroidery and beaded peyote and so much more. Colleen's 22 pages of impeccably detailed instructions and photos are presented in PDF format on CD along with hard copies of the supply list and pattern pages.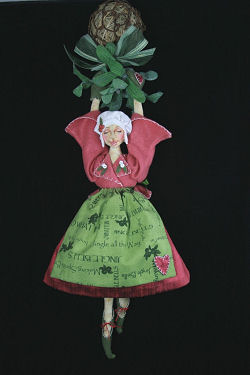 Give Us A Kiss

This wonderful 15" doll suspended from a grapevine ball with mistletoe
combines simple shapes with lots of character. Blanket stitch detailing
adorns her festive costume. A delightful project for dollmakers of all
skill levels.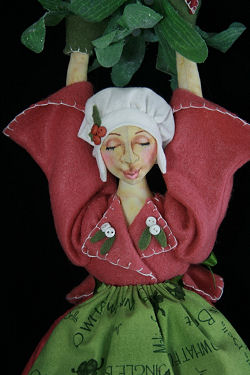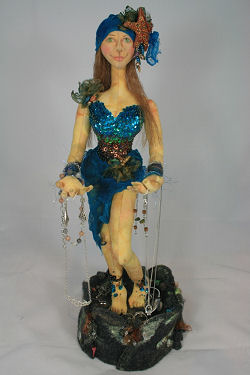 Treasures of the Deep

There's much to learn while making this 15" siren of the sea including drawing and sculpting the face, inserting the wire armature, wefting hair, fulling a sweater to create your own felt for the base, dying cheesecloth and beading the sequin bodice. The pattern also includes a FREE alternate fabric bodice pattern for those people who struggle with hand beading. Best of all this beauty can be used to store and display your jewelry.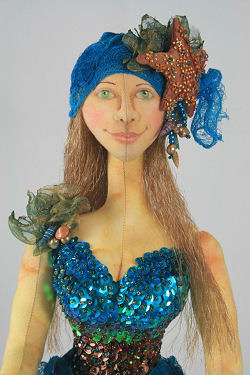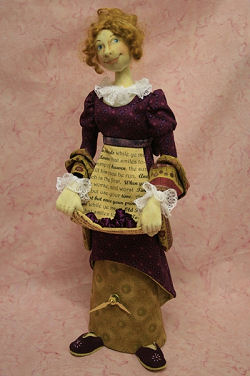 Gather Ye Rosebuds

Detailed instructions will guide you through every aspect of making this fabulous 15" cloth stump doll with a working clock built into the base. Learn how to draw and sculpt the beautiful face, create the stump base out of thick felt, print the apron fabric on your computer, insert the clock and craft the small details like the ribbon roses and tiny leather shoes.
BONUS: The pattern includes exclusive access to a FREE mini online class
with detailed step-by-step color photos for creating the doll's face.

Kit Available Below...
---
Gather Ye Rosebuds Kit

Highly recommended for the creation of "Gather Ye Rosebuds" the kit contains
1/4" thick felt, a clock movement and tiny gold clock hands PLUS exclusive
online pattern bonus for "Precious Time" a magnet or pin doll holding a
clock made from a reclaimed watch face.
Kit does NOT include PATTERN.
Must be PURCHASED SEPARATELY (above).
TEMPORARILY UNAVAILABLE