Patterns by
Barbara Graff
Meet Barbara - Click HERE!
Click on pictures for larger view.
---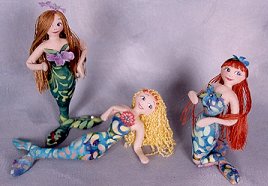 Mermaids in Miniature
These adorable little 5-1/2" sea creatures with embroidered hair are wired so that they can sit, stand and recline.
---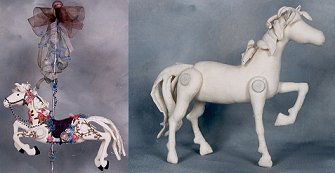 Fine Equinery in Miniature
This amazingly versatile 7" horse in 1/12th scale can be made
standing, running or jumping. Pattern includes illustrated section
on silk ribbon embroidery.
TEMPORARILY UNAVAILABLE
---
Fine Equinery
This remarkable 13" horse with a slightly needle sculpted
face presents endless creative possibilities. Pattern variations
enable you to make it standing, running or jumping. The mane
and tail can be made quilted and wired or with fiber.
Optional unicorn horn and saddle are included.
TEMPORARILY UNAVAILABLE
---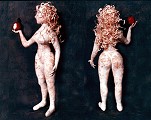 Woman
Enchanting woman's body in 2 sizes -32"
and 16" - with arm and leg variations.
Click HERE to View/Print Supply List!
TEMPORARILY UNAVAILABLE
---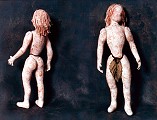 Man!
The patterns for this well-formed 16" and 34" male
bodies include arm and leg variations allowing you
to create a doll in any position. Shoulders are
button jointed. No clothing patterns are included.
---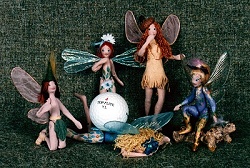 Faerie Frolics
There's no end to the fun you'll have making
these enchanting, bead-jointed faeries in 3 sizes:
5.5" man, 5" woman and 4.5" child!
TEMPORARILY UNAVAILABLE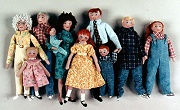 Dollhouse Family
8 different sizes of poseable, playable dolls in 1/12 scale with both old fashioned and contemporary costuming.
TEMPORARILY UNAVAILABLE
---
Back to... Pattern Index Page