Leather and Tools
Back to... Dollmaking Supplies Page
---
Note:

Since all leather pieces are cut from full hides, there may be some irregularities such as holes or outside edges, but each customer is assured of receiving a large useable piece that has at least 72 square inches in each piece. Most pieces are rectangular, but in the event there is a flaw, you will receive more leather to compensate.
---
Velvet Pigskin Suede
Improved - now washable! Buttery soft, premium "velvet suede" is the softest and most supple, luxurious suede leather offered today. One side is suede and the other side has a slight texture. Light enough for year-round wear; it's easy to sew on most home sewing machines. Sews like fine fabric, but wears like denim. Perfect for thin flexible shoes such as Turn shoes and Ghillies (see March Doll for All Seasons Irish Colleen shoe patterns.) Good for doll garments also. 1.5 to 2 oz weight.
12" x 6" piece - $6.00
Sheer Suede
These 2 to 3 oz. weight suede cow splits are the softest and lightest we've ever seen. Four earth tone colors with velour-like surface on both sides, this sheer suede leather is perfect for doll shoes.
12"x 6" piece - $6.00
Select color below
Round Leather Lace
1 mm x 2 yards. This unique leather lace is cut from the center of the hide with a round bevel for uniformity. Perfect for creating jewelry, doll shoe laces, and laced garments.
Price: $1.95
Select color below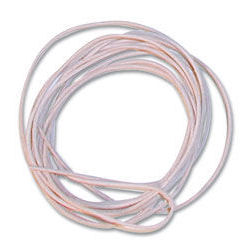 Natural