Patterns by

---
Meet Madeleine - Click HERE!
---
Click on pictures for larger view.
Fiddly Little Fingers & Tricky Toes CD
By Madeleine Maddocks

The excellent tips and useful step-by-step information on this fantastic CD will have you making those wired finger hands and toed feet easily and effectively. You'll also find a wealth of background information on preparation, suitable fabrics, tools and illustrated do's and don'ts. As a BONUS you'll receive complete instructions for the blissful "Pampered Polly" (Pictured Below) with her perfectly manicured fingers and toes.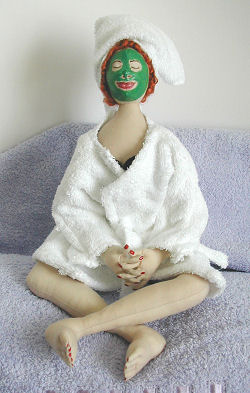 Pampered Polly
| | |
| --- | --- |
| Beaded blackberries, textile leaves, silk blackberry flowers and fringed eyelashes embellish this lovely 22" woodland nymph that takes her name from Rubus Fruiticosa - the Latin phrase for blackberry. | |
| | |
| --- | --- |
| A crocheted and beaded "seaweed" necklace and a tail embellished with stumpwork, beads and embroidery adorn this voluptuous 14" mermaid with needlesculpted features. | |
Cushionella

The body of the imaginative 22" doll resembles a pile of beautiful cushions!