Mimi's Mannequins and Pattern Draping DVD


Mimi's Mannequins and Pattern Draping DVD
Mimi's Mannequins and Pattern Draping is finally finished and it is spectacular! We have condensed the 4-day dollmaking workshop and the 2-day pattern draping workshop into almost 6 hours of classroom video full of techniques for dollmaking. We began this project almost 5 years ago, and we got interrupted by cancer. Now we're back on track with the best dollmaking workshop ever.
Mimi's Mannequins presents quarter-scale male and female mannequins as separate patterns with a single set of instructions for both. The Mannequins workshop is all about techniques and the similarity of the human form. Mimi's Pattern Draping shows you how to create patterns for clothing that will fit your own dolls. It uses the mannequins as tailor's dummies for draping the clothing patterns.
In addition to the video, Mimi's Mannequins includes:
A Shopping List e-book that you can copy to your phone or tablet (or print out) to take to the crafts store with you.

The pattern sheets can be printed on your own printer, or you can take them to an office supply store or copy center.

After watching the videos, you can use the included step-by-step, photo-by-photo storyboards on your phone, tablet, or computer to make the dolls and clothing. You can refer back to the video anytime you need it.

Who is it For?

The go-at-your-own-pace, step-by-step, picture-by-picture storyboards make Mimi's Mannequins & Pattern Draping suitable for all levels of doll makers from beginner to advanced. You need some hand sewing and machine sewing experience, and it's not really for first time (novice) dollmakers. It is particularly good for those who have trouble fitting clothes on dolls.
Back In Stock!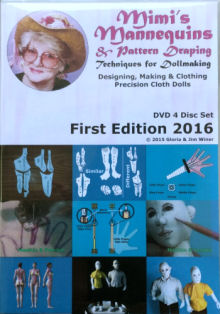 ---
---
Mimi Winer's Storyboard Workshop CDs

Techniques You Can Apply to All of Your Dollmaking
Each workshop has complete step-by-step construction photos
with written instruction for each photo.
You will LEARN HOW to make beautifully constructed dolls and get a treasure trove of Mimi's TIPS and HINTS for making it easier.

Universal Toddler CD

Learn how to needle sculpt beautiful facial and body features with this updated classic pattern that comes with complete instructions for 9 different sizes from 12" - 36" along with Mimi's Tubtime Toddler Clothing, a variety of hairstyle options and much more.
Back In Stock!
---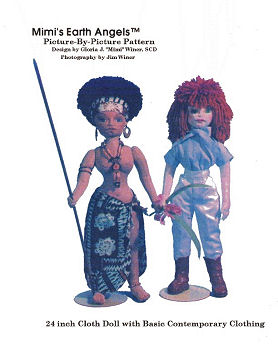 Earth Angels CD

This updated CD provides a comprehensive doll making course for a beautiful, full figured fashion doll that comes in both 17" and 24" sizes. A complete wardrobe is included along with instructions for ethnic variations.
Back In Stock!
---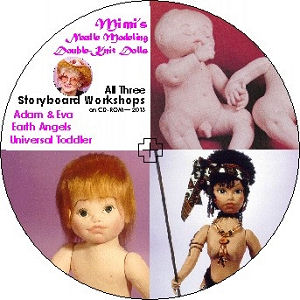 Needle Modeling Knit Dolls CD
| | |
| --- | --- |
| Get BOTH the Universal Toddler and Earth Angel on one CD along with a third BONUS pattern – Adam & Eva – 14" and 16" baby dolls with optional sexing and complete layette that includes clothing, a bunting and beautiful crocheted sweater set and blanket. | |
---