Patterns by
---
Newest Pattern!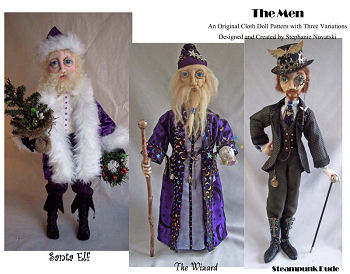 The Men CD
You'll be able to create 3 distinct 22" stand-alone dolls from this incredible pattern. Pattern includes directions for cloth-over head with set in eyes made from wooden beads, lace up or non-lacing leather boots along with many more costume and embellishment variations.
Newest Pattern!



Soprana CD
You'll find an array of amazing embellishment techniques in this highly detailed pattern. Learn to create the exquisite body fabric using stencils, paints, hot glue and gold leaf of this gorgeous mermaid that comes in two sizes 17" & 22".

Flirty Flora CD
This fully armatured 16" beauty comes with two fabulous costume, hair and base variations. The CD contains 57 pages of detailed instructions and over 150 photos and illustrations to guide you through every step of construction.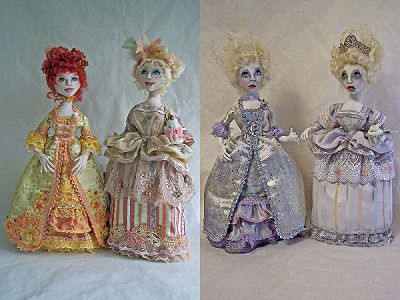 Ladies of the French Court CD
Based on a portrait of two famous Antoinettes – Marie and Jeanne – these exquisite 19" stump dolls are dressed in gorgeous period costumes. The pattern includes two body and costume versions and also Ghostie variations of each. You are going to love the easy costuming techniques!

Year of the Witch CD
You'll find endless costume variations plus hand, feet and head options for these 16" witches on this amazing CD with 24 pages of directions along with a BONUS pattern called Barefoot Valentines that was seen in Doll Crafter & Costuming.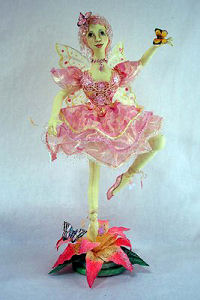 Dances With Butterflies CD
The CD for this extraordinary 24" beauty includes 60 pages of instructions featuring a Lace Dying Tutorial, Full Color Face Coloring Addendum along with an 18" version of the doll.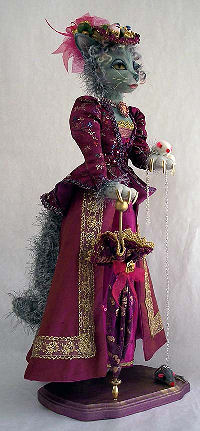 Madame Le Chat CD
This regal 24" femme feline in elegant Victorian dress has a full armature but no fingers to turn or face sculpting. The pattern has about 50 detailed construction photos to guide you through every step of this magnificent project.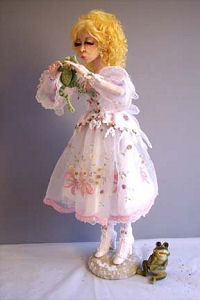 One Kiss Is Not Enough!
The pattern for this fabulous 22" fully armatured doll is absolutely packed with photos and wonderful embellishment techniques that are sure to enhance your dollmaking skills. Instructions for the frog are included.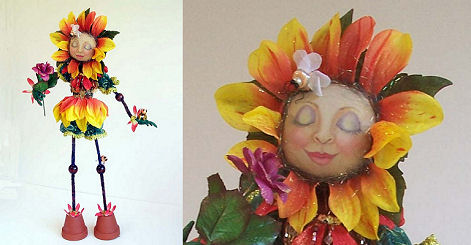 Bee's Knees
You're going to have a grand time constructing this delightful 23" mixed media doll with a beautifully painted face.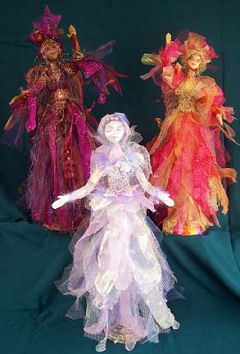 Dream Girls - Ephemeral Angels of the Night
The upper body of this fantastic 18" mixed media figure is cloth that is inserted into a paper towel tube covered with tissue and paint. Her "clothes" are strips of sheer fabrics and embellishments that give this angel a glorious effect.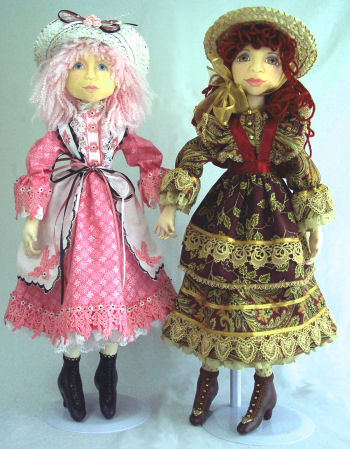 Lady Ragalia
This charming 21" ragdoll with articulated fingers and painted shoes is decked out in Victorian style elaborately trimmed dress, apron and bloomers. Pattern inlcudes an additional 3 page sheet with color photos detailing Stephanie's special face painting techniques.