Patterns and Books by
---
Those Hair Raising Experiences
By Virginia Robertson

This little booklet is jam packed with solid instructions and tons of helpful illustrations for creating a variety of hair applications for your dolls using roving, yarns, mohair, Tibetan Lamb or even appliquéd fabric. A very handy reference guide!

Temp. Out
---
Newest Pattern!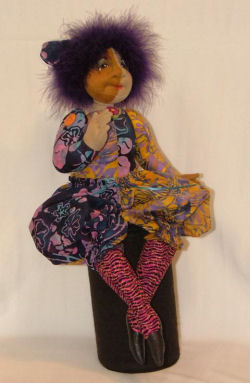 The Shadow Doll

This 16" seated doll is a fun study in using light and dark knit fabrics for the body and mixing up to 12 different fashion fabrics for the clothing.
---

(See all Virginia's cloth doll patterns below her books)
Click on pictures for larger view.

Books


Wing It
By Virginia Robertson
You'll find a ton of ideas for creating the perfect wings for your fairies, angels and other mythical creatures in this well written book. Among the many techniques presented you'll learn shadow appliqué, machine appliqué, wire armatures, fabric painting and quilting. Several sizes and styles of wing patterns are included for your use.
Making Faces
By Virginia Robertson
This classic 34 page booklet is packed with a wide variety of faces - from cartoon-like to very realistic - for you to copy along with solid instruction from Virginia.
Needle Sculpting Cloth Doll Faces
By Virginia Robertson

Packed with color photos, this book walks you step-by-step through face sculpting and painting using a variety of doll making materials including several kinds of knits and woven fabric. Special attention is given to drawing dark doll faces. A wonderful basic doll pattern is included along with a step-by-step tutorial on finger turning. No question about it – this book is a MUST HAVE for your reference library.

By Virginia Robertson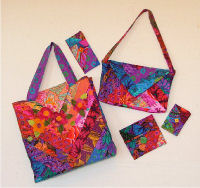 Big Bag & Accessories
You'll be quilting as you go with 2.5" strips to create all five of these
fabulous projects: a roomy 15" x 15" x 6" bag, smaller purse, needle case,
notions wallet and glasses case.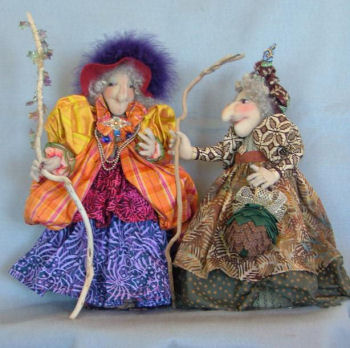 Desert Crone
Two different costumes transform this 16" stump doll with wired fingers and
glass eyes into different characters.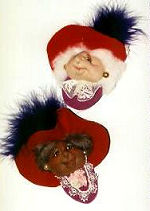 Red Hat Lady Pin
Learn to sculpt a dimensional face and create a funny character to wear to the next doll club or Red Hat event.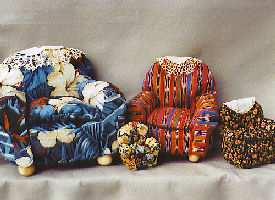 Aunt Cora's Chair
You can select from four different sizes ranging from 16", 12", 7" to a mini 5" pincushion when making this over stuffed chair created from fabric, batting, cardboard and wooded thread spools.