Patterns by

Meet Cynthia - Click HERE!
Click on picture for larger view.
---

Well Wishers
Have you ever wished someone well? These marvelous 12" stump dolls with three different bright, colorful faces and clothing bursting with pattern and embellishments are the perfect representation of your special wishes.
Click HERE to View/Print Supply List!
---
Little Patterns for a Little Price!
You'll be getting more bang for your buck with this charming collection of doll pins ranging in size from 5-8" that can easily be enlarged to 10-16" making great wall dolls!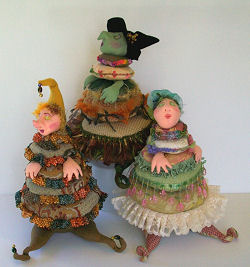 Stackables
Dig into your stash and use up your scraps to make the three adorable 10" -
12" characters in this one great pattern - Witches Charm, Elfish Wonder and
Tickled to the Tips of My Toes!
Click HERE to View/Print Supply List!
---
---