Patterns by
Judi Ward
---
Click on pictures for larger view.
Fingers, toes, ears, nose, bellybutton, bottom and 13 joints! This wonderful 27" doll is shaped like a little girl about 6 years old and has a lovely, lightly needle-sculpted face using Judi's "Practically Foolproof" one stitch methods. Make yarn hair or put a real doll wig on your fabulous Dahnia. Patterns for her beautiful dress, pinafore, pantaloons, shoes and stockings are included with the doll pattern.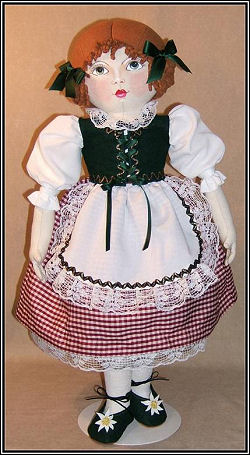 Hannah Maggie

This 21" vintage style doll in Bavarian dress has felt hair, terrific
underlining techniques and an optional weighted bottom for good sitting.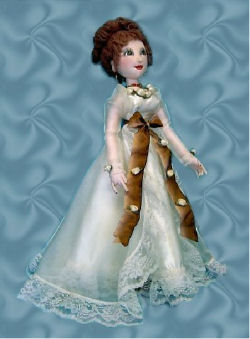 Savannah
For intermediate or advanced dollmakers, this beautifully detailed 25"
fashion doll is invisibly jointed at the hips and shoulders. Learn Judi's
famous clay-in-the-nose technique and so much more.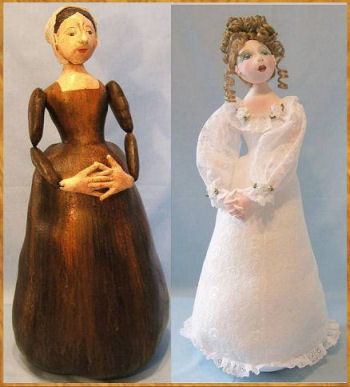 Wooden Reproduction with Supplement
Learn the painting techniques that make stuffed fabric look like carved wood
on this wonderful 21" reproduction stump doll. The Supplement includes
instructions for making a beautiful and versatile unpainted version that has
a breast plate. Full color patterns include 125 photos.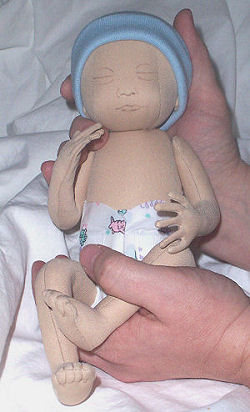 Preemie Doll Pattern
by Sandy Eding
Adapted from Judi's newborn pattern, this doll has been developed to be as
realistic as possible and increase understanding of premature babies.
Instructions included for making 13 through 40 week gestation baby dolls.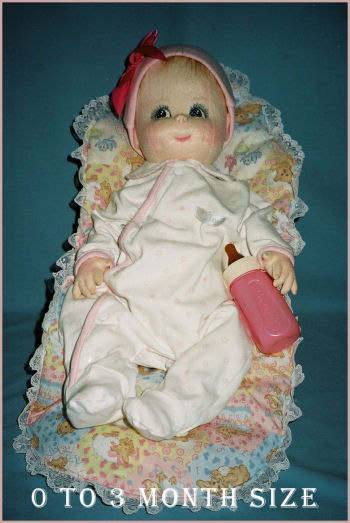 0 to 3 Months Size Baby
Realistic 21" newborn baby that can wear real baby clothes as pictured or you can use the included clothing pattern to make your own topper, panties and bonnet.
The doll has slender arms and legs, and may be weighted if you desire.

Click HERE to View/Print Supply List!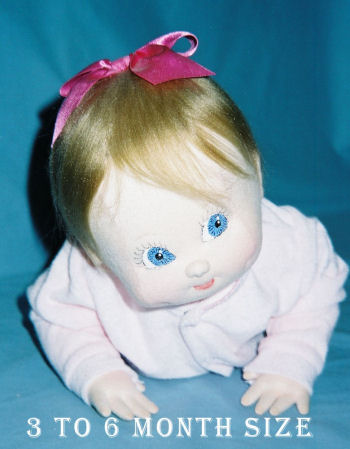 3 to 6 Months Size Baby
Realistic baby doll about 24" long. Designed to lay on her tummy, or sit with her hands in her lap, just like a real baby learning to sit up. Clothing patterns for pajama set much like the one she is pictured in here are included.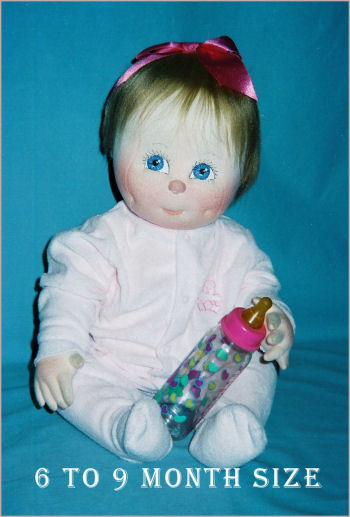 6 to 9 Months Size Baby
Click HERE to View/Print Supply List!
Sweet 26" baby with bent legs can sit up all alone. Clothing patterns
include a cute round yoke dress, panties and Mary Jane shoes.
Realistic 28" tall, chubby, stout little toddler. She stands all alone if you put real baby shoes on her! Her fat little legs are just adorable! She has 2 arm styles too. Clothing patterns included are a one piece, bubble sun-suit and a jumper to go over it. Also High Top walking shoes.