Barbara Willis Designs
Cloth Doll Sewing (Doll Making) Patterns, Books, Face Stamps and Stuffing Forks by
---
Click on pictures for larger view.
---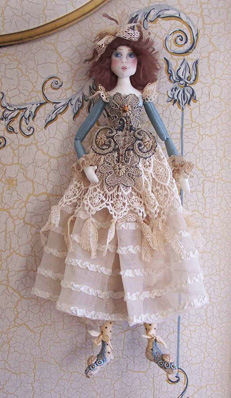 "Prilly"

This beautiful 17" doll has a frilly dress and sassy hand painted face.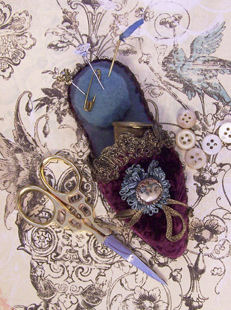 Petite Slipper Thimble Holder

A girl can never have enough shoes! Here's an adorable 5" vintage thimble holder and pincushion to add to your collection of favorite sewing notions.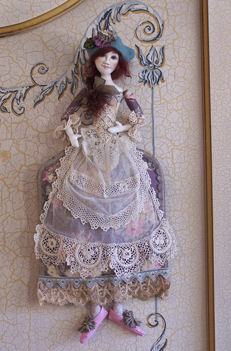 "Monique"

You'll find step-by-step instructions and photos for developing a beautiful knit face on this gorgeous 16" wall doll. Her uniquely constructed body is made of woven cotton fabrics.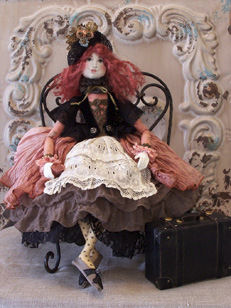 "Prudence"

Shaped leather shoes and a lacy hat give a vintage costuming look to this 15" seated doll with wired mitt hands.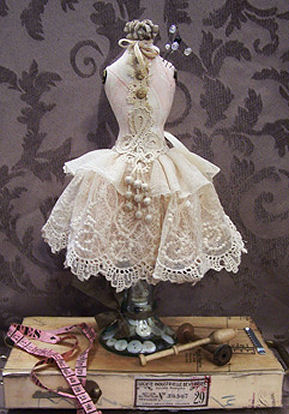 "Pincushion Diva"

This adorable pincushion stands about 8" atop a candlestick or pretty glass bottle. Use your vintage laces and fabrics or go completely modern.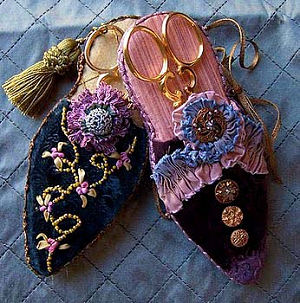 "Victorian Slipper Scissor Holder"

The top of this exquisite 7" Victorian slipper holds your favorite scissors and the slipper opens up booklet style to yield a needle holder and a safety pin keeper. So perfect for those special trims and fabrics you have been collecting.
Click HERE to View/Print Supply List!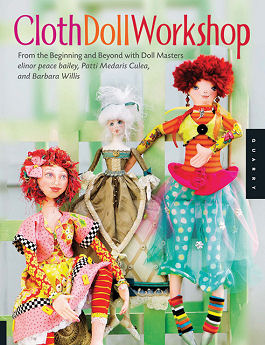 Cloth Doll Workshop
From the Beginning and Beyond with Doll Masters
elinor peace bailey, Patti Medaris Culea and Barbara Willis
Each of these leading doll artists has her own distinct approach to the design and development of a cloth figure. In this book, each artist's process will come alive through their choice of fabrics, sketches, simple patterns, and skill-building variations. No matter what experience level you are, you'll find unique variations and embellishments to get your creative juices flowing. Two introductory chapters cover basic materials and techniques. Each artist's chapter includes step by step illustrations, instructions, and patterns to make a complete doll, plus variations that create completely new figures. Readers are treated to full color photography and a look inside of each artist's workspace. A gallery of additional creations by each artist, along with commentary on each work completes the collection. This is a must-have book for any aspiring or experienced doll maker
Cloth Doll Artistry
CLoth Doll Making Book by Barbara Willis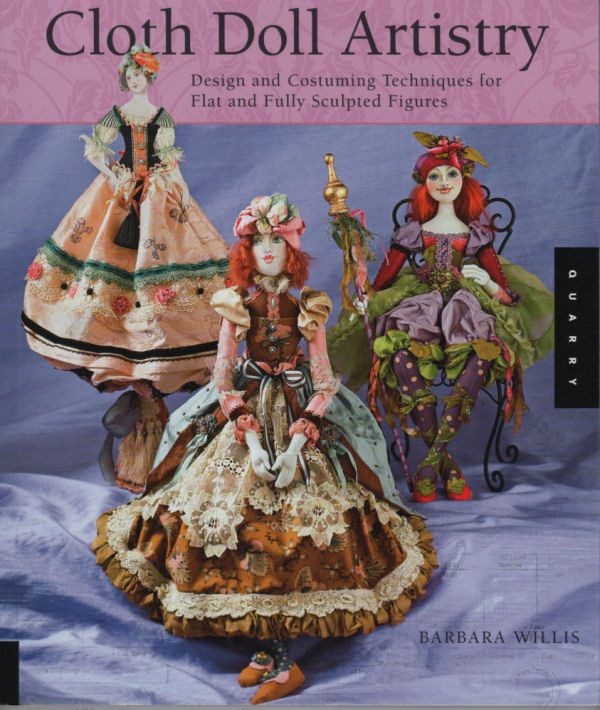 In this unique and beautiful book, beloved doll-designer Barbara Willis guides readers through various approaches to doll design and basic and advanced construction techniques. Through the creation of three complete step-by-step projects with 200 photos and illustrations, readers will develop color boards, learn to use vintage images, create both 2-dimensional and 3-dimensional cloth dolls, learn sophisticated costuming techniques, and gain knowledge of elaborate soft sculpting. A gallery shares the inspirational work of several well-known doll artists who have created their own versions of each project. Complete patterns and templates are included.
---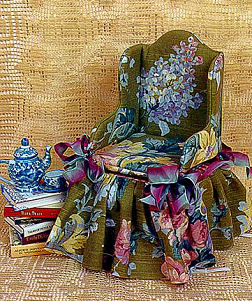 "Fancy Fold Flat Chair"

Just untie this lovely 12" wing back chair and it folds flat!

Click HERE to View/Print Supply List!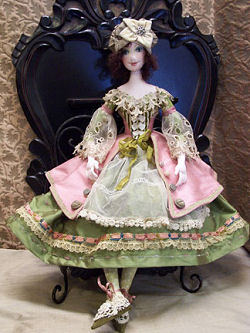 "Chelsea"

Learn facial development and coloration along with wonderful costuming
tricks while making this enchanting 20" beauty.
Click HERE to View/Print Supply List!
Temporarily Unavailable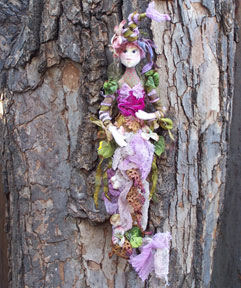 "Bliss"

This simple but expressive 13" wrapped doll is a great beginner project or for those who just want a fun play day!

Click HERE to View/Print Supply List!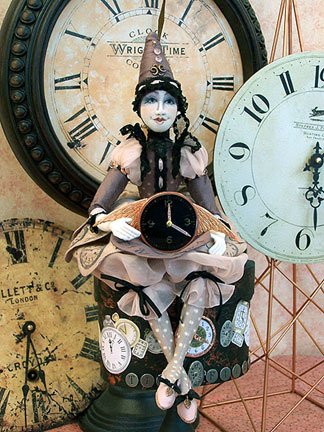 "Time Flies"

Making this exotic 14" seated doll with sculpted knit face, button jointed hips and shoulders and wired hands is only half the fun. Pattern includes instructions for fabric stamping, collaged stand and handmade winged clock.
An exciting series of dolls presented in a teaching progression to help you build the skills to make wonderful cloth dolls! Optional face stamps are offered with each doll that progress in terms of facial features, shading and overall coloration.