dream - imagine - create - grow- believe - magic

---
---
---
Note about "Printed and Mailed" patterns and "PDF Download" patterns....
All patterns sold from the main website (dollmakersjourney.com) are in the Print Format and Mailed to you!


The PDF Download (E-patterns) are all sold on our Etsy Site (ClothDollPatterns)

---
---
---
---
Dollmaker's Journey: Frequently Asked Questions


---
---
---
Dollmaker's Journey has been a proud sponsor for All 10 Years!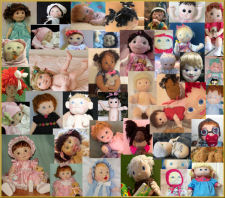 We are a proud sponsor of the
Doll Net's
1oth Annual Cloth Baby (and Animal)
Doll Challenge!
---
ANNIE LA BOUCHE CHALLENGE
The Winners Are...
Click HERE!
---
HALLOWEEN CHALLENGE
And the Winner is...
Cloth Doll Making Supplies, Hair, Fabric, Books, CDs, Patterns and More!
---
Lost and Found!
We have been doing inventory and have found a number of patterns and other items that were not on the website?? As we add these to the site we are also putting them in the "Lost and Found" category!
---
---


A Doll Net Member Site
by the Internet Visions Company.
---
15% Off - Natural Handmade Soap!



4 New Bars Added! - CLICK HERE!