Tracing the pattern:
Click HERE to print pattern.

Between the dotted lines on the top and the bottom of the body pattern add your neck measurement. Then trace pattern onto a folded piece of freezer paper. Open pattern and iron onto wrong side of fabric. Place two pieces of fabric RST.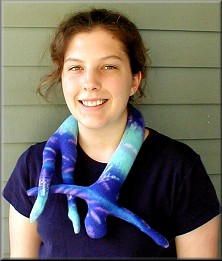 Stitch around the edge of the freezer paper pattern, leaving an opening of about 2" just under the arm of one side for turning and stuffing.
Turn right side out after clipping all curves. Stuff legs and arms with fiberfill. Stuff the head down to under the arm area.
Use the funnel to fill the rest of the body with rice or beans, although the rice seems to retain heat longer. Do not fill too firmly, because you want the body to wrap around your neck. Securely stitch opening closed, especially when using rice or wheat, so no grains escape.
Heat in the microwave for about 1 minute and no longer than 2 minutes. Wrap doll around your neck, sit back and relax. Store in a large ziplock bag when not in use.
WARNING! Do not use a fabric with metallic threads of any kind or sew with metallic threads as your doll will catch fire when heating in the microwave. We recommend you use a patterned fabric for this project, eliminating the need to paint a face or add hair or clothing, as some paint and yarn will not be safe in the microwave.