~ ~ ~ ~ ~ ~ ~ ~ ~ ~ ~ ~ ~
Featured Designer!
Laurie Wagner
Prairie Crocus Studio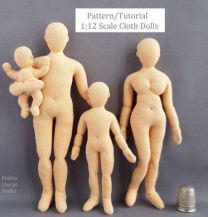 Miniature Mannequins - 1/12 Scale.
Click HERE
Also Check Out Her Plus Size Manequins!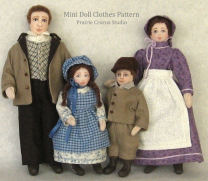 Pioneer Costumes For Miniature Mannequins Family
Click HERE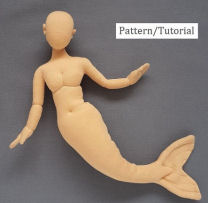 15" Mermaid Mannequin
Click HERE
---
New Pattern!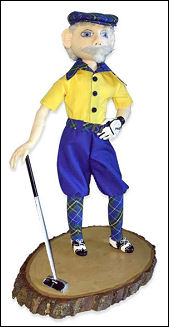 Mulligan, 17.5" Golfer
by Norma Inkster
Click HERE!
---
See Everything New
Go to.. What's New!
---
Don't Miss the March 2017 Sale
20% Off Patterns in our
Children/Babies and Raggedys Categories - Go HERE
Baby Doll Sale coincides with the
9th Annual Cloth Baby Doll (and Animal Doll) Challenge.
Dollmaker's Journey has been a proud sponsor for All 9 Years so please help us continue the tradition and Join in the FUN! - Info HERE
---

News From Dollmaker's Journey...

1) We are close to catching up from the transition! A few more piles of "new" and "back in stock"patterns to go. After that it is "Full Steam Ahead!" Which reminds me that we will be adding a fun pattern to make a 61" long cloth steam train very soon! This will give you about 9 months to finish it for the Christmas holiday!

2) Exciting news about dollmaking fabric coming soon!
---

Upcoming Conferences and Workshops...

Artistic Figures in Cloth & Clay (AFICC)
April 20-23, 2017- Columbus, Ohio
For more information go to... http://www.cyndysdolls.com/

Get your Dollmaker's Journey Gift Bag at AFICC - Not too late to go!
---
---

Windy City Doll Workshops
a fun experience in doll making
September 27-30, 2018
http://www.windycitydollworkshops.com/
_____________________________________