Dollmaker's Journey CUSTOMER CONNECTION
Dream ~ Imagine ~ Create ~ Grow ~ Believe ~ Magic
At http://dollmakersjourney.com we are passionate about your creative satisfaction

November 2014 Issue 135

*************************************************

Copyright 2014 by Dollmaker's Journey

Dollmaker's Journey Customer Connection newsletter is a FREE e-mail newsletter. Tell your friends, family and fellow dollmakers about us, and feel free to forward this newsletter to those who might be interested. You can visit our companion website at: Dollmaker's Journey.

**Notice!**

You can read all the past issues online. Go to: Customer Connection Newsletter Archives. The archives include an easy to follow index to all the past issues.

***********************************************
Dear Dollmaking Friends,

As we approach our Thanksgiving Holiday I want to note some of the people and things I am most thankful for in regards to DOLLMAKERS JOURNEY. I am blessed each day to wake up and connect with and serve dollmakers all over the world, each with their own creative gifts. I could not provide any products without the talents of our capable webmaster PAUL PHALEN who magically makes everything work and who from the very beginning of the business in 1998 understood the spirit we wanted to project. My amazing assistant LUCIA WANG keeps me on track and keeps the orders filled in a timely fashion that gives me the flexibility to focus on family matters whenever necessary. I am so thankful for my new friend SARA ANDERSON for helping me to connect dollmakers to each other in new and vibrant ways. Most of all I am thankful for each and every dollmaker who has allowed me to travel along on her/his dollmaking journey. What a wonderful ride it is!

Wishing you and yours the very Happiest Thanksgiving,

Mary Ann

***********************************************

Spotlight on an Artist/Designer

Once a month in our CUSTOMER CONNECTION Newsletter, we will be doing a spotlight on an artist/designer that we carry patterns for on our web site.

We will feature a pattern from that particular artist in one newsletter and ask you to send in photos of your dolls (finished or works in progress) using that pattern to share with our Dollmaker's Journey community. We will also ask you to write in with Comments and Questions you have about the artist/designer and her/his patterns.

In a newsletter a month later, we will have an article including an interview of the artist/designer with the Question and Comment section from our readers. We will then include the photos you have sent in. We will also be sharing these on our Facebook page.
This is your chance to make a connection with new artists/designers and with others in our dollmaking community!

The featured pattern for this issue of CUSTOMER CONNECTION is "Blush Angel" by CINDEE MOYER – just in time for the holidays! You can find all available CINDEE MOYER patterns, along with "Blush Angel" here: CINDEE MOYER.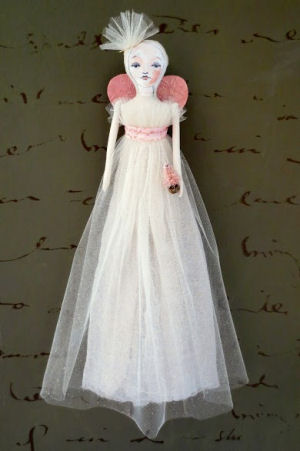 Please send in photos of your "Blush Angel" so that we can include it in our Spotlight on an Artist/Designer featuring Cindee next month. Also write in your comments and questions you have for Cindee or Dollmaker's Journey to Sara at Sara@dollmakersjourney.com. We will do our best to get the answers you need, and our artists/designers want to hear from you too!

***********************************************
What's Happening on Facebook?

If you haven't "Liked" us on Facebook, or visited our page lately, you really should swing by.

LIKE US ON FACEBOOK AND PICK UP A COUPON CODE FOR 20% OFF THE REGULAR PRICES OF ONE ENTIRE ORDER! DOLLMAKERS JOURNEY FACEBOOK PAGE

We have started growing our own social community where we have been sharing photos of the dolls our fans have made. You wouldn't believe some of the amazing dolls we have seen recently. There has been everything from steampunk, holiday, fantasy, to anthropomorphic. We have doll artists that range from the beginner to the well experienced.

We have also started a couple of new contests!

*One, called As Fast As Fast Can Be, is a contest in which we have asked fans to buy a pattern from our online shop and then make a doll from that pattern. The first person to post a picture of their completed doll wins a $25 gift certificate to use in our online store.

We had two sections in this contest:

The first was for customers that purchased a pattern from November 1, 2014 through November 10, 2014.

We congratulate ALICIA SIMON for being the first to post a finished doll from the pattern "Biggest Little Doll" by MAUREEN MILLS.

*The second section was for customers that have purchased a pattern from our store starting November 11, 2014 forward. This contest is still open, as we do not yet have a winner that has posted a photo of their completed doll. There is still time for you to join!

Our other Facebook contest is called What Did I do With That??? – Treasure Hunt. Fridays, on Facebook, we will be posting an item for fans to find in their home and post photos of. All fans that have posted a photo of the object are entered into a drawing for one of three $10 gift certificates to use in our online store.

We finished our first treasure hunt this past weekend. Fans posted photos of their favorite dollmaking books. We had 16 entries that posted books from SUSAN OROYAN, BARBARA WILLIS, BRENDA BRIGHTMORE , JAN HOROX, ROBERT MCKINLEY, RYO YOSHIDA and the ever popular PATTI CULEA.

Our set of winners was announced on Monday, November 17, 2014. Congratulations to:

NANCY GAWRON
VICKI MEE ARENTZ
MARGE DELORME JUDGE
We just announced another item on Friday, November 21st. Fans have 48 hours to post a picture of the found item from their collection. Please visit the Events section of our Facebook page and join the What Did I Do With That??? event so that you can participate in future hunts! Go to our Facebook Page "Dollmakers Journey", click on the "More" tab underneath our cover photo, click on "Events", and then click on the titled event. Or, you can simply click here: Where Did I Put That??? - Treasure Hunt! Please read the guidelines and then get ready to have some fun sharing!
We look forward to seeing you on Facebook!
***********************************************
DOLLMAKERS JOURNEY DOLL-ARS

Get a bigger bang for your buck at Dollmaker's Journey. We are busy minting DOLLMAKERS JOURNEY DOLL-ARS.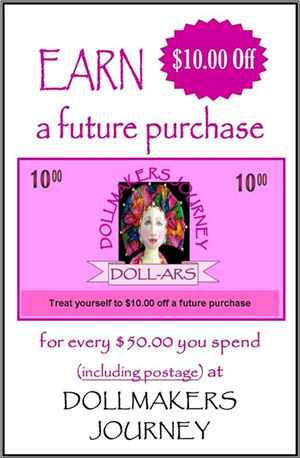 That's just like getting a FREE pattern or having your POSTAGE PAID on your next order!
***********************************************
NOVEMBER SALE

Our NOVEMBER SALE includes three great categories - ECLECTIC, FURNITURE/TOYS and MINIATURES. This exciting array of patterns is discounted 20% all month long. Remember, visit our web site at Dollmaker's Journey at the beginning of each month to see what our new sale will be. That way you won't have to wait for a newsletter.
***********************************************
Quote to Share
"Creativity is allowing yourself to make mistakes. Art is knowing which ones to keep." – Scott Adams
***********************************************
TIPS AND TRICKS OF THE TRADE

Helpful information to make your tasks easier. We welcome you to write in and share the things that help simplify your work. Sara@Dollmakersjourney.com
*Keep a small journal when working with a doll. Write down all the materials you used and where you bought them. Make notes of what patterns you used, who they were by, and where you got them. As you are working, write down any alterations you made to the pattern. This is very handy when you need to go back and remember how you did something or where you got a particular product. It's also a nice keepsake for yourself if you sell your doll. Why not paste in some pictures in your journal too so that you will always have a reminder of the work that you did?
***********************************************
CHALLENGE UPDATES

The Hoffman Challenge has recently announced their challenge fabric for 2015. You can see it with 8 coordinating fabrics here:
For more information on the Hoffman Challenge rules and deadlines go here: Hoffman Challenge
You can also go here to Stampington & Company Calls and Challenges for information on getting published in one of their wonderful magazines. All stipulations and deadlines are listed at the link provided.

***********************************************
UPCOMING EVENTS YOU WON'T WANT TO MISS

The Artistic Figures in Cloth & Clay is hosting their popular workshop and vendor sales event in Columbus, Ohio from April 23rd through April 26th 2015. There are many exciting workshops, events and sales for everyone to enjoy.

Double Tree Hotel Columbus/Worthington
175 Hutchinson Avenue, Columbus, OH 43235
Tel: 614-885-3334 or 1-800-870-0349

Follow this link for more information: AFICC Information Central.
The All Dolls Are Art will be hosting their 2015 event called "Final Frontier". It will be held in Austin, Texas from July 23 through July 26, 2015. They are offering workshops, pin doll swap, vendor sales, lunch packages and banquet.
Wyndham Garden Hotel Austin
3401 South IH-35, Austin, TX 78741
Tel: 512-448-2444 or 800-996-3426
Follow this link for more information: All Dolls Are Art 2015: Final Frontiers.
You can always get all the details on upcoming doll related events at CLOTH DOLL CONNECTION.
*************************************************

NEW PRODUCTS FOR YOUR JOURNEY

We work hard to find and add new products to the site as often as possible. You can find the most recent additions here - http://dollmakersjourney.com/new.html but we'd like to highlight a few:
If you desire to improve the facial expressions of your dolls, then treat yourself to a pattern by New Zealand's SHARON MITCHELL who has an uncanny way of bringing her faces to life. Her two most recent patterns are "Practical Pindora" – a delightful pincushion doll – and her modern version of an ancient doll style "Santos – All Will Be Well." – http://dollmakersjourney.com/mitchell.html
We wish prolific designer GINNY LETTORALE could bottle some of her creative energy! We are always thrilled to bring you more of her delightful patterns. Stop by and see some of her newest - "Color Me Annie," "Gingerbread Cookie Kids" and "Stick Stack Snow Snowmen" along with the rest of our collection of her Happy Heart Patterns - http://dollmakersjourney.com/lettorale.html
Designer and NIADA Artist LESLIE MOLEN is profoundly influenced by Asian Culture. The delicate artistry and gentle grace of that region of the world is reflected in her work. One of her most popular patterns has been her lovely cat "Meow-Meow Neko." Meow-Meow now has a 26" "Long Ears" friend "Usagi Mimi." This gentle rabbit was designed in the "kimono hime" style which means "kimono princess." It is a new way of wearing vintage kimonos with a fresh flair. Both dolls feature LESLIE'S clever eye technique of painting them on covered buttons. – http://dollmakersjourney.com/molen.html
Our favorite Dragon Charmer JENNIFER CARSON treats us to her tender faerie mother "Sybil" and the fun little "Tidbit Faeries" that are the perfect size for a pin, ornament or tiny doll. - http://dollmakersjourney.com/carson.html
We have two fun painted muslin projects from KAREN NIEFORTH – "Reindeer" and "Ewe and Me" – that are quick and easy to make - http://dollmakersjourney.com/nieforth.html
Over in the FABRIC DEPARTMENT we are adding in a line of KONA COTTON and the first four colors - Pale Flesh, Latte, Light Parfait and Earth - are now available. We will be adding in many more colors to give you the broadest range of skin tones possible - http://dollmakersjourney.com/fabrics.html#Kona_Cotton
FREE PROJECTS
We have a super collection of FREE projects on the site. The most recently added is the directions for the HANDS OF LOVE BLANKET that Mary Ann and her daughter Ana made for their family. You can find the instructions and story behind the project here - http://dollmakersjourney.com/hand_of_love.html
************************************************************
Oh No You Didn't! – Customer Interpretations on Designer Patterns
Upon customer request, we have decided to include this section for fans and customers to share their creative interpretations on patterns they are using. We know that dollmakers love to take patterns and create something different, inspiring, bold, artistic, and sometimes strange. Show us what you've got!
Email Sara at Sara@DollmakersJourney.com with your dolls. With your permission, we will share them here and on our Facebook page.
***********************************************
Customer Comments & Questions
Gisela Henderson from North Lancaster, Ontario in Canada asks:
"I made Glorex soft dolls many years ago (they are the kind like Kaethe Kruse Dolls)
I have some wigs, fabric, accessories as well as all sort of paraphernalia left over.
Do you think there might be someone in your circles who might be interested in this sort of a thing?"
Gisela states that she is at a point in her life where she feels a need to purge some things. Please write in and let us know if you or someone you know is interested in more information. Sara@dollmakersjourney.com
***********************************************
Charity Corner
Looking for charity projects that you can engage in while helping others? Visit our Charity Corner on our web site for information on charities and free patterns from Dollmaker's Journey that you can use for your projects. Sometimes a doll makes the difference between someone having no one at all to having a special "friend" to talk to and share secrets.
If you know of other charities that we do not have listed on our web site, please write in and let us know!
***********************************************
News From the Home Front
Mary Ann was very blessed to grow up in a tiny town in southern New Jersey called Medford Lakes. Located 17 miles east of Philadelphia it began as a summer vacation community with real log cabins nestled on the 27 lakes in this one square mile area. It's a place where kids can walk or ride their bikes to school, sports activities, summer camp or wherever they want to go. Recently a man named Brent Blanchard made several unique videos filmed with a drone camera that captures the magic of this special place and Mary Ann would like to share them with you - https://www.youtube.com/watch?v=4R9QsdusTaw and https://www.youtube.com/watch?v=4R9QsdusTaw. They say that the two greatest gifts you can give your children are ROOTS and WINGS. Mary Ann is so grateful that her parents chose this place to which she is deeply rooted to raise their family!
Sara has been working on a project for a Christmas present for her grandmother that involves using TAP (Transfer Artist Paper). Once finished, she will be writing an article about it to share in the Customer Connection Newsletter.
She has also been working on small crocheted gifts for the nieces, nephews and other family members for Christmas day. She gets so excited making things for her family. It's the anticipation of how they will like the gifts when they open them!
The Christmas tree is out of the box and put up, waiting for lights and ornaments. She is hoping to get the decorating done this weekend.
It has been snowing like crazy in Kalamazoo, MI. Several inches fell where Sara lives, and everything is white and bright. It may be early, but it is beautiful to look out the windows and see that fresh blanket of snow covering all the trees, bushes and ground.
*************************************************
We'd love to hear your thoughts about our Customer Connection newsletter.

Contact the editor Sara Anderson at Sara@DollmakersJourney.com with any comments, suggestions, etc.

Please feel free to pass this newsletter on to any of your friends. Help us spread the word about Dollmaker's Journey! All we ask is that you forward it intact, with all the subscription information included. Thanks!

*************************************************