Dollmaker's Journey CUSTOMER CONNECTION
Dream ~ Imagine ~ Create ~ Grow ~ Believe ~ Magic
At http://dollmakersjourney.com we are passionate about your creative satisfaction

November 2014 Issue 134

*************************************************

Copyright 2014 by Dollmaker's Journey

Dollmaker's Journey Customer Connection newsletter is a FREE e-mail newsletter. Tell your friends, family and fellow dollmakers about us, and feel free to forward this newsletter to those who might be interested. You can visit our companion website at:
http://www.dollmakersjourney.com/

**Notice!**
You can read all the past issues online. Go to:
http://dollmakersjourney.com/newsletter/archives.html
The archives include an easy to follow index to all the past issues.
*************************************************


Dear Dollmaking Friends,

Bonnie B. Lewis who has written our CUSTOMER CONNECTION NEWSLETTER these many years has needed to take a well-deserved hiatus these past months due to the demands of her very large family. I can't thank her enough for her devotion to serving dollmakers all over the world by gathering and sharing ideas and information to further us all on our creative journeys.

Bonnie's shoes will be very difficult to fill but I am going to do my best to re-establish this important connection to all of you who love doll making as much as we do. For that I have enlisted the assistance of a vibrant young woman and talented dollmaker who I met at the WINDY CITY DOLL WORKSHOPS in Chicago last month. Her name is SARA ANDERSON and you will be meeting her in a moment.

But first, if you haven't been to DOLLMAKERS JOURNEY in a while I'd like to update you on some new features:

DOLLMAKERS JOURNEY IS NOW ON FACEBOOK!

We've been busy building a community on FACEBOOK. We are finding it a wonderful place to interact with other dollmakers from around the world. Come meet dollmakers with beautiful dolls to share, like Lyn Morales who was born with only one hand. Her work is amazing! Take a look at what others are working on, dolls or other projects, and see the amazing things they are creating from the patterns and products we supply. Be sure to look for the exquisite Geisha and Samurai and Ebenezer Scrooge with Tiny Tim shared by Maria Buckner. You'll find links to fascinating designer blogs and an absorbing newsletter published by designer LINDA HOLLERICH. New dollmakers Lauri Werner and Trudy Thayer have posted pictures of their first dolls that knocked our socks off! It's the place to let us know what inspires you to make dolls and how we can support you on your journey.

Take a moment to visit our Facebook page and pick up a coupon that you'll find on the left side of the page.
~ ~ ~ ~ ~ ~ ~ ~ ~ ~ ~ ~ ~

LIKE US ON FACEBOOK AND PICK UP A COUPON CODE FOR 20% OFF THE REGULAR PRICES OF ONE ENTIRE ORDER! - https://www.facebook.com/DollmakersJourney
~ ~ ~ ~ ~ ~ ~ ~ ~ ~ ~ ~ ~

FINDING SUPPLIES AT DOLLMAKERS JOURNEY JUST GOT EASIER!

Over the years Dollmakers Journey has grown from a few boxes of patterns under my kitchen table to over 2000 products filling my basement! We now have the supplies sub-divided into several categories with drop-down menus so you can find the Tool/Fabric/Notion etc... you are looking for quickly & easily.

Stop by and check it out - http://dollmakersjourney.com/supplies.html

DOLLMAKERS JOURNEY DOLL-ARS
Get a bigger bang for your buck at Dollmakers Journey.com
We are busy minting DOLLMAKERS JOURNEY DOLL-ARS.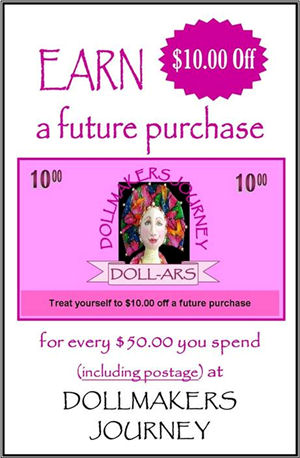 That's just like getting a FREE pattern or having your POSTAGE PAID on your next order!

So now it's time to say - "WE'RE BAAAAACK!"

All the best~
Mary Ann

***********************************************


Let's meet SARA.

Hello everyone. I would like to introduce myself. I am Sara Anderson, and I will be assisting Mary Ann with her newsletters. We are anxious to get them going for you again, and grow that connection that we have had with our customers in the past.

I currently live in Kalamazoo, Michigan, with my boyfriend, Larry, and my 8 year old boxer, Miniki. I stay at home and work on various crafts, but mostly on my new passion of art dolls. I have always enjoyed art and home economics since I was a child, and feel so blessed to be able to do this full time and at my leisure.

Mary Ann and I met at the recent Windy City Doll Workshop just outside of Chicago, Illinois. We had a blast, enjoyed getting to know each other, and learned so much from our teacher ARLEY BERRYHILL. I hope to feature an article very soon about the workshop for our audience. If you didn't attend, you don't know what you are missing! We are anxious for the next one in October of 2016.

Our plan is to have a newsletter out to you twice a month. We will include articles on the various products we have available so that you will have a taste of what they can do for you. I might include a couple of easy craft ideas to go along with each of the products I talk about.

We also hope to feature an artist each month that has patterns in our store. We would like to interview them so that you can get to know them and their work a little better. The idea is to feature an artist's patterns a month or so before the article so that you can grab a pattern, make a doll, and write in about it so that we can show your work in the article along with the artist's interview. How fun is that? We know that doll artists love to flaunt their work!

Mary Ann and I will be sharing tips and tricks of the trade, and we will also be inviting you to write in with your ideas that will help your fellow artists. We want to encourage you and others to share your work and knowledge, so we may have some surprises in the near future to get you collaborating with friends and family!

We will continue to be on the lookout for classes, events and charities for everyone to engage in. If you know of any, please let us know so that we can get that information out there.
I am so looking forward to meeting and sharing with you!

Much love and sharing,
Sara Anderson

************************************************


NOVEMBER SALE

Our NOVEMBER SALE includes three great categories - ECLECTIC, FURNITURE/TOYS and MINIATURES. This exciting array of patterns is discounted 20% all month long. http://dollmakersjourney.com/

Remember, visit our website at http://dollmakersjourney.com at the beginning of each month to see what our new sale will be. That way you won't have to wait for a newsletter.

*************************************************


QUOTE TO SHARE

"I think everything in life is art. What you do. How you dress. The way you love someone and how you talk. Your smile and your personality. What you believe in and all your dreams. The way you drink your tea. How you decorate your home or party. Your grocery list. The food you make. How your writing looks. And the way you feel." - Anonymous

We agree! If you have a favorite quote to share send it to Sara@DollmakersJourney.com for inclusion in a future issue.

*************************************************


TIPS AND TRICKS OF THE TRADE

We would like to start a new section in our newsletter where we share tips and tricks in the doll making/sewing industry with each other. We welcome you to write in and share the things that help simplify your work.

Mary Ann found this wonderful article with many tricks you can use. Many of them tickled me, and I know they will you too. I will be using some of these immediately!
Please click on the following link to read "40 Sewing Hacks & Tips":

http://andreasnotebook.com/2014/07/sewing-hacks.html

And here is another tip for all of you crafters out there:
Make sure you head out for the after Halloween sales. Not only will you find ribbons, trims and etc. to use in your projects, but think about all of those really cheap wigs that you can cut up and use as inexpensive doll hair!

*************************************************


DESIGNER KUDOS

Congratulations to CINDEE MOYER for her induction into the National Institute of American Doll Artists! As many of you know, it takes tremendous work, dedication, and time (years) to receive this honor. Her work is amazing!
Please read more about Cindee here:http://niada.org/newmember1.html

You can find her patterns here - www.dollmakersjourney.com/moyer.html
Cindee's art was also featured on the cover of A for Artistic E-Magazine. You can purchase a copy here:
http://www.aforartistic.com/quarterly-newsletter/newsletter/2014/a-for-artistic-magazine-fall-2014.html

*************************************************


CHALLENGE UPDATES

The Hoffman Challenge has recently announced their challenge fabric for 2015. You can see it with 8 coordinating fabrics here:
For more information on the Hoffman Challenge rules and deadlines go here: http://hoffmanchallenge.com/
*************************************************


UPCOMING EVENTS YOU WON'T WANT TO MISS

The Artistic Figures in Cloth & Clay is hosting their popular workshop and vendor sales event in Columbus, Ohio from April 23rd through April 26th 2015. Many exciting workshops, events and sales for everyone to enjoy.
Double Tree Hotel Columbus/Worthington
175 Hutchinson Avenue, Columbus, OH 43235
Tel: 614-885-3334 or 1-800-870-0349
Follow this link for more information. http://cyndysdolls.com/AFIC%202013CntrlInfo.htm

You can always get all the details on upcoming doll related events at
CLOTH DOLL CONNECTION: http://clothdollconnection.com/
*************************************************


NEW PRODUCTS FOR YOUR JOURNEY

We work hard to find and add new products to the site as often as possible. You can find the most recent additions here - http://dollmakersjourney.com/new.html but we'd like to highlight a few:

Over the past year Australian designer SUZETTE RUGOLO has been producing patterns for the characters in the Alice in Wonderland Series that are absolutely phenomenal. So far we have: "Alice Playing Croquet," "The Mad March Hare," "Hookah Smoking Caterpillar," "The Frog Footman," "The Fish Footman," and the "Queen of Hearts." You will find SUZETTE'S interpretation of these much-loved characters quite extraordinary. - http://dollmakersjourney.com/rugolo.html

Designer GINNY LETTORALE of Happy Heart Patterns is like the Energizer Bunny of Creativity! Stop by and see the wonderful selection of Raggedies, Bears, Halloween Projects and more that we've added to her page in the past months - http://dollmakersjourney.com/lettorale.html

Did you know that one of our TOP SELLING patterns "Madame LeChat" by STEPHANIE NOVATSKI now has a very dapper companion? Let us introduce you to the charming "Mr. Cat in Hat & Tux CD." - http://dollmakersjourney.com/novatski.html

BARBARA SCHOENOFF is known for the gentle grace and beauty of her dolls. Take a look at her most recent patterns "May - A Victorian Mermaid," "February Girl " Evangeline," and "Cerise an Edwardian Angel" and you'll see what we mean - http://dollmakersjourney.com/schoenoff.html

We are always thrilled to bring you new patterns from New Zealand's JILL MAAS. Come meet her two newest characters "Yvonne" and "Clarice" - http://dollmakersjourney.com/maas.html

One of our most popular new supplies is the FRIXION ERASEABLE GEL PEN and they are selling like hotcakes! You can check out how they work here - http://dollmakersjourney.com/supplies.html#Markers

*************************************************


NEWS FROM THE HOMEFRONT

Over the past year Mary Ann has been travelling to New Jersey on a regular basis to support her parents through various medical issues and to assist her siblings in clearing out her parents' home of 58 years and preparing it to go on the market. Surely many of you have already gone through this and know what a challenging experience it can be. For fun, she treated herself to a class with master dollmaker ARLEY BERRYHILL at the WINDY CITY DOLL WORKSHOP in Chicago and is thrilled with the doll she made. There are some photos on the Facebook page - https://www.facebook.com/DollmakersJourney Mary Ann and her daughter Ana love to go to the theater, particularly dance shows. In the past few months they've enjoyed Derek & Julianne Hough's show "Move Live," Travis Wall's "Shaping Sound" and this weekend they are excited to see the "So You Think You Can Dance Tour." Now she is trying to shift into Christmas present making gear and has quite a few projects on the drawing board. Stay tuned!

Sara lives in Kalamazoo, Michigan, and is finding it hard to discover others in the area with the same interests. Thankfully, this past October, she was able to attend her very first doll making workshop/conference in Chicago, Illinois. The Windy City Doll Workshop held its first workshop and it was very successful. Sara learned so many new things and made new friends, including Dollmakers Journey's own Mary Ann Kaahanui.

As a beginning doll maker, Sara is trying out new techniques, researching online, and networking with online friends. So much to learn, and so many amazing artists! Sara and Larry carved pumpkins and made pumpkin seeds for Halloween. One of the pumpkins turned out better than the other...we won't discuss which one!

The weather has turned chilly, so Miniki, Sara's boxer, has been snuggling as much as possible on the couch with her. These times are treasured. We are anxiously awaiting the time spent with family during the upcoming holidays. We know you are too!
*************************************************


We'd love to hear your thoughts about our Customer Connection newsletter.

Contact the editor Sara Anderson at Sara@DollmakersJourney.com with any comments, suggestions, etc.
*************************************************