Cloth Doll Making (Sewing) Patterns by

---
Click on pictures for larger view.
New Pattern!
Penny Dreadful is an 18" tall cloth "stump" doll with
bustle dress. Pattern & instructions for making this doll and dress are included.
Penny is perfect for a gothic, vampire, or steampunk look.
Or, she can be a Victorian lady out for a stroll in the park. It's up to you & your fabric choices.
The doll body is simple to make – with no legs, the body & torso is all-in-one.
This pattern includes instruction in making the cloth doll with a wire armature "spine",
how to needle-sculpt & color the face, how to make a yarn
wig, top hat, & full costume pictured.
Skill level is for INTERMEDIATE doll makers.

Steampunk Gears - Click HERE!
---
Steampunk Accessories - Click HERE!


An original design by Arley Berryhill, this vintage style "Showgirl" is about 17 inches tall (22" with headdress). The legs are cut "in one" with the torso with high heel shoes designed into legs.
Detailed instructions & patterns are include for the doll, face sculpting and coloring, the showgirl costume, headdress & "tail" (with or without feathers) and the wire armature inside the body & legs (for easy posing.)
Also included are instructions for adding beads and embellishments.
This pattern is also a great "basic body" doll pattern (body picture below.)
Skill level - Intermediate (previous doll-making experience necessary)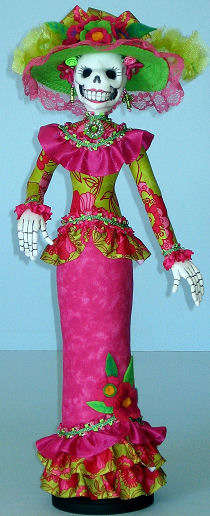 La Catrina

Designed in the style of a traditional Calaveras, this high society lady is the iconic symbol for the Mexican holiday Dia de los Muertos (Day of the Dead). Measuring 18" tall, La Catrina is a stump doll attached to a wood base. Pattern includes instructions for the hat and all accessories. White craft velour is recommended for head and hands.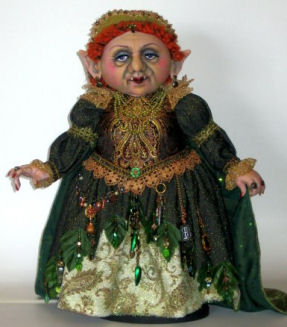 Troll Queen

A legend in her own mind, this old 18" gal reigns over all the forest trolls. Pattern features advanced face-sculpting and coloring, doll body with wire armature inserted into a wood base, yarn wig and headdress and elaborate Renaissance costuming.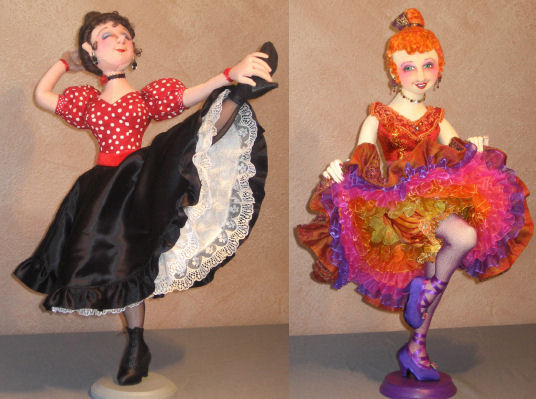 La Danseur Can-Can
COSTUME ONLY
Now you can transform "La Femme" into a fabulous dancer! This jam packed pattern will teach you how to achieve dancer poses, armature the leg, attach the doll to a base, make a wig and create an open mouth along with making a petticoat that has six rows of ruffles..
Experiment with exotic fabrics, beading and embellishments on this exquisite 13" (without tassel) hanging doll designed in the Turkish/Oriental fashion of the 20's.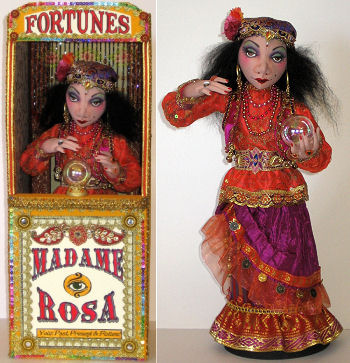 Madame Rosa

The pattern for this exotic and mysterious 15" stump doll comes with complete instructions for her 20" cardboard booth.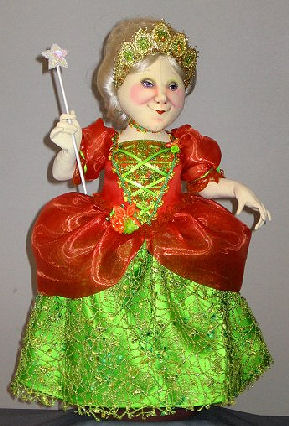 Fairy Godmother

This delightful 15" doll is made with a wire armature attached to a wooden base. Pattern includes complete instructions for the doll and costume, an embellished tiara and magic wand along with needle-sculpting and coloring the face.
Madame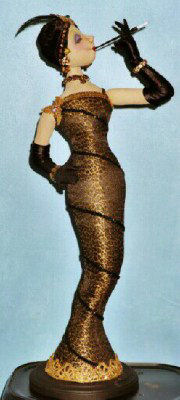 Extravagant 21" stump doll with a shaped, posed body and dress sewn as one. Pattern includes directions for face painting, and for making a puckered "smoking" mouth & lips. Plus, patterns and directions for making an optional Evening Coat, Turban, Gloves, Cigarette & Holder..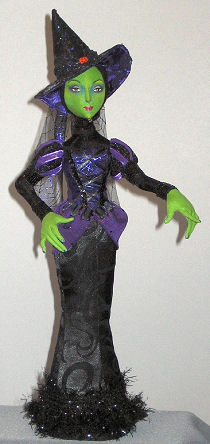 Gwendolyn, The Glamour Witch

This 20" stump doll with beautiful needle sculpted features may be wicked, but she is certainly glamorous and you'll love making her exquisite costume.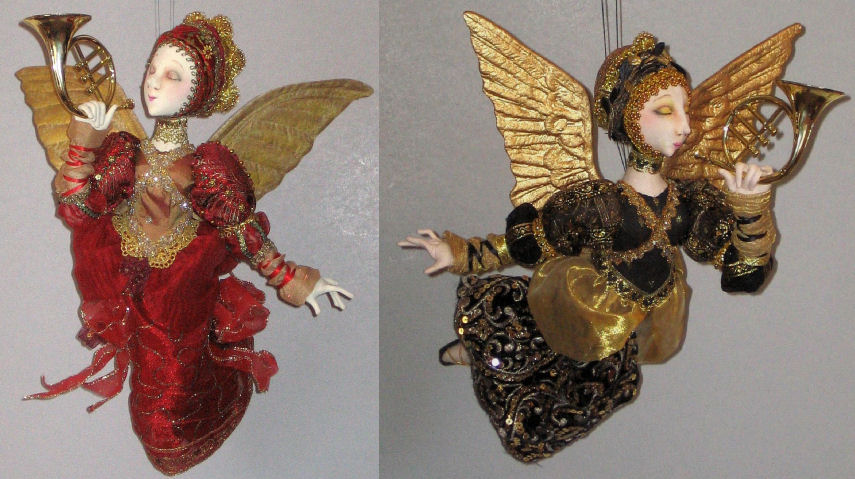 Harold the Angel
( as in "Hark the Harold Angels Sing.")
You'll be learning costuming techniques galore as you fashion the two skirts, hip drape, bodice, head wrap, sandals and three sets of sleeves each featuring different techniques for this exquisite 15" angel with quilted wings. Arm and leg options for the graceful body allow for a variety of poses.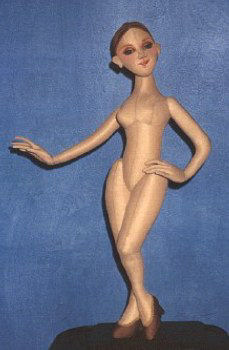 La Femme

This beautiful 20" basic adult female body with shoes is designed to be made withwith a one-way stretch fabric such as robe velour or bucksuede. Several costumes available below.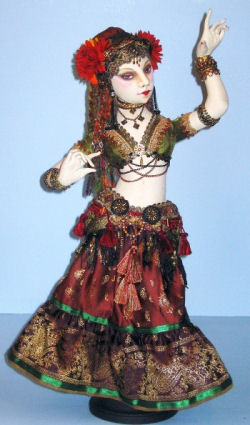 Belly Dancer
COSTUME ONLY

This Tribal style Belly Dancer/Gypsy costume fits "La Femme" doll pattern (below). Pattern includes a full tiered skirt, "choli"-style top, hip scarf, flower headdress, slippers, and harem pants. Also includes extra leg pattern to achieve pose. Bonus instructions included for leg armature, dance poses, jewelry, and how to attach doll to a base.
Minerva, the Princess Mermaid
The pattern for this spectacular 20" mermaid features a wire armature for easy posing, wired hands and fins, optional mitt hands and detailed instructions for coloring the face, making the hair, the tiara and braided sash. You'll also learn how to create a "seweed" boa using a fabric burning technique along with a paper mache rock for her to rest on..

She Sang, It's Over

18" of attitude, this commanding doll features an expressive face with open mouth and marvelous Viking opera costume.