Let's Talk About Cloth Doll Making Tools
---
---
Bead Stopper

No more crying over spilled beads! Mary Ann and Bonnie LOVE this fantastic gizmo that keeps your beads from falling off while you're working – even multiple strands! Just pinch the ends, insert your strand between the coils and let go.
---
---
---
Ball Point Bodkin

Perfect tool for inserting elastic into casings, turning bias tubing, weaving ribbon and more.
---
---
---
Metal Calipers
No longer available. We Recommend a Plastic Caliper From Walmart or Amazon. Cheaper and easier to work with.

---
---
This handy tool has 41 circle diameters ranging from 1/16 to 1 in both fractional and decimal measurements.

---
---
---
Teaches color relationships by organizing colors in a circle so you can visualize how they relate to each other. Diameter 9-1/4" (23.5 cm). Made in the USA.


---
---
---
Hairpin Lace Loom

Adjust the rods from 1" - 4" to make looped hair.




Yarn available on our Doll Hair Page...
Click HERE!
---
---
---
All Hemostat Prices Lowered by 25% to 40%!
---
Straight, Curved, Soft Grip, and/or 3.5" to 10 "
Hemostats
Available in 10", 8", 6.25", 5" and 3.5" Sizes.
---
---
---
---
---
---
| | |
| --- | --- |
| This great sharpener allows you to choose both wide and narrow points. | |
We have individual Prismacolor Pencils available - Over 50 Colors!
Click HERE to See All Prismacolor Pencils!
---
---

Instructions Included Price $5.79




---

Making Doll Accessories To Scale

You can use a Proportional Scale to determine the size an accessory needs to be to be in scale with the doll. On the inner wheel find the number 65. This is the height of an average female (5'5"). If you are making a male use 70" (5'10"). On the outer wheel find the size of the doll you wish to make, for example 16". Place the 65 and 16 together and don't move anything. To determine what size an accessory should be measure the life-sized object, find that measurement on the inner wheel, and the outer wheel will tell you how big it needs to be to fit the doll you are making. In the example above, an umbrella measures 36", the 16" doll needs one about 8-1/2" long. A wooden spoon measures 12", the 16" doll needs one a little less than 3" long. This way you can be sure all accessories are to scale.

How To Use A Proportional Scale Wheel

This round slide ruler, used by engineers, architects, artists, publishers, and other professionals who need to create accurate enlargements and reductions, consists of two wheels held together in the middle by an open rivet. The inner wheel is labeled "size of original" and it has a window which says "percentage of original size" and "number of times of reduction". The outer wheel is labeled "reproduction size". To use the wheel take the size of the existing pattern (e.g. 12" doll) and find that measurement on the inner wheel. Line up that number with the size the finished pattern needs to be (e.g. 18" doll). In the window labeled "percentage of original size" it says you need to enlarge the pattern by 150%. Go to your copy machine, set it to 150% enlargement, and copy the original pattern. To reduce a pattern (e.g. 12" doll to 10" doll), line up 12" on inner wheel with 10" on outer wheel, and you need to reduce pattern 83%. When using this method be sure to only enlarge or reduce the template which is made by tracing the sewing lines of the pattern - do not include the seam allowance. As you reduce or enlarge a pattern the seam allowance changes, and what started out as ¼" seam may end up being a lot larger or smaller. Add seam allowances (if needed) after copying the pattern.
---
To learn about proportions and dollmaking , please check out Jane Darin's Course "Course 5: Scale and Proportion".

For info on all Jane's Dollmaking Courses --> Click HERE!
---
---
6" Sewing Machine Dust and Cleaning Brush

Great for cleaning dust and fibers out of your sewing machine! Wooden handle.

By "Tooltron In Machine Aids"
---
---
---



A see-through ruler perfect for mapping out facial features. A MUST for every dollmakers tool kit.
---
---
---
1/4" Seaming Wheel



Trace a 1/4" seam for any line, curve, or corner with this great Seaming Wheel.
---
---
---
Snag Repair Tool

This precision tool repairs snags in knits and wovens by gently pulling snag to back of fabric and realigning fibers. A must for every sewing kit!
---
---
---
The perfect tools for getting small bits of stuffing perfectly placed in those hard-to-get spaces for a professional look every time!

----------
---
Handy, dandy all purpose tool for pushing, poking, turning, stuffing and so much more. The tip is ¼" wide for easy measuring. A must have for every tool box.
---
---
---
No longer available.
---
---
---
---
Tote-All-Bucket
by Georgia Manning Lewis of Buckets Gone Wild!

From dollmaking supplies to action figures – there is no end to the uses for this fabulous, easy-to-make 5 gallon bucket cover. Easily customized for your own needs. Perfect gift!
---
The Jitter Bucket
by Georgia Manning Lewis of Buckets Gone Wild!

The possibilites are endless for his fabulous 5 quart organizer - doll supplies & accessories, car caddies, first aid supplies, medications for a grandparent, toiletries. A real gottahaveit!
---
---
---
| | |
| --- | --- |
| An indispensable tool for all your sewing needs. | |
---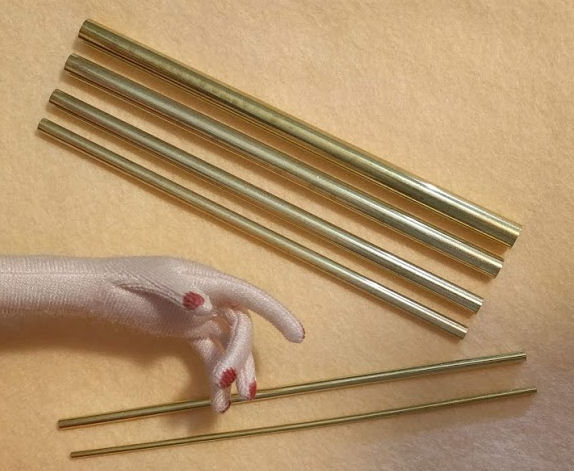 This set includes FOUR telescoping turning tubes and TWO brass rods all custom milled to a satin smooth finish, enabling the doll maker to turn even the tiniest fingers perfectly. Complete directions on how to use them and additional hand making tips are included.
---
Turn-It-All
The quick and easy way to turn things inside out! Set includes tubes and rods in 3 sizes.
---
Handy, dandy all purpose tool for pushing, poking, turning, stuffing and so much more. The tip is ¼" wide for easy measuring. A must have for every tool box.
---