---
Doll Making Embellishments
We will add new items as we find good deals for you!
~ Feathers ~ Sequins ~ Beads ~ Rusty Bells ~ Mini Light Garland ~ Jump Rings ~
~ Raffia ~ Jute Cord ~ Cowboy Hat ~
~ Pom Poms ~ Glitter Eyelash Yarn ~ Craft Boas ~ Steampunk ~ Chenille Stems ~
---
---
---
---
This flexible, white craft cement is tacky on contact, dries crystal clear and is perfect for nearly all your doll making needs. Our hands down favorite!

Recommended for fabric, decoupage, felt, most plastics, metals, paper, glass, ceramic and etc.

Flexible, Dries Clear, Non-Flammable, Non-Toxic Solvents,
Non-Penetrating and Stays On Surface.

Seam Strengthening Technique
Taught by Judy Skeel and Gloria "Mimi" Winer

Because Grrrip Glue is a little stretchier than other white glues when dry, it is the perfect substance for strengthening any seam in a doll body, particularly those subject to extra stress and blowouts such as the fingers and the center seam of the face.
Transfer the Grrrip Glue into the applicator bottle.


Apply a tiny line of glue directly onto the thread line. Don't use a lot, but be sure it is a continuous line from wrist to wrist going along all the fingers. This is also how you repair a clipped a thread from trimming the fingers.





With your thumb lightly apply pressure on the thread line and pull away to the edge of the seam allowance to spread the glue. This will make a thin coating of glue embedded into the fibers to strengthen the seam allowance that will still have a little "give" when turning and stuffing. Repeat for the second side.

Allow the fingers to dry before trying to turn them so you don't glue them closed!





Follow the same steps for the center seam of the face and you'll be amazed at the difference this makes in strengthening the seams and helping the center face seam to be less obvious.



---
1 ounce (30 ml) Applicator Bottle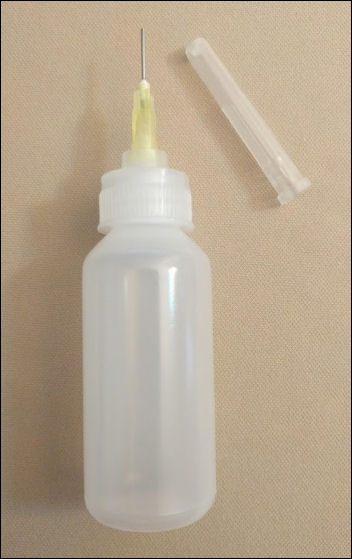 Ultra-Fine Tip Applicator Bottle

Perfect for precision applications of glue, 3D Crystal Lacquer, paints and other substances.
---
Aleene's Fabric Tacky Pack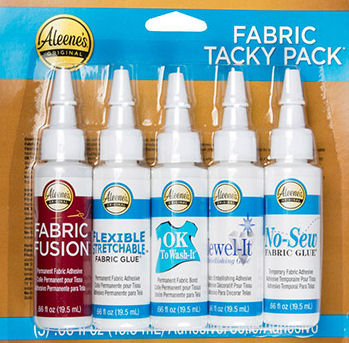 Five 0.66 fl.oz. miniature bottles of Aleene's adhesives in a variety of formulas. Includes 1 each of Fabric Fusion, Flexible Stretchable, Ok To Wash-It, Jewel-It and No-Sew Fabric. A great way to sample glues you haven't tried!
---
Aleene's OK To Wash It Glue 4 oz Bottle

Aleene's OK To Wash-It Glue creates a permanent bond that withstands repeated washings. Use to glue washable fabrics, ribbons, pearls, trims, flat laces, appliques and more. It dries clear and flexible, is non-yellowing. Non-toxic. 4 oz.
---
Crafter's Pick Ultimate Glue – 4 oz.

This non-toxic, water based super glue bonds to metals, plastic, painted surfaces, glass, wood, leather, fabric and more! Usable as liquid glue or as contact cement when both surfaces are coated, allowed to dry clear and then pressed together.

This glue is used by SHERRY GOSHON for all of her pressmold projects.
---
| | |
| --- | --- |
| Water soluble instant glue perfect for basting fabric layers and for positioning trims and appliqué. A very handy item for your sewing box! | |
---
Diamond Glaze – 2 oz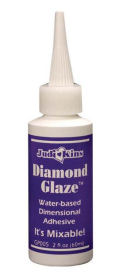 This multi-purpose dimensional adhesive dries to a clear, glass-like finish. Perfect for applying gloss to eyes and lips, gluing glitter, beads, glass, plastic and vellum to paper. Diamond Glaze is also mixable with dye-based inks, watercolors, pearlescent pigments and more.
---
Bo-Nash 007 Refill Kit

One 2 oz. container of Bo-Nash 007 Bonding Powder and full written instructions.
---
---
---
Mini Christmas Light Bulb Garland - Scale 1:12
This mini 3 ft. garland features 5/16 inch (8 mm) Christmas lights strung together on a small Green cord.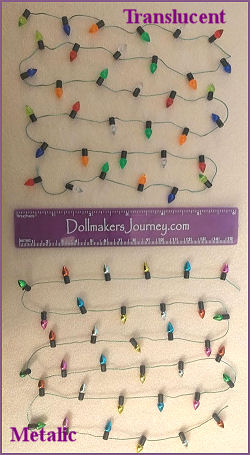 Note: Light bulbs are decorative and do not light up.
Available as Metallic or Translucent
---
Stitch Witchery Fusible Web
1/4" x 20 yds

Bonds two layers of fabric together when activated by a steam iron – perfect for doll clothes!
---
---
---
Bean Bag Fill Pellets


Bean Bag Filler Pellets. 8 ounces per package.

Perfect for weighted dolls.
---
---
Covered Buttons for Doll Jointing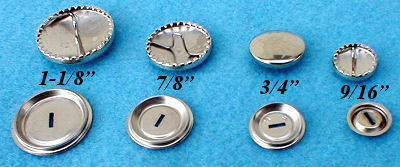 4 per package 1-1/8", 7/8", 3/4"or 9/16"

---
Large Assembled Covered Buttons!
Hard to Find Buttons for Large Dolls and Teddy Bears.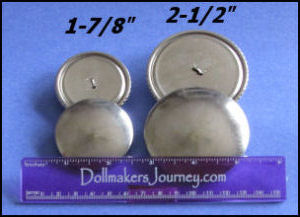 Available in 1-7/8"and 2-12" Sizes
2 already assembled buttons per package.

---
Invisible Jointing!
by Judi Ward


Check out Judi Ward's designs --> HERE.
---
Also Available for Doll Joints...
Plastic Doll Joints... Go HERE!
---
---
---
---
---

The also make great spiders as seen on the "Harvest Mummy" pictured above next to the cheese cloth.
---
---
---
White Chenille Stems - 3mm x 12" White

---




White Chenille Stems - 6mm x 12" White

---

6mm x 12" Black
Chenille Stems - 25 pack
---
---
---

---
8 oz and 16 oz Sizes
This unique air hardening modeling material requires no firing in a kiln or baking in an oven. Clean, odorless and easy to use, it feels similar to earthen clay; however, it contains no clay in it at all! It can be sculpted, molded or shaped while it's moist and it accepts and retains fine details. It adheres easily to wood, canvas, and most surfaces without glue! Lightweight and durable, it may even be carved or sanded after it has hardened.


Dried Creative Paperclay® can be painted with any kind of paint; it's just like painting on wood or paper. If you prefer, water based paint may be kneaded into the Paperclay® while it's still moist. We recommend protecting your finished projects by sealing them with a coat of lacquer or varnish.

Select size below
---
Delight(TM)
Air Dry Modeling Compound, 3-Ounce, White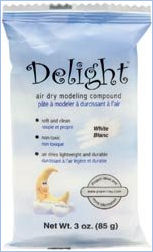 Delight(TM) is an exciting modeling medium. It is pure white in color and extremely soft and easy to shape or mold. This non-toxic material is super clean to work with and picks up details beautifully.

Delight(TM) holds its form while shaping and then air hardens to create an extraordinarily lightweight (about ½ the weight of Creative Paperclay® by volume) and durable finished piece. Water base paint can be kneaded into Delight(TM) very easily and without mess to make an infinite range of colors with which to work. You may also colored with any kind of paint after it's dried.
---
Pearl(TM) air hardening modeling clay is an economy grade modeling material especially developed for schools. It is value priced and a great alternative to instant paper mache or Styrofoam based products.
It is made from all natural ingredients, is non-toxic and biodegradable (it carries the Art & Craft Materials Institute AP non-toxic label!). Comes out of the package ready to use (no mixing or kneading required) in a clean white color. Its very soft and fine texture can be sculpted, shaped or molded very easily while moist. After it air dries, it becomes very hard, not spongy. It can be painted or colored with tempera, acrylics or markers making it ideal for kids crafts or classroom projects!

---
---
---
Plastic Doll Joints



20mm Doll Joints - about 3/4"

30mm Doll Joints - about 1-1/4"

35mm Doll Joints - about 1-1/2" - Temp. Out

45mm Doll Joints - about 1-3/4"

55mm Doll Joints - about 2-1/4"

2 CompleteJoints per Package
(2 posts, 2 washers, and 2 lock washers per package)
---
Also Available for Doll Joins...
Buttons for Jointing... Go HERE!
---
---
Doll Glasses - Acrylic Lens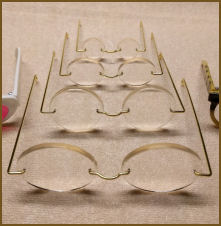 Note: Size of glasses are the overall width of the glasses.
4 Sizes:
2.25 in (5.72 cm) - Round Lenses

3 in (7.62 cm) - Oval Lenses

3-3/8 in (8.57 cm) - Round Lenses

4 in (10.16 cm) - Oval Lenses
---
---
---



Brown and Black Doll Eyelashes
Strands 7-1/2" long with lashes 3/8" in length - slightly curved lashes.
With these DIY synthetic eyelashes, you are able to cut to the perfect size, and
have enough for several dolls. These eyelashes are real texture and are perfect
for any art doll or Ball-Joint Doll (BJD).
---

Colors Pictured Below Available in All Sizes
(Black Eyes only in 4.5 and 6mm sizes)


All Above Eyes in 4.5mm, 6mm, 9mm, 12mm and 13.5mm Sizes!


Packages of 4 Eyes and Washers

Sizes Include:
4.5mm, 6mm, 9mm, 12mm and 13.5mm

Select Size and Color below...

Black Eyes in 4.5mm

and 6mm Sizes Only

---


Cat Eyes - Tiger Orange (9mm and 12mm)
Select Color Below...
---
Bead Eyes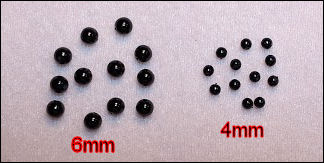 Black Beads For Doll Eyes
Sizes 4mm and 6mm. 12 Beads per package.
These beads are used for eyes for very small dolls or as accented pupils for dolls as seen in many designs by Jill Maas (See pictures below).
~ ~ ~ ~ ~ ~ ~ ~ ~ ~ ~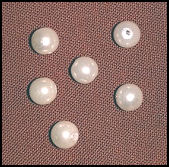 Round Pearl Beads For Doll Eyes
Sizes 6mm. 12 Beads per package. White
These beads are used for the whites of eyes and are accented with black beads for pupils.

---
---
Animal Noses - Black

Sizes Include:
18mm (6 per pack)
or
21mm (4 per pack)


Black natural shaped animal noses.

Perfect when paired with animal eyes to create realistic dolls, puppets, and more.
---
---
Fusible on both sides to save you time.
Easy to mark, cut and sew.
Perfect for fabric and paper.

Use for:
Fabric bowls, boxes, and vases
Purses, totes, and bags
Kids crafts
Art quilts
Hats, caps, and more.
---
---
---
| | |
| --- | --- |
| White Floral Tape - ½"x 30 yds. | |
---
---
---
Freezer Paper Sheets - Heavy Weight

8.5 X 11" sheets for instant use in any printer. 54 lb paper prevents rolling and curling.

Perfect for dollmaking uses as well as for making stencils for decorating clothing, house hold textiles or quilts.

Use these blank freezer paper sheets with an inkjet printer to transfer designs and patterns.
---
---
---
---


Gears




Trinkets

Click HERE for All Steampunk Items!
---
---
---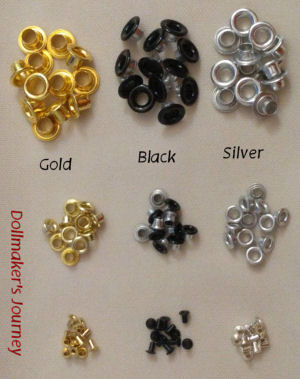 ---
Grommet/Eyelets

Packages of 12 - $2.99
---
---
---
---
Giant Non-Stick Ironing & Craft Sheet

This incredible 18" X 11.9" coated fiberglass non-stick ironing and craft sheet is big enough for any ironing or craft project. Nothing sticks to it ... fusibles, paints, varnishes and glues just peel off so you can use it over and over again. A must for pressing ANGELINA FIBERS. Transparent enough for applique projects. Starch and Sizing just wash right off. A great press cloth that allows you to iron over embellishments like iron on transfers, glitter paints and delicate fabrics. No sewing room should be without it!

---
---
---
| | |
| --- | --- |
| This versatile cross between fabric and paper is easy to print on, fold, cut, stitch and embellish. Perfect for ink-jet printers or all-in-ones. Create delicate translucent effects with paints, inks, dyes and stamps. The creative possibilities are endless. | |
---
---
---
---
Air Erasable - Purple

Extra Fine Air Erasable Marking Pen

These markers are great for planning sewing projects, works great on light and dark fabrics. Giving you enough time to finalize the details. Extra fine durable point for precise results. Naturally disappears in 2 - 7 days.

*** Disappears naturally or with water.

Out of Stock.
---
Water Erasable - Blue

Fine Line Water Erasable Marking Pen

The very fine bright blue line made by this pen is perfect for placing facial features. Easily removed with plain water.
---
---
~

Pilot FriXion Ball Erasable Gel Pen

~





Red


Pink


Grey
The needlepoint tip creates clear precise lines and the thermo-sensitive gel ink formula disappears with an iron, hair dryer or clothes dryer. The pen can also be erased from paper with the attached erasing tip. Great for tracing around templates or marking sculpting points.
Customer Sue Daniel drew a mustache on a cotton face using several layers of ink. She used a regular hair dryer set on high for a few seconds and the ink disappeared completely.
---
Chaco Liner Chalk Wheel - White

This quality chalk wheel marker smoothly traces fine lines on your darker fabrics. Chalk washes or brushes away. Another one of Mary Ann's favorite marking tools!
---
---
For the projects that require ready-made doll bodies.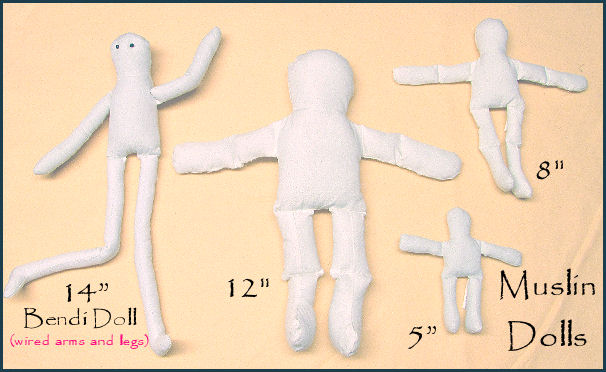 14" Bendi Doll (not available), 12" and 5" Muslin Dolls.

---
---
---
| | |
| --- | --- |
| Steel Pin Back 1.5" 10pc/pkg | |
---
---
---
Unfinished traditional wood plaques measuring 7 by 9 inches.
Perfect for a table base or wall hanging backing for your doll or other art creation!
Wood surface is ready to paint, stain, decoupage, woodburn or embellish
---
Click HERE for
Wooden People, Wooden Beads and Wooden Hang Tags!
---
---
Acrylic Pom-Poms - White
Great for inserting into the tips of noses or doll breasts!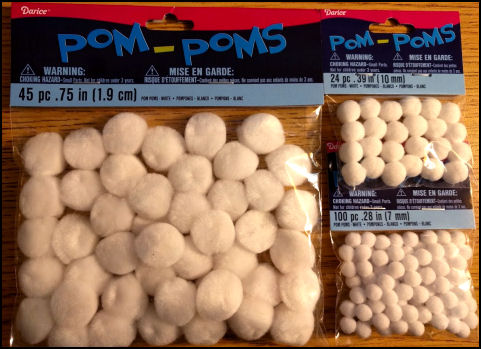 3 Sizes of White Pom-Poms
1.9 cm (3/4 inch) - 45 pieces
10 mm (.39 inches) - 100 Pieces
7 mm (.28 inches) - 100 Pieces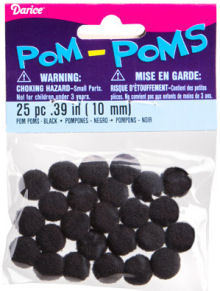 Black Pom-Poms - New!
10 mm (.39 inches) - 25 Pieces

Select Size and Color below...
---
STYROFOAM® Ball

White - 1.25 inches - 2 Pieces
These Styrofoam Balls are required for "All About Eve" pattern by Sheryl D'Ath (pictured below.)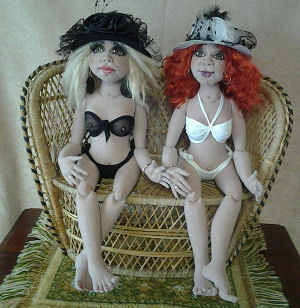 All About Eve
Click HERE for More Information.
---
---
Solvy
19-1/2" x 1 YD
This lightweight water soluble stabilizer can be used as a design template, as a patterns guide and a stitch support piece. Perfect for free motion embroidery projects.
---
Free
Solvy Tutorial
by Stephanie Novatski --> Click HERE!
---
Super Solvy
19-1/2" x 1 YD
Twice as thick, heavy and strong as the original Solvy.
---
Fabri-Solvy
20" x 1 YD
Fabric-like stabilizer that provides the supple feel of fabric with the easy
removability of a water soluble stabilizer.
---
---
---
Steam A Seam 2
Double Stick Fusible Web

Sticky on both sides, this great fusing material allows you put everything where you want and hold it firmly in place, but isn't permanent until you steam it.
---
---
---
You can inkjet print, paint, stamp or draw your images onto TAP then with a hot iron transfer your images to virtually any surface - fabric, paper, wood, glass, canvas, metal & more. You'll get crisp, colorfast results every time and it's washable and crack resistant on fabric. This amazing art material comes with complete instructions and is sure to get your creative juices flowing.

**** Update: Sorry... Sold Out... This product is no longer being made.
---
---
---
Thread Magic - The Ultimate Thread Conditioner
by Taylor Seville Originals

400% Less tread drag! ~ 400% Less hand fatique!

Ultimate thread conditioner for hand sewing! Hypo allergenic formula, amazing dispenser.

Better than Wax!

Strengthens threads for long life
Eliminates Static
Prevents tangling & fraying
Does not melt or freeze
Safe for all threads & fabrics

Acid-Free - Made in the USA!

* Replacement for "Thread Heaven"

---
---
---
| | |
| --- | --- |
| Firm, yet flexible interfacing is perfect for shaping into purses, bowls, and other 3-dimensional crafts. Easy to cut, mark, sew and steampress. | |
---
---
---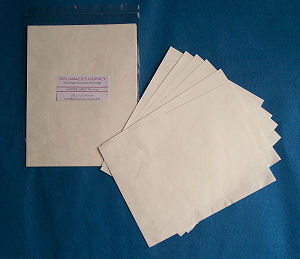 Kick your doll embellishment skills up a notch with this strong, lightweight, flexible material! Made from high density polyethylene fibers, Tyvek ® is extremely versatile, offering a balance of physical characteristics that combine some of the properties of film, paper and cloth.
---
---
---
Floral Paddle Wire - 22 gauge - 38 yards

Perfect for patterns calling for Floral Wire.
---
Silver Color - Copper Wire
Used for a wide variety of doll making needs - a supply everyone should keep on hand.

16 Gauge Wire - 7 Ft - Silver Color

20 Gauge Wire - 8 yds - Silver Color
---
Silver Color - Copper Wire
Silver aluminum wire. Lightweight wire that is malleable and easy to work with.
16 Gauge - Aluminum Wire - Silver - 3 yards

12 Gauge - Aluminum Wire - Silver - 3 yards
---
---
---
---
This unique, new, very fine fiber is light reflective as well as light refractive. Angelina is incredibly luminescent, while it has an extremely soft hand. All of the colors below can be bonded together with the application of heat to form a remarkable cloth.

Simply place a small amount of fiber between two sheets of tissue paper. Heat iron to silk temperature setting. Gently, with little pressure, move the iron back and forth, checking frequently on the bonding progress. Be careful not to "fry" the Angelina fiber with too much heat or pressure and a too long dwell time.

Generally, Angelina heat bondable fiber will only adhere to itself and not to other fibers, tissue paper or fabrics, but you can sandwich some other materials between them such as glitter. You can also take tufts of the fiber and fuse just the ends together to use the fiber for hair and other costuming applications.

½ package - .25 oz – of Enchanted Forest was used to make both the wings and the front panel of the dress in the photo to the right.
---