---
---
Return of a Favorite!
Now an E-Book on CD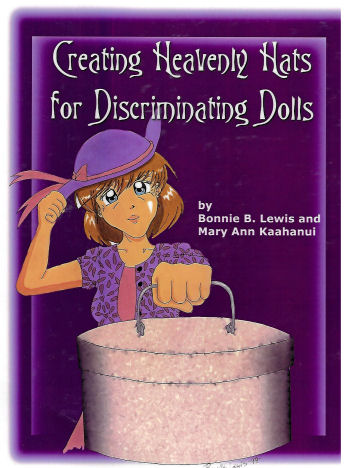 Creating Heavenly Hats
For Discriminating Dolls!
by Bonnie B. Lewis and
Mary Ann Kaahanui
Learn how to make over 200 different
hats to fit any doll/animal perfectly! 181 Pages of Hats!
Download Option: Instant Download version of e-book available in our
Etsy Shop... Click HERE!
---
Back in Stock!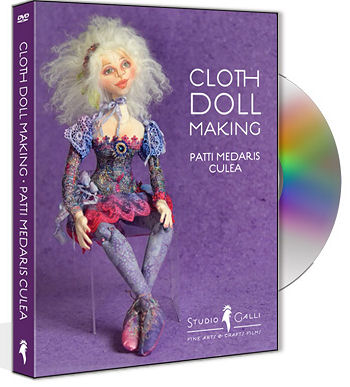 Cloth Doll Making DVD by Patti Medaris Culea

Patti Medaris Culea explores and shares the world of Cloth Doll Making in this exciting new 2-Disc DVD from Studio Galli Productions. Nearly Five (5) hours of step-by-step instructions in how to make cloth dolls that are as unique and individual as you are.
DVD Highlights:
Also See Video Below For Highlights!
• Drawing Flat & Dimensional Faces
• Adding Facial Features & Highlights
• Coloring with Shiva Paintstiks
• Wiring & Sculpting the Hands
• Dyeing the Doll Body & Lacey Trim
• Painting Clothes and Shoes
• Sewing the Head, Body and Hands
• Sculpting the Head and Body
• Adding Hair & Wigs
• Adding Clothes and Accessories
Bonus Doll Pattern Included.
2- Disc Set • 285 Minutes • Worldwide Play
English Audio Track • DVD Made in the USA
---
DVD Highlights:
- Introduction / Things you will Need
- Making the Mermaid's Body
- Laying out the Pattern
- Sewing & Stuffing the Mermaid's Body
- The Mermaid's Face: Draw, Sculpt & Color
- Embellishing the Mermaid's Body
- Coloring the Lacy Tailfin
- Organza for Tail Flukes
- Adding Her Hair and Headpiece
- Pulling her all Together
- Displaying your Mermaid / Making a Perch
- Conclusion / Where to go from here
DVD • English Language • Universal Playback / All Regions
English Audio Track • DVD Made in the USA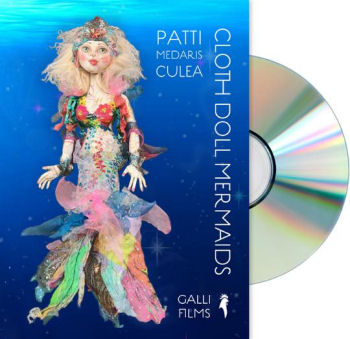 ---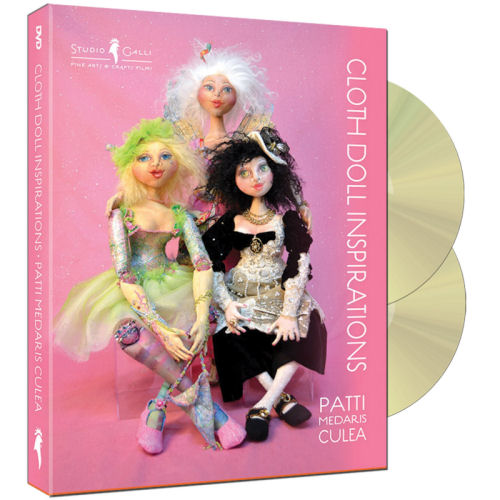 Cloth Doll Inspirations DVD

By Patti Medaris Culea
In her 2nd eagerly anticipated DVD, Patti Medaris Culea provides a fantastic variety of creative ideas for cloth doll makers. Working the same doll body three different ways she takes inspiration from old fabrics and lace, popular doll-making themes and childhood dreams.
More than 5 hours of detailed instructional workshops on 2 DVDS! Perfect for all skill levels and ages.
2- Disc Set • 317 Minutes • Worldwide Play
English Language Audio Track • DVD Made in the USA
---
Mimi's Dollmaking Workshop DVDs

Needle Model a Pretty Face DVD
By Gloria "Mimi" Winer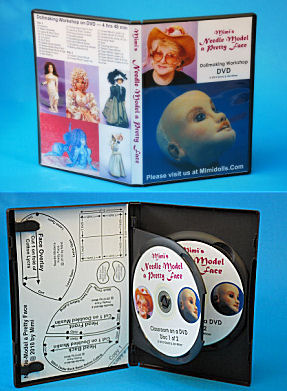 Every dollmaking reference library needs this phenomenal DVD!
2-disc DVD set with 4 hours 48 minutes of over-the-shoulder video.

31 easy to navigate chapters covering every aspect of head construction

2 copies of the pattern sheet printed on heavy card stock.

Standard 2-disc DVD plastic case for storage.
Full-sized, cut-out patterns and 4 hour 48 minute over-the-shoulder DVD video filled with the complete contents of Mimi's 2-day dollmaking workshop.
Suitable for all levels. If you can do basic machine sewing to make the seams on the skull and the darts on the face overlay, you will learn everything else you need from watching the step-by-step video.
Temporarily Unavailable
---
---
Mimi's Mannequins and Pattern Draping DVD
Mimi's Mannequins and Pattern Draping is finally finished and it is spectacular! We have condensed the 4-day dollmaking workshop and the 2-day pattern draping workshop into almost 6 hours of classroom video full of techniques for dollmaking. We began this project almost 5 years ago, and we got interrupted by cancer. Now we're back on track with the best dollmaking workshop ever.
Mimi's Mannequins presents quarter-scale male and female mannequins as separate patterns with a single set of instructions for both. The Mannequins workshop is all about techniques and the similarity of the human form. Mimi's Pattern Draping shows you how to create patterns for clothing that will fit your own dolls. It uses the mannequins as tailor's dummies for draping the clothing patterns.
In addition to the video, Mimi's Mannequins includes:
A Shopping List e-book that you can copy to your phone or tablet (or print out) to take to the crafts store with you.

The pattern sheets can be printed on your own printer, or you can take them to an office supply store or copy center.

After watching the videos, you can use the included step-by-step, photo-by-photo storyboards on your phone, tablet, or computer to make the dolls and clothing. You can refer back to the video anytime you need it.

Who is it For?

The go-at-your-own-pace, step-by-step, picture-by-picture storyboards make Mimi's Mannequins & Pattern Draping suitable for all levels of doll makers from beginner to advanced. You need some hand sewing and machine sewing experience, and it's not really for first time (novice) dollmakers. It is particularly good for those who have trouble fitting clothes on dolls.
DVD Format - REGION 1 - USA and Canada DVD Players
(or Multi Region DVD Players)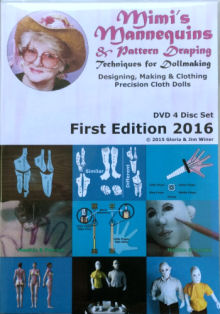 ---
---
Mimi's Modular Mermaid DVD
By Gloria "Mimi" Winer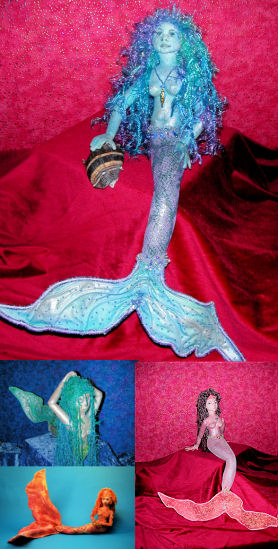 Now you can take a private, 6-Day Dollmaking Workshop with Mimi with no travel required!
6 DVDs — 20 Lessons — 163 Chapters
Here are just a few of the many HOW TOs included in the instruction:
Precision machine sewing.


Stuffing smoothly and firmly using the right tools.


Make your seams beautiful so that they are part of the design


Make hands that can grasp objects.


Make webbed hands without having to turn fingers


Make and needle model a lovely female torso.


Make 3 types of poseable hands and arms.


Make 4 different poseable tails.


Make 3 different types of flukes.


Create many different poses using modular arms, tails, and flukes.


Needle model a female face.


Use dyes and watercolor effects to paint mermaids.


Bead a stuffed figure.


Weft mohair and other fibers for wigging a doll.




Suitable for all skill levels, this classroom on a DVD
will take your dollmaking skills to new heights!
DVD Format - REGION 1 - USA and Canada DVD Players
(or Multi Region DVD Players)
DVD Trailer Below:

DVD Sample
Wefting Fibers for Doll Hair

---
Cloth Doll Artistry
CLoth Doll Making Book by Barbara Willis
Signed by Barbara Willis!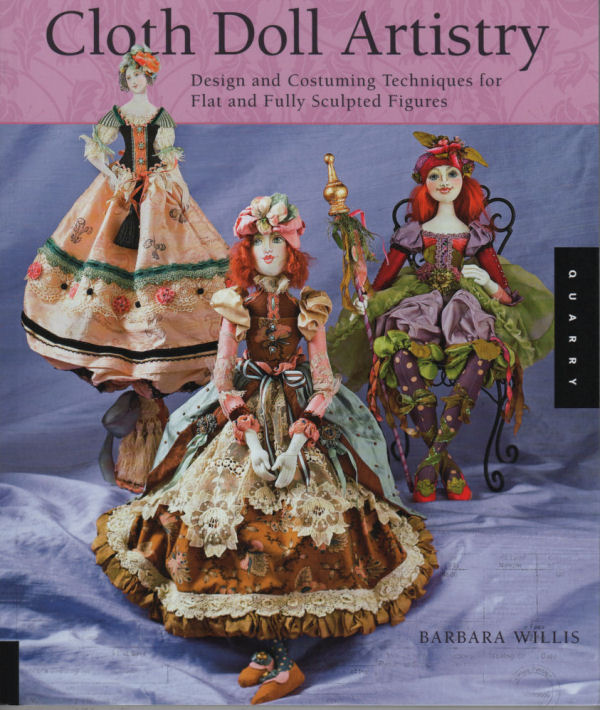 In this unique and beautiful book, beloved doll-designer Barbara Willis guides readers through various approaches to doll design and basic and advanced construction techniques. Through the creation of three complete step-by-step projects with 200 photos and illustrations, readers will develop color boards, learn to use vintage images, create both 2-dimensional and 3-dimensional cloth dolls, learn sophisticated costuming techniques, and gain knowledge of elaborate soft sculpting. A gallery shares the inspirational work of several well-known doll artists who have created their own versions of each project. Complete patterns and templates are included.
Signed by Barbara Willis!
---
---
DVDs and Books by
Antonette Cely
Click on picture for larger view.
DVD Sale Below!
In her second DVD, Antonette Cely will show you how to create beautiful faces for your cloth doll using her technique of a "cloth-covered mask." To start, you'll sculpt a face, then make a two-piece press mold. Next she'll show you how to bake the face, then cover it with fabric, paint and finish it. Top the whole thing off with making a wig, and you'll have a lovely head for your cloth doll! The techniques Antonette teaches apply to more than just cloth dolls, so order today and start MAKING FACES!
DVD Format - REGION 1 - USA and Canada DVD Players
(or Multi Region DVD Players)
Excerpt from the award-winning
"Making Faces"

by
Antonette Cely
In her first video, NIADA doll artist Antonette Cely shares all the secrets of customizing doll patterns so you can make the cloth doll of your dreams! This 88 minute DVD will expertly teach you how to take any pattern, even one you've created yourself, and accurately alter it to fit any pose!
DVD Format - REGION 1 - USA and Canada DVD Players
(or Multi Region DVD Players)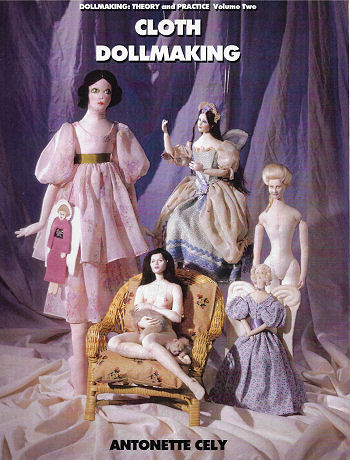 CLOTH DOLLMAKING
Theory and Practice - Book
By Antonette Cely
Perfect for dollmakers of all skill levels, this fabulous spiral-bound book takes you through the process of creating beautiful cloth dolls from simple Christmas Tree Angels through the complex "20th Century Nude." The pages are filled with clear diagrams and text, explaining Antonette's techniques in a precise and very understandable manner. The most comprehensive treasure trove of dollmaking skills you should learn on the market!

Click HERE to View Table of Contents
---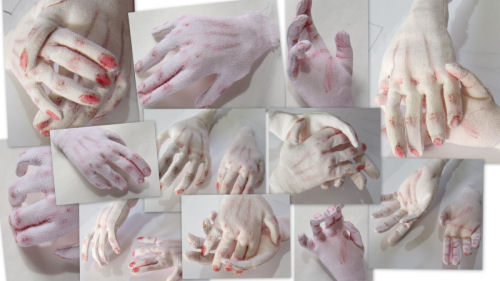 All About Hands Tutorial
By Sharon Mitchell


This is a 13 page tutorial for making cloth hands for a cloth figure. The tutorial features two hand designs for practicing, in two different sizes. It shows all the tools required to make them and explains the use of each one. Essential to the tutorial is how to turn the fingers, what can go wrong and how to make it right. Woven fabric was used in the making of this tutorial but the same techniques apply for knit fabrics as well. How to detail the hand and how to needle sculpt it, is also included. Hands can be just as important as the face when it comes to making a good doll.
---
---

---

Fabric Printing At Home
By Julie Booth

Learn how to print your own custom fabrics using everyday items from the kitchen and around the house! With tons of color photos, step-by-step instructions, and helpful hints, you will be crafting your very own fabric designs in no time! Learn to make print blocks, rubbing plates, stencils, and fabric resists from a wide range kitchen materials. See how your favorite fruits and veggies create perfect shapes and texture patterns for your fabrics and how to upcycle simple materials for surface design. This family-friendly guide shows how to make fantastic, colorful fabric designs with accessible, non-toxic materials.

NOTE: Julie is a personal friend and one of our designers. It has been thrilling watching her develop the material for this book and supporting her through the process of getting the book published! If you love to CREATE, you will have a ball with the projects in this book.

---

Thoroughly Modern Millinery
PDF File - Email
Patterning & Construction of Period Hats & Headpieces from Unorthodox Materials
By Stephen A. Rausch

Based on his popular hat making classes, this amazing Tutorial contains 8 Lessons over 67 fully illustrated pages that will walk you through the design, construction and embellishment of a variety of exquisite hats for your dolls. His foundation material of choice is fun foam and you will be amazed at the wonderful effects you can get with it. This perfect addition to every dollmakers reference library will have you making hats like a professional milliner in no time!

Also available on Etsy as Instant Download...
Click HERE!

---

20 to Make Felt Christmas Decorations
By Corinne Lapierre

The twenty projects in this book include a range of decorations suitable for Christmas, including hanging tree decorations, a Christmas wreath, an advent calendar garland, free-standing felt ornaments, a Christmas cottage storage box and a bottle gift bag. You'll find step-by-step instructions for each including templates and a beautiful photo of the finished piece. There is something very soothing about hand sewing felt!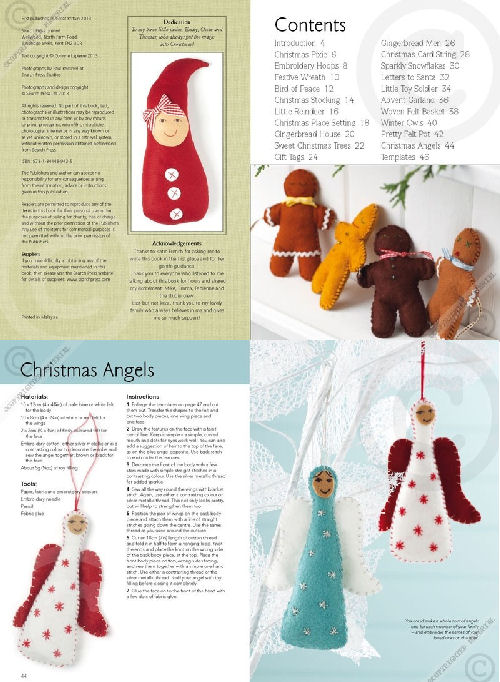 ---
Make a cherished companion for your little one.
Inspired by vintage patterns from the 1940s, these 16 projects include loveable dolls and softies, pillows, puppets, and even a little girl's first handbag. Learn lots of toy-making tips and tricks to give your creation some personal style and a sweet disposition. Have fun making outfits for your dolly with novelty prints, scraps from your stash, or even upcycled bits from old clothes. Share the love of handmade with your whole family...the young and the young at heart, too!
---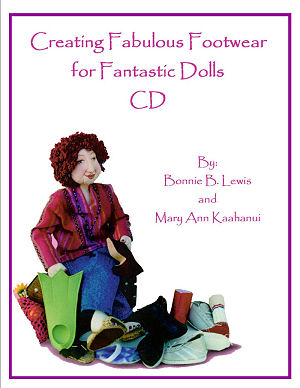 Creating Fabulous Footwear for Fantastic Dolls CD
By Bonnie B. Lewis and Mary Ann Kaahanui
Originally published in 1998 and now reproduced in its original form on CD, Creating Fabulous Footwear for Fantastic Dolls by Bonnie B. Lewis and Mary Ann Kaahanui is the most complete and unique book on shoemaking for dolls on the market today. Learn how to make over 50 different types of shoes, including slippers, boots, high heels, moccasins, fantasy, sandals, sport, oxfords, traditional and modern, with styles for child and adult, male and female dolls. Finished shoes will fit any doll (wood, porcelain, cloth, clay, vinyl) perfectly. Directions are included for painted, appliquéd, and removable shoes, with hundreds of detailed drawings. Included is a comprehensive index, glossary, bibliography, and resource guide.
A must for every doll maker's reference library!
---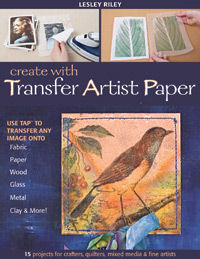 Creating with Transfer Artist Paper
by Leslie Riley
TAP into your creativity!

You'll learn everything you need to know about how to use Transfer Art Paper through the 15 different projects in this marvelous book, including treasure boxes, collages, dolls, quilts, and jewelry. Unlock your inner artist with Lesley's romantic ideas and accessible techniques while transferring your art onto a wide variety of surfaces.
---
Tutorials, Workshops, Classes by
of
"Designs by Kat"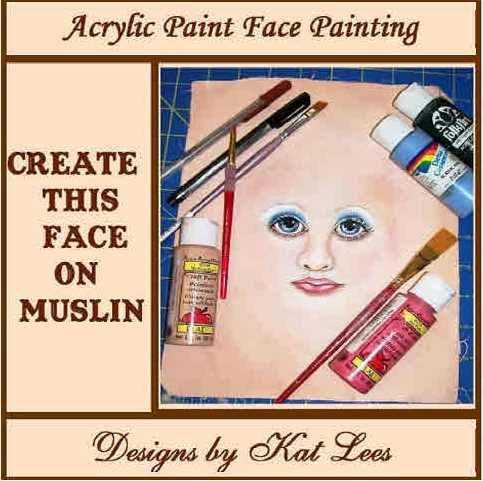 Acrylic Paint Doll Face Painting
Face Painting Basics Class CD
By Kat Lees
This amazingly comprehensive workshop will take you brush stoke, by brush stroke through creating a face with acrylic paints. You'll find detailed instruction about the use of different fabrics and textures, feature placement and then painting and finishing the face. You'll definitely take your skills to another level with this awesome CD!
Temporarily Unavailable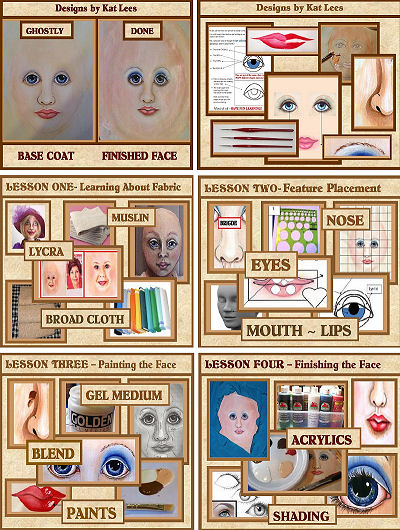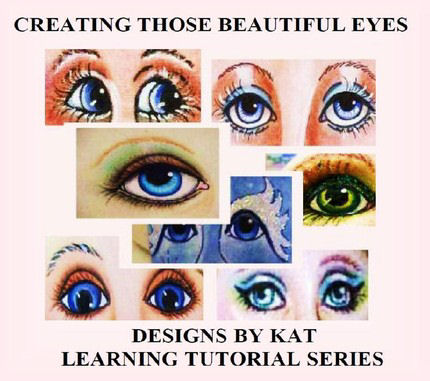 Those Beautiful Doll Eyes CD
By Kat Lees
With Kat's expert and thorough instruction you are going to discover just how easy it is to create gorgeous, lifelike eyes for your dolls in a variety of ethnicities.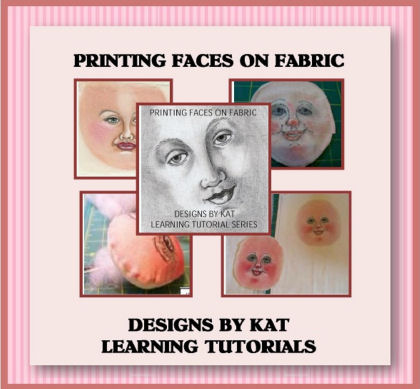 Printing Doll Faces on Fabric CD
By Kat Lees
Discover the secrets of transferring painted faces or photos to fabric in
this comprehensive tutorial that will expand your face making options.
---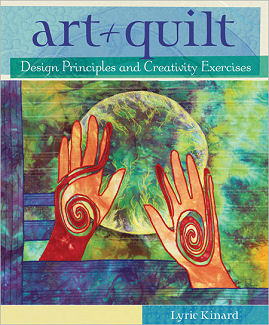 Art + Quilt: Design Principles and Creativity Exercises
by Lyric Kinard
Let your inner artist blossom! Even though this book is aimed at art quilters, you will learn to understand, appreciate, and create works of art one step at a time. Brush up on the basic elements of art, and then learn the principles of design that will strengthen your artwork. Work through homework assignments and field trips that harness your inspiration, then direct that creative energy into your work. Do you say "I wish I had more time to be creative?" Then this book is for you! Whether you create as a hobby or as a professional artist, Art + Quilt will help you clarify your goals and take your craft to the next level through design and composition.
---