Cloth Doll Making Sewing Patterns by
Sandra Blake
S.O. Dollightful Dolls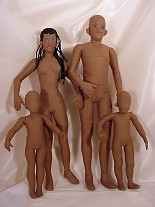 I'm "dollighted" to have you looking at my designs. I have been making dolls since 1970 and opened for business (S.O. Dollightfuldolls) in 1978. All of the products that I offer are originals that I have created. Featuring African-American images, the dolls range from the whimsical to the natural ...from baby dolls to grown-ups… from just plain folks to models and "stars".
My purpose is to create and offer a variety of dolls and doll patterns that challenge traditional concepts of doll making.
The "Dollightful Family" (at right) is the prime example. The family consists of 5 members -who are the adult female, girl child, adult male, boy child and infant- each of which is beautifully proportioned and scaled to the other. A myriad of characterizations and settings can be created with this collection of patterns.
Sandra
---
Click on picture for larger view.
---