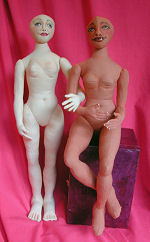 A Doll for All Seasons
by Mary Ann Kaahanui and Bonnie B. Lewis
Realistically proportioned 16" female body with hand and foot variations and a selection of arms and legs for multiple poses. Detailed needle sculpting and face coloring instructions for both Caucasian and African features are included.
New fashion ensembles that will include hairdos, shoes, accessories etc.will be introduced each month at a reduced price that will turn this basic body into a variety of characters - truly "A Doll for All Seasons."