Now Available!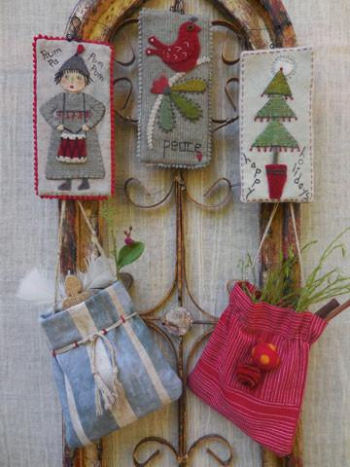 Christmas Tags And Bags Pattern
Three 3" x 7" easy fusible wool appliqué Tags. Little Drummer Girl, Little Redbird, and Happy Holiday Tree. They can be "To and From" tags or hang as ornaments. PLUS two 6" cotton "Goodie Bags" for gift giving or to hang as an ornament.

Now Available!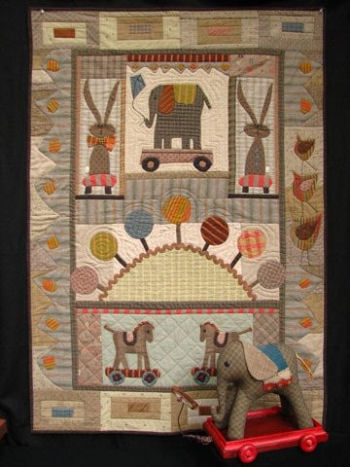 "Lollipop Hill Quilt" & "Elephant Pull Toy"
A 37" x 54" Kids Quilt plus a 10" Elephant Pull Toy! Individual quilt blocks may be made into smaller projects such as a pillow.

Now Available!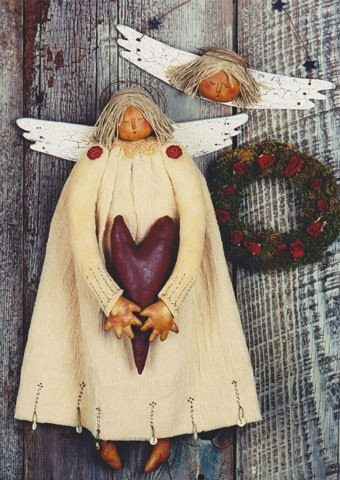 Amarina
A Folksy Primitive 21" Heavenly Angel. Amarina... Born An Angel... An Angel Still!

Made with tea-dyed muslin.
Included are 4 vintage holiday patterns for a 11" standing Santa, 8" wide torso Santa, a 5" Bell Ornament and a Gift Tag/Ornament. Shown in Wool and Cottons.
You will learn how to make Santa's bag with a "leather look" and how to finish the tags to make them look almost painted. The tags can also be made into a card.
A Simple 18" Mr. Jolly (Santa) and 6 1/2" Rag Doll.
He is ready for Christmas with a dolly for Mrs. Claus.
Two holiday projects in one pattern! A 12" Wool Pillow & a Framed Applique (may be done without frame).
A 9" Floppy Beanbag or Pillow, 22" Bellringer, and 21" Table Mat or Tree Skirt (Enlarging instructions included for a 39" Tree Skirt.)
Projects shown in wool but cotton may be used.

A Trio of Festive Ornaments.

4" by 3" Red Angel Ornament, 3" by 4" Dove Dome-Shaped Ornament, and 7" Snow Guy Ornament.
Project shown in wool.