Included are 4 vintage holiday patterns for a 11" standing Santa, 8" wide torso Santa, a 5" Bell Ornament and a Gift Tag/Ornament. Shown in Wool and Cottons.
You will learn how to make Santa's bag with a "leather look" and how to finish the tags to make them look almost painted. The tags can also be made into a card.
A Simple 18" Mr. Jolly (Santa) and 6 1/2" Rag Doll.
He is ready for Christmas with a dolly for Mrs. Claus.
Two holiday projects in one pattern! A 12" Wool Pillow & a Framed Applique (may be done without frame).
A 9" Floppy Beanbag or Pillow, 22" Bellringer, and 21" Table Mat or Tree Skirt (Enlarging instructions included for a 39" Tree Skirt.)
Projects shown in wool but cotton may be used.

A Trio of Festive Ornaments.

4" by 3" Red Angel Ornament, 3" by 4" Dove Dome-Shaped Ornament, and 7" Snow Guy Ornament.
Project shown in wool.

15" simple-to-make dolls! Make as Angels or Other Dolls.

Made in Muslin or Cotton.
Fun dolls to make!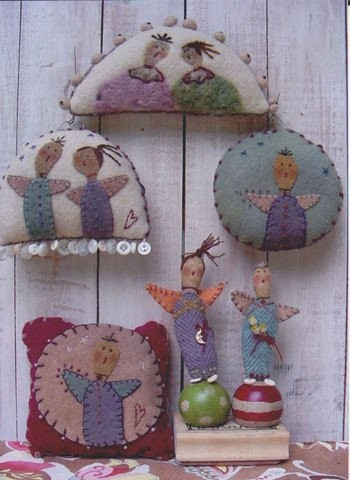 Little Angel Things
6 Fun Projects! Instructions for "Easy Fusible Applique" or Needle Felting" - Methods can be combined!