Now Back In Stock!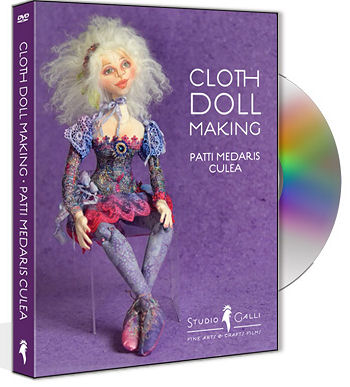 Cloth Doll Making DVD by Patti Medaris Culea

Patti Medaris Culea explores and shares the world of Cloth Doll Making in this exciting new 2-Disc DVD from Studio Galli Productions. Nearly Five (5) hours of step-by-step instructions in how to make cloth dolls that are as unique and individual as you are.
DVD Highlights:
Also See Video Below For Highlights!
• Drawing Flat & Dimensional Faces
• Adding Facial Features & Highlights
• Coloring with Shiva Paintstiks
• Wiring & Sculpting the Hands
• Dyeing the Doll Body & Lacey Trim
• Painting Clothes and Shoes
• Sewing the Head, Body and Hands
• Sculpting the Head and Body
• Adding Hair & Wigs
• Adding Clothes and Accessories
Bonus Doll Pattern Included.
2- Disc Set • 285 Minutes • Worldwide Play
English Audio Track • DVD Made in the USA
---
Back In Stock!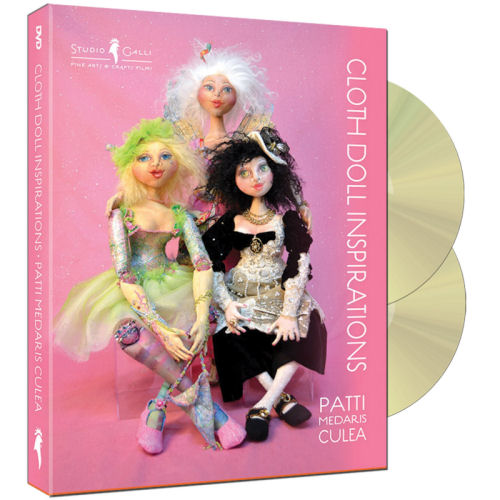 Cloth Doll Inspirations DVD

By Patti Medaris Culea
In her 2nd eagerly anticipated DVD, Patti Medaris Culea provides a fantastic variety of creative ideas for cloth doll makers. Working the same doll body three different ways she takes inspiration from old fabrics and lace, popular doll-making themes and childhood dreams.
More than 5 hours of detailed instructional workshops on 2 DVDS! Perfect for all skill levels and ages.
2- Disc Set • 317 Minutes • Worldwide Play
English Language Audio Track • DVD Made in the USA
---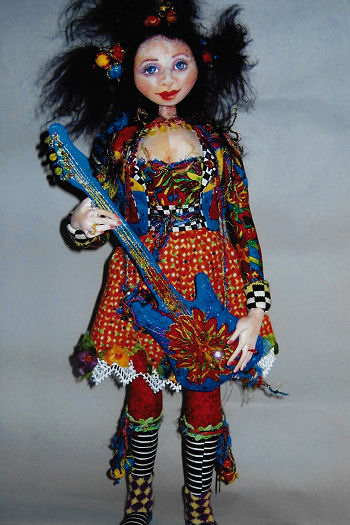 Roxanne Goes Solo

Roxanne is funky and fun! You'll be rockin' and rollin' with this fabulous 18" gal and her amazing guitar. Wire armature enables her to stand alone. Her electric guitar is made of cloth and complete instructions are included!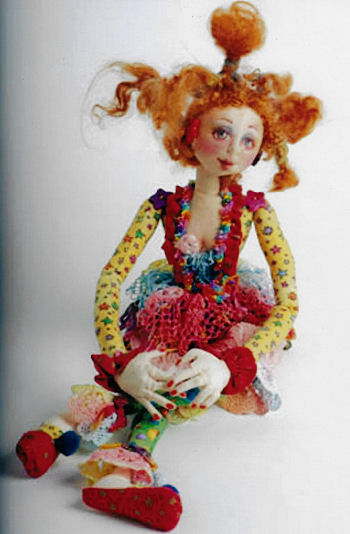 Radical Rachel

Radical Rachel is a really fun doll to make. She is 18" tall and has separate hands and feet for ease in putting her together. It also makes it easier to turn her fingers! Her fingers are wired for posing and her knees are jointed. You have options for a skirt or knickers.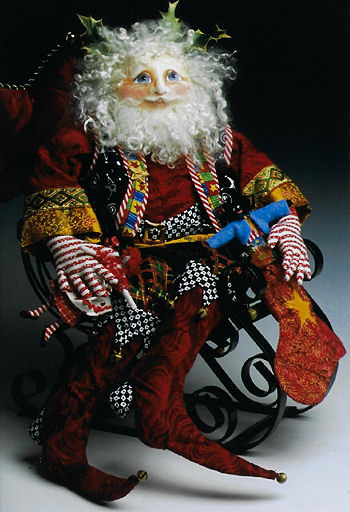 Very Merry Santa

You'll have a ball making this wildly colorful 20" Santa with fun boots and a snappy vest. Pattern includes his toys, too! He will really add to your holiday decorations and makes a great gift also!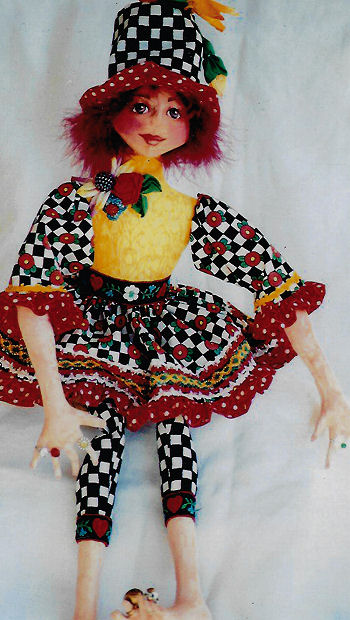 Banbury Cross Beth

Banbury Cross Beth is a 22" fun & saucy doll to make! Learn face sculpting and finger wiring while making this colorful doll. Designed for all levels of doll makers.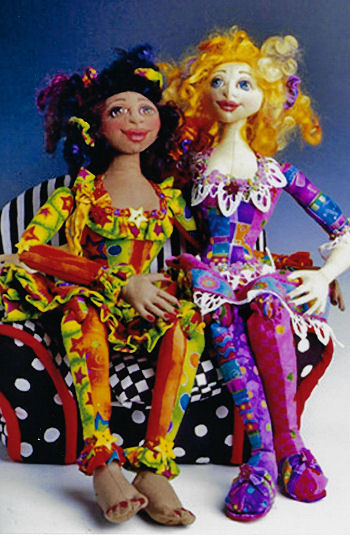 Dominique & Lesley

Two different arm and legs will give you many creative options for constructing these gorgeous 16" jointed dolls.

Two adorable 16" jointed cloth dolls with options for arms and legs that will let you be very creative. Instructions include a very simple leg joint and details for drawing, sculpting and coloring the faces.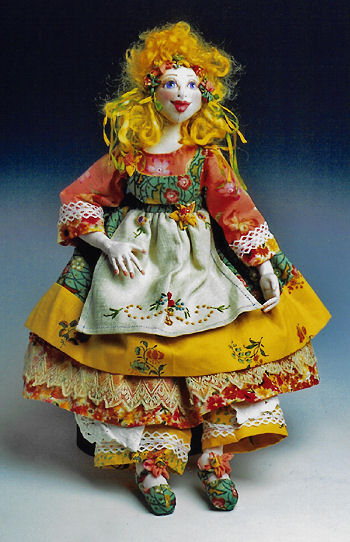 Glorya

Glorya is an 18" brezzy, delicate cloth doll. Pattern includes detailed instructions for unique joints, new body design and detailed face. She is full of easy embellishments. You'll be incorporating old linens and lace into the outfit of this enchanting doll and really fun shoes finish off the outfit!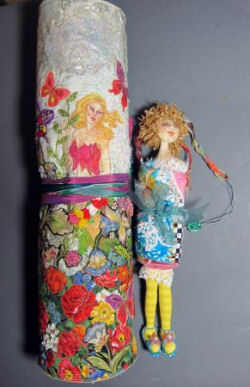 A Stargaze Dolling Sew Along CD

This fun project uses a mailing tube and lots of imagination. The tube is covered with fabric and unrolls to hold a sewing project. Inside resides a cute "Hussif" (sewing caddy), that holds your sewing needs - scissors, needles, ribbons, threads, etc. You'll find wonderful machine and hand embroidering techniques as well as beautiful beaded details. Imagine being the envy of your doll club with this awesome caddy!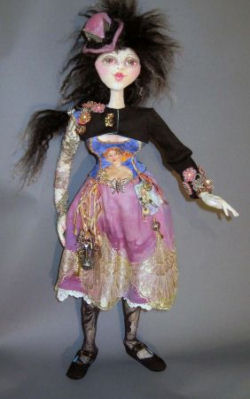 Evangelyne CD

A mixture of Steampunk and Art Nouveau, this captivating 18" doll is wired to stand alone. The CD is loaded with step-by-step color photos to guide you through the construction. Instructions include how to wire her; draw, sculpt and color her face along with the painted figure on the bodice; create the clothing and accessories; and simple beadwork.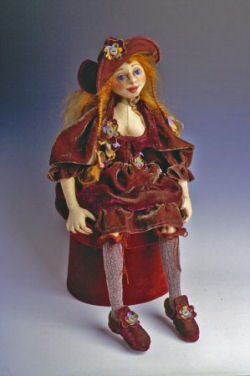 Maudlin Maddie of Maldon

Dressed in soft velvets this 16" doll wears
the latest in knee-hi stockings with the cutest shoes she could find.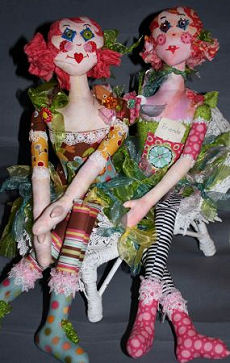 Franny a Friendship Doll

24" of pure fun, this doll is embellished with simple appliqué methods and embroidery. She has a pocket to hold a friendship journey, or notes to give friends. A perfect project for young and old dollmakers alike!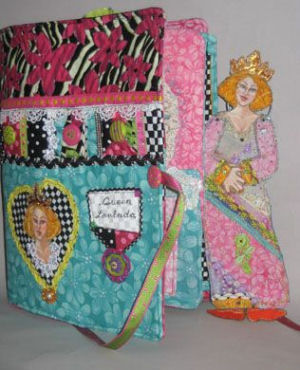 Queen Jorinda and Her Closet

Create this unique 12" folder for holding art materials or sewing tools along with a charming 9" flat doll. There are two pairs of shoes Queen Jorinda can wear, and instead of the gold crown, make a Haku Lei. Haku, in Hawaiian, is head. The Alii (royalty) in Hawaii wore Haku Lei's instead of a traditional crown. A project for hours of imaginative fun!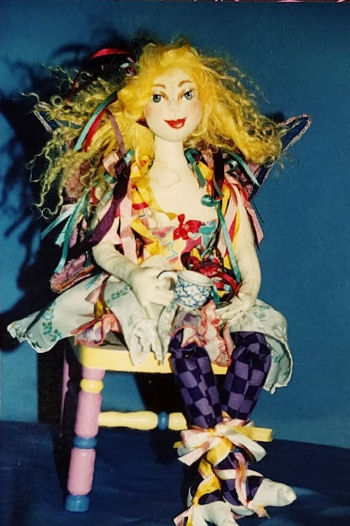 Tea Time Fairy

Simple 12" fairy with jointed legs and fingers wired for holding her teacup.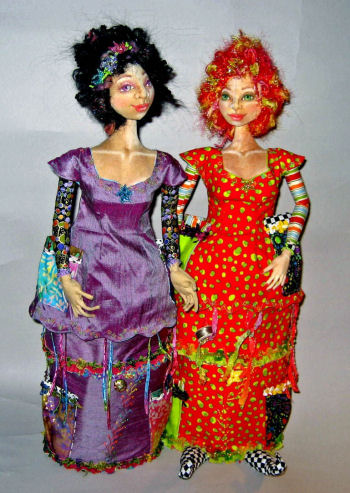 Penny Cassandra, A Sewing Caddie

This wonderful 18" sewing caddy not only has pockets on the outside to hold sewing accessories but it comes apart to reveal an inside container with a beautiful pincushion and needle holder. Pattern includes detailed instructions for sculpting and coloring the face and body.