The challenge is to create an original pattern for a sexy flamingo doll. Our customer, June Pierceall, describes the doll as follows:
"I can see this flamingo made of pink satin or a pink glittery lame fabric. Really tacky!!! On top of the head would be some pink feathers or something spiky. She would need long eyelashes, eye makeup and sun glasses down on her beak. There would also need to be some sort of stuffed bra top to give her some big boobs. This would be of some glitzy fabric also. The legs would need to be really long and skinny encased in black lace. A sitting doll could have some sort of high heel shoe. This might be more difficult with a standing doll."
The object was to see who could create the ultimate tacky flamingo adhering as closely as possible to June's description above!
The votes are in and the winners identified below!
Click on pictures for larger view. Click on your back button to return to this page.

"When Social Security just isn't enough...."
by

Bev Gelfand

All dolled up in a snazzy black bustier and stockings, this 17" prize winning flamingo with attitude named Gladys is doing her best to make ends meet.
"Phoebe & Rose"
by Robyn Martin

Whether in her natural state or glammed up for a night on the town you'll have a wonderful time making this fabulous 24" bird armatured with dowels and PVC joints.

"Phillaminga"
by Patti LaValley

Glamorous 13" jointed pink flamingo with black net stockings and wired wings accessorized with black trim, beading and feathers.
Honorable Mention
"Funky Francine Flamingo"
by Stephanie Harris

With fishnet stockings, rhinestones and beaded trim, this 19" pink velvet flamingo is raring to go!
"Sarasota Sadie"
by Susan Barmore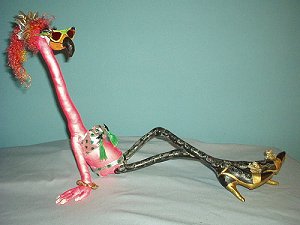 This 13"x17" beauty is all dolled up for her day at the beach.
"Sarasota Sadie" Pattern is Available
in our Etsy Shop as a PDF Download!
Click HERE!
Honorable Mention
"Missy Flamenco Flamingo - $1.00 a dance"
by Jackie Westfall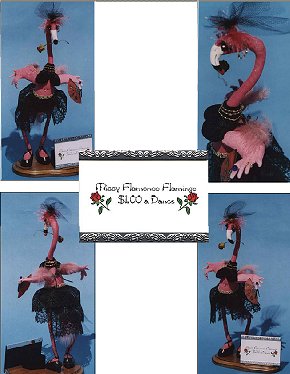 Decked out in her finest laces and jewels, this 18" bird with clay beak and shoes is ready to dance the night away.
Honorable Mention
"Bar Stool Flamingo"
by Mamie Harris
"Mingo Dahling"
by Dolly Francis

Bring on the glitz for this buxom 24"free-standing flamingo that can also be posed sitting with legs outstretched.