Cloth Doll Patterns, Book and Free Patterns by
Pamela Hastings
---
An introduction to Pamela Hastings by Pamela Hastings...
About my doll making: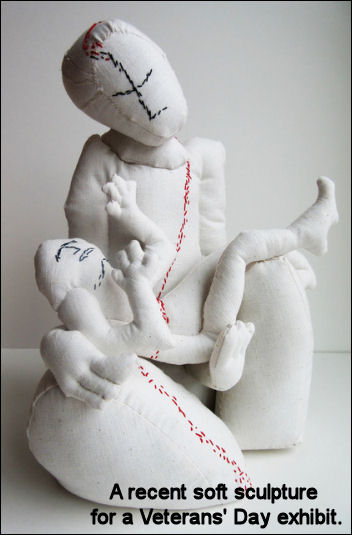 My grandmother taught me to sew when I was five and made my first doll. Like most, I started with costume dolls, but then discovered Lenore Davis and Soft Sculpture in the Sixties. My work since then has been sculpture and art-based, rather than realism-based.
By disregarding "pretty" and "realistic" my designs can express a lot of emotion and fun without being technically difficult to make. My personal work can get more elaborate and has been shown in art galleries in the US and abroad.
I enjoy working with women and helping them to recognize their own creativity, encouraging jumping off from the pattern. I've written and taught about using the process of doll making as a way to transform one's life. In that way, my patterns move way beyond "toys" or "cute" and at the same time the unusual colors and shapes are just a lot of FUN.
Best,
Pamela
---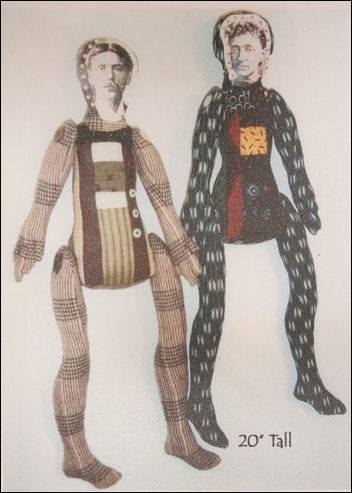 Ancestor Doll
Create a family heirloom while combining fabric and paper techniques to make this 20" individualized doll with the face or your very own grandmother.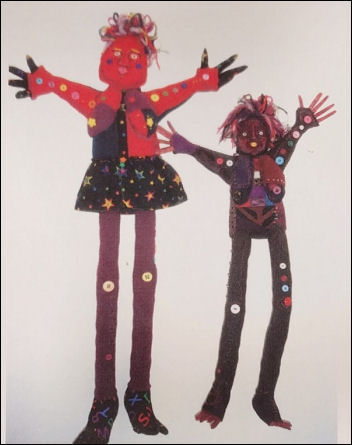 Big Fleece
Use polar fleece and large print scraps to create a soft 24" or 36" doll with individual fingers and toes. The body can be a canvas for primitive embroidery and affirmations, buttons and charms.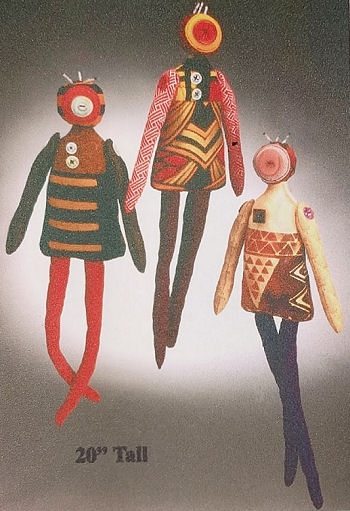 Button Face Doll
Why struggle with a realistic face when a button will do? Experiment with this 19" abstract figure.
Click HERE to View/Print Supply List!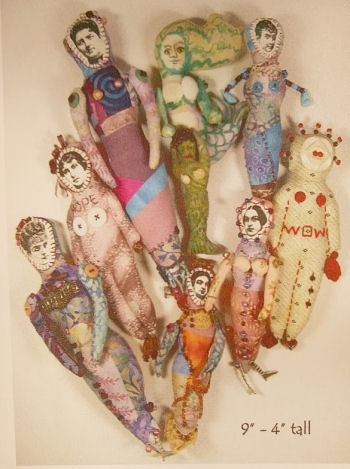 Icons
A fabulous assortment of simple, timeless shapes from 4" to 9" to create small works of art, both dolls and jewelry for any occasion. Each pattern includes 2 antique faces printed on muslin.
Click HERE to View/Print Supply List!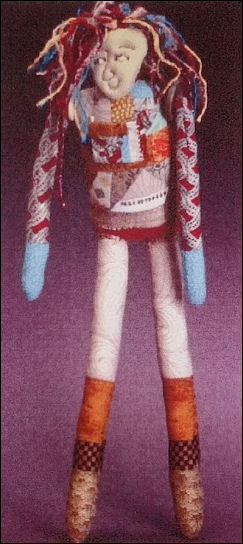 Open Guy
This 24" strip pieced, button-jointed fellow has a door in his chest for your very own message.
Click HERE to View/Print Supply List!
Temporarily Unavailable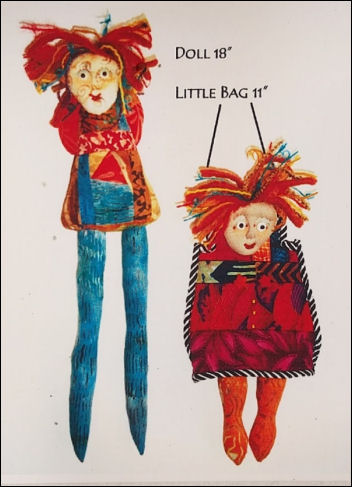 Petite Angel Doll & Bag Ecclectic
An excellent beginning doll making project, the Petite Angel in 2 sizes (12" and 18") as well as a cute 11" bag teaches scrap piecing and a very simple needle molded face with bead embellishments.
Click HERE to View/Print Supply List!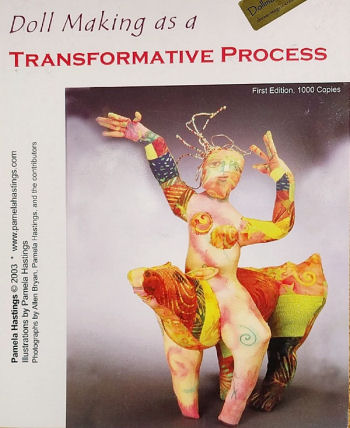 Doll Making as a Transformative Process
Extraordinary 100-page book that includes 24 contributions from people who have used doll making for personal transformation, healing, changing relationships to changing the world. Pamela includes basic patterns and a wealth of pictures and ideas to guide you through using dollmaking for transformation. A book that will truly move and inspire you.
Temporarily Unavailable
---
Free Patterns
---

New Design...
Multi-Legged Doll
by Pamela Hastings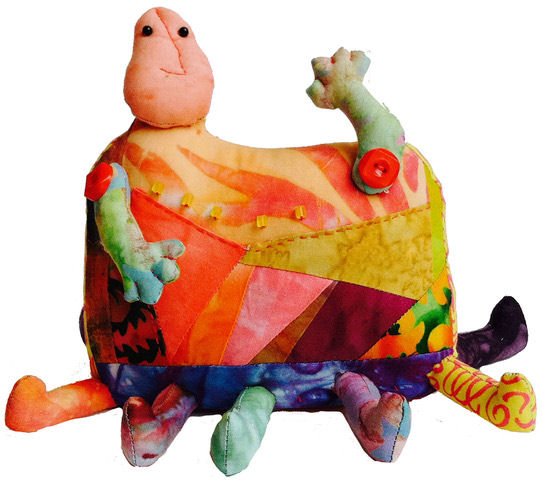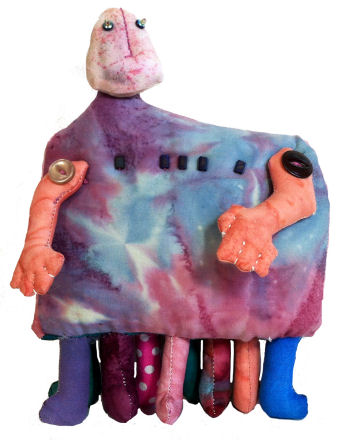 Multi-Legged Doll…
This is a simple doll, pictured sitting (above) and standing (right). With the pattern, the few instructions below and your creativity, this unique doll will transform into your own creation!
Click HERE to print Pattern.
General Directions: The triangular gusset goes into the end closest to the head. the bottom gusset should have a stiff cardboard insert, with an added weight inside (3 large washers) for the sitting version. Cut as many legs as needed and leave the top end open. Sew to the bottom base for standing, and around the sides for sitting. Trace around the pattern pieces and sew on the traced line, leave an opening, turn and stuff.



Quirky Guy
by Pamela Hastings

This Quirky Guy is quick and easy, but can be finished and embellished in all kinds of ways. Use a photo transfer on the face, needle modeling, embroidery or button eyes. The body can be dyed, pieced, stamped or collaged. Add a 1/8" to ¼" seam allowance and leave the ends of the arms and legs open, also the top of the head. Things can be sticking out of the openings. Join the limbs to the body with buttons, so he can sit or put a hanging loop on the back of the head. The possibilities are endless!

Click HERE to print Pattern.



Hot Flash
by Pamela Hastings

For the sample doll Pamela used an iron-on photo transfer of her face, Tsukineko All-Purpose Inks and Fabrico pens for the body. The base is a scrap piece of 2 x 4, covered with a piece of thin quilt batting and batik. The doll is ladder stitched to the base in order to have enough weight to stand up. The body could be made of batik, and dressed in a costume. Hair could be almost anything. The sky's the limit for embellishing this work of art!

Click HERE to print Pattern (PDF.)
---
All contestants used the free pattern by Pamela Hastings (Above).
The rules were simple: you had to design your own fabric...dye it...felt it...weave it...discharge dye it...stamp it...bead it...sew it...quilt it...or change it in some manner.
We asked you (the Judges) to select three dolls: best embellishment, most creative fabric, and strangest.
Click on pictures for larger view. Click on your back button to return to this page.
Entry #1




"Shall We Dance?"


by Kathleen Muller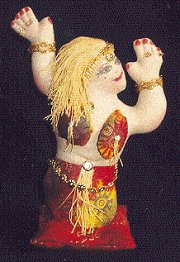 Entry #2




"How to Manage your Hot Flashes"


by Penny Maloney

Entry #3
by Denise Giardullo

Entry #4




"Lady of Praise"


by Rebecca Bennett

Entry #5




"One Hot Mamma"


by Sandy Corson Walker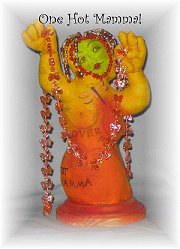 Entry #6




"Tribal Passage"


by Tina Keennan

Entry #7




"I Can Do This Without Hormone Replacement Therapy"


by Wendy Sternberg

Entry #8


by Cheryl Netter


| | | |
| --- | --- | --- |
| | Best Embellishments | |
Entry #9


by Kimber Fenili


| | | |
| --- | --- | --- |
| | Most Creative Fabric | |



Entry #10


by Becky Harness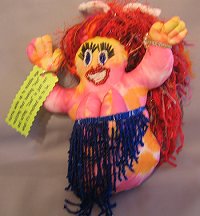 Entry #11


by Adriana Esqueda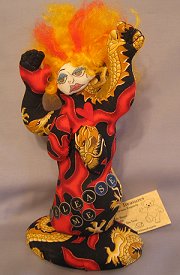 Entry #12
"I Am Woman"
by Cynthia Calabrese
| | | |
| --- | --- | --- |
| | Strangest | |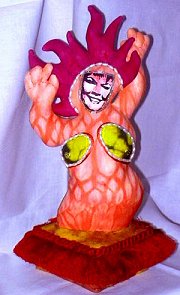 Entry #13




"I Am All Things Fun and Beautiful"


by Suzanne Holloway

Entry #14




"Reborn"


by Annicka Greborn-Holmqvist

Designer's Choice
(picked by Pamela Hastings)
Entry #15


by Helen Hoelck