Cloth Doll Making Sewing Patterns by
---
Click on pictures for larger view.
Mumbles

This easy 16" cheesecloth wrapped mummy stands with the aid of a wood base and a skewer up his leg.
Gema CD


You'll have so much fun embellishing this colorful 14" fairy wall doll that features an open mouth. Shelley's step-by-step construction photos are simply fantastic!
Laura


Built over a candle stick this 20" bride doll has an ethnic flair.
Squishies


This adorable 19" fleece doll is the doll that loves you back. You can whip them up in no time for your loved ones or charity projects.
Asia - CD


You'll have 115 colored photographs and 31 pages of explicit instruction to guide you through the creation of this charming 16" soft sculptured doll with jointed legs and moldable hands. She is able to set or stand on her own with no props or doll stands and is made durable enough to be played with by a child or an adult.

Temporarily Unavailable
Mother Earth


Silk flowers, vines , feathers and more adorn this graceful 17" doll built over a wooden candle stick or a dowel and disk.
Baby Bedbug


They don't come any cuter than this 8" shelf sitting fairy!
Silly Trio


One yard of orange fleece will make all three of these darling
needlesculpted pumpkins, Stanley, Skeeter and Snooty by name that range from 6" - 8" high and 17"- 20" around. Once you start making them you won't be able to stop!

Click HERE to View/Print Supply List!

Temporarily Unavailable
Love

This beautiful 20" stump doll weighted with sand holds a precious baby in her arms.
Baby Jada

Made of doesuede and sitting 11" tall, this darling little baby elf can wear real baby clothes.

Willow

Weighted throughout his body to feel like a real baby this 9" anatomically correct newborn elf is snuggled in an easy-to-make flowered nest.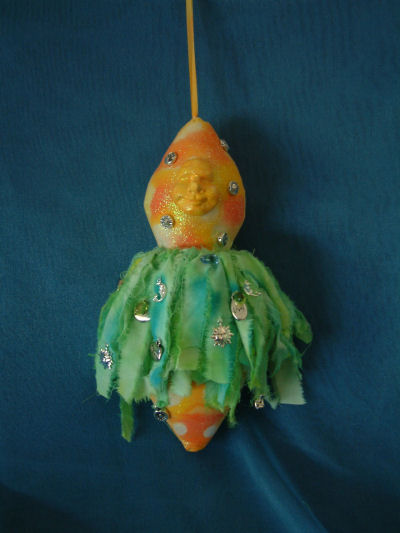 Dream Keeper
This delightful 8" project is designed with a secret pocket to hold your dreams and comes with a 1-1/4" paperclay mask.
Click HERE to View/Print Supply List!
Temporarily Unavailable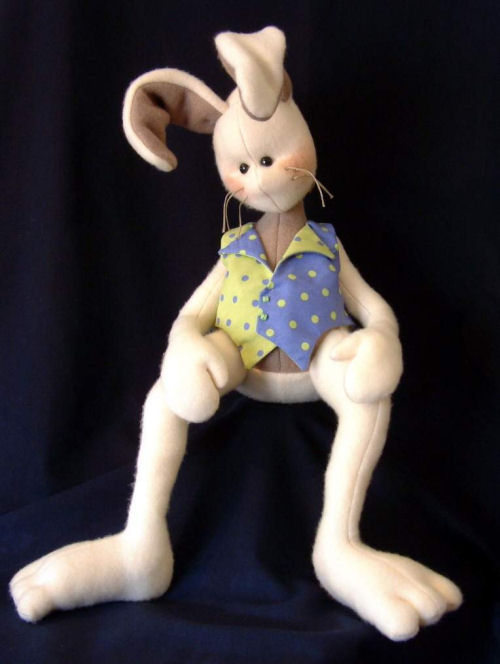 Emery
Charming 20" seated fleece rabbit.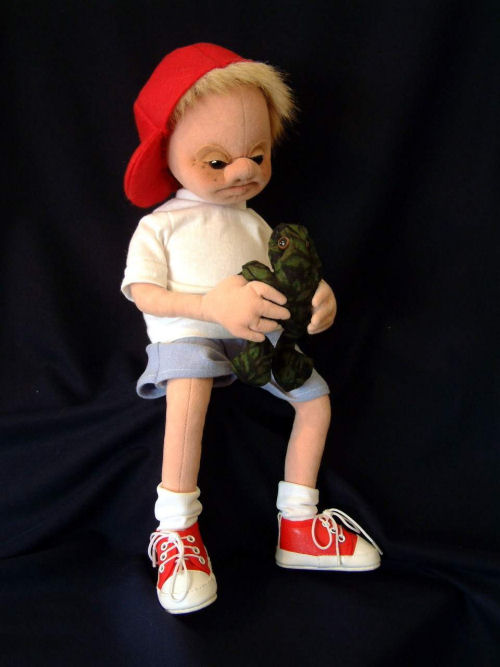 Brady

A weighted bottom keeps this rascally 14" lad with a stuffed frog from falling over.
Click HERE to View/Print Supply List!
Temporarily Unavailable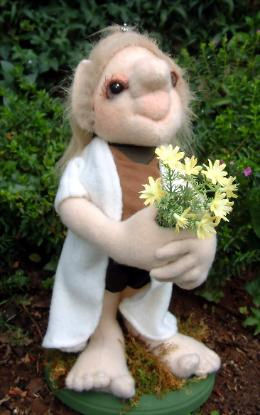 Brook

Sweet little 14" Troll girl with a bouquet of flowers.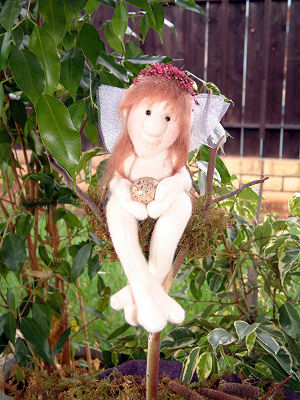 Nel
Darling 7" Sprite Faerie.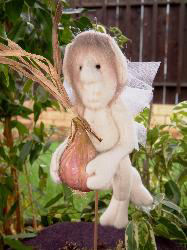 Jax
This 7" Sprite is full of mischief.
A Gnome for All Seasons
In this one amazing pattern you'll find all the pattern pieces and instructions to make 14 different 7" gnome dolls that can stand on a shelf or be hung as ornaments. You will quickly discover that they are addictive to make and you'll most likely start thinking up your own versions. Get ready to have FUN, FUN, FUN! Included in the packet are:
Bride Doll and Groom Doll, Teacher Doll, Father Time / New Year Doll, Valentine or Springtime Doll, Uncle Sam / Independance Day Doll, Leprechaun / St. Patrick's Day Doll, Halloween / Witch Doll, Thanksgiving / Fall Doll, Birthday Doll, Male and Female Christmas dolls and Male & Female Summer fun dolls
Click HERE to View/Print Supply List!