Newest Pattern!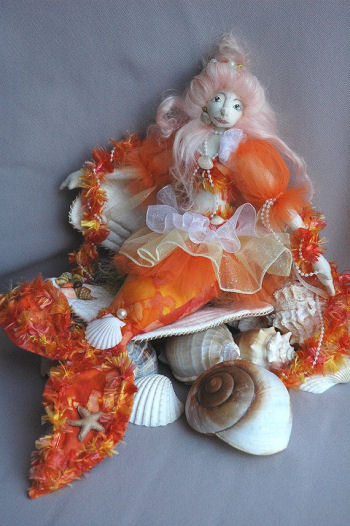 Audrina, 16 inch Mermaid Cloth Doll, with Cloth Seashell
This mermaid is 16" from the top of her head to the tip of the tail. Have fun decorating her with yarn, trims, pearls, sequins, tiny seashells, glitter, charms, and more.
Audrina's hair is mohair but yarn curls would be perfect too.
She is decorated with real seashells, pearls, charms, and yarn. The pearls are pearls-by-the-yard. Decorate her however you like!
There are patterns for the clam shell, too. The shell has fun wire sewn to it so you can bend it into a cup shape.
The directions have plenty of hints, drawings, and color photos so it will be easier for you to make the dolls.
Click HERE to View/Print Supply List!