Cloth Doll Making (Sewing) Patterns and Tatted Quilt Patterns by


Creative Stitches
---
All Patterns On this Page are Printed and Mailed to You.
If you like PDF Download Patterns you will find Billie's patterns in our Etsy Shop for easy download. For Downloads from our Etys Shop go HERE!
---
Click on pictures for larger view.

New Design!
This gentleman frog makes the perfect pincushion.
Complete easy to follow instructions.
Frog is 5 1/2" Tall.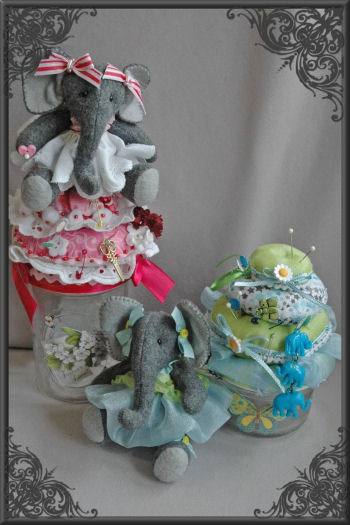 Pansy, the Pincushion Elephant
This sweet little 5 1/2" tall felt elephant sits atop a fabric pincushion that's been attached to a wide mouth canning jar. When she sits she's 3½" tall.
Fill the jar with a collection of buttons, trims, or whatever you like.
Pansy is a sweet girl but you can make the elephant a boy, too. Instead of the dress just gather ribbon or fabric around the neck in a ruff.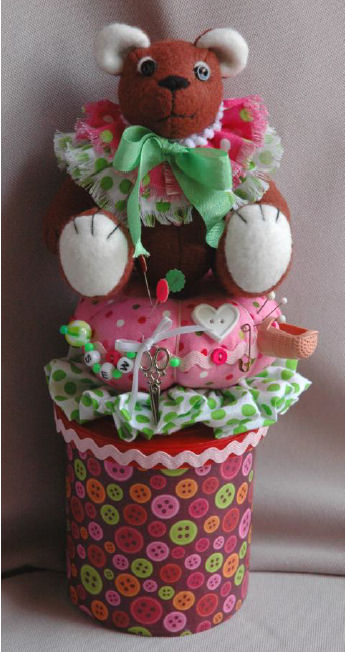 Buttons, The Pincushion Bear
Felt Teddy Bear Cloth Animal Doll Sewing Pattern
This charming little felt bear sits atop a plastic icing container that has been up-cycled to hold buttons or other sewing supplies. He's cute enough to sit on your dresser to hold brooch type pins in the pincushion and other jewelry or hair accessories in the container. The bear and pincushion can be attached to pretty much any container as long as you can sew or glue the fabric pincushion to it.
The pincushion measures about 10" from the top of Button's ears to the bottom of the container. Note that measurement will change if you use a different size container. Buttons alone sits about 4 1/2".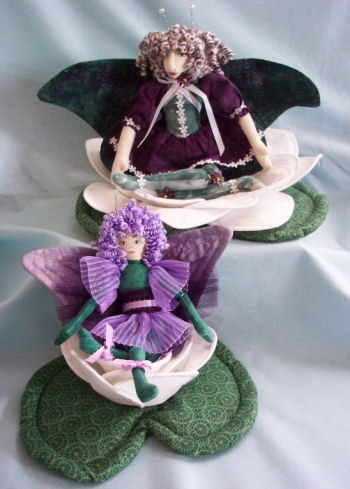 12" Flitter & 8" Flutter
Butterfly Girls & Water Lily Cloth Doll Sewing Pattern
These butterfly girls look so cute sitting in their water lilies. 12" Flitter has a needle sculpted nose and painted face while 8" Flutter has a simple to make face, no sculpting - it's flat.
Bali batik and hand dyed fabrics were used to make them but you can use any fabric.
The hair on both dolls is yarn baked on knitting needles. You will use thin wire with beads for the antennae sewn to the heads.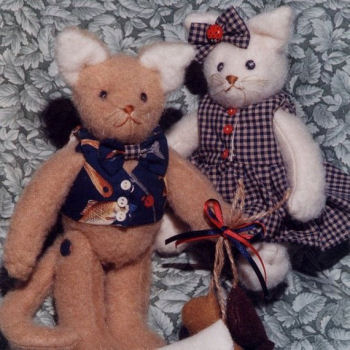 Will You Be My Sweetheart?
9 inch Felt Kitties Cloth Animal Doll Sewing Pattern
Isn't Jerry sweet offering Jenny a bouquet of 3 mice tied together with ribbon? They are so cute sitting on a shelf, in a basket, or tucked in a wreath on a door. The clothing is removable so you can make different outfits for different times of the year.
To make the 9" cats use fuzzy (plush) Kunin felt for the bodies. You can use plain felt but the fuzzy ones look nicer. Kunin also makes a loopy felt that looks great. This pattern was designed for felt, not cotton fabric or fake fur. To use something besides the felt will cause the shape to be different than the picture shows.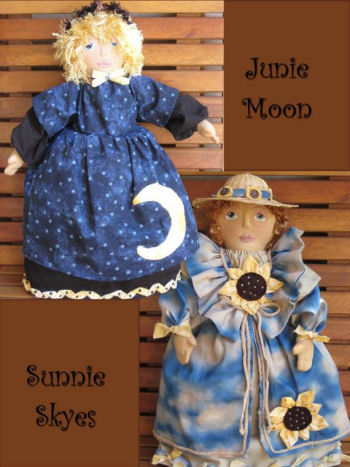 Which Way is Up?
18" Topsy Turvy Dolls
Cloth Doll Making Sewing Pattern
This doll is an 18" long topsy-turvy doll, there are no legs and you can flip the skirt to display either side. The doll may be displayed hanging or leaning.
The doll body is tea-stained and there are how-tos in the directions. Both sides have painted faces and hands with stitched fingers. The faces are different for each doll.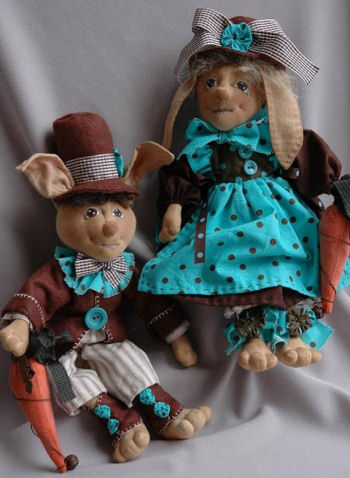 15" Peter & 14" Petra
Prim Folk Art Rabbits
Rabbit Cloth Animal Doll Sewing Patterns
Make your own boy and girl rabbits with this pattern. Peter is 15" from the bottom of his feet to the top of his hat. Petra is 14", same measurements. They have floppy legs that are gathered at the knees so they will sit with their legs hanging.
Complete directions include how to paint their faces and tea stain them. Directions also include how to rust metal for those who can't find the rusty wire, bells, and key I used. There is also a hint on how to fake rust.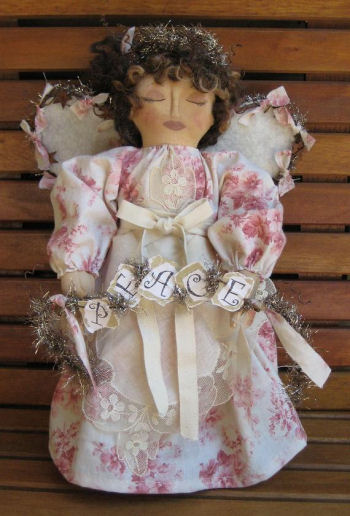 12" Folk Art Angel Tree Topper
Make your own Angel for the top of your tree. You can also display her by sliding the cone over a short candle taper for a table decoration or shorten her skirt to display her sitting on the cone.
She's about 12" tall and is put together over an empty thread cone.
Not a fan of folk art Prim? She looks great made in lace with feather wings, too!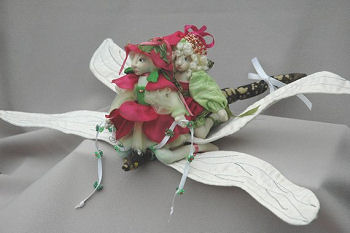 Rose and Petal
Dragonfly Riders Cloth Doll Pattern
6" Rose and 5" Petal are tiny fairies having a grand time riding their dragonfly with beautiful wired wings.
The dragonfly has a 14" wingspan and is 9" long. It's body and wings are supported by wire.
A beautiful felt costume adorns the sweet elf that rides atop this wonderful bear. The pattern includes a ton of color photos to guide you through the construction of this 13" tall project.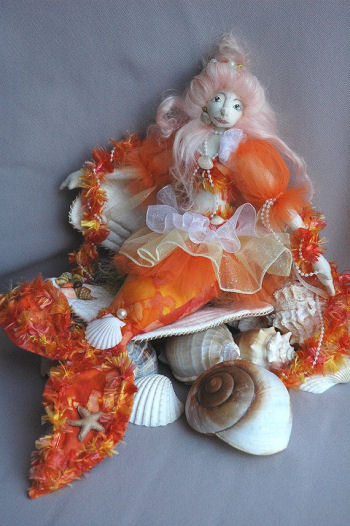 Audrina, 16" Mermaid Cloth Doll, with Cloth Seashell
This mermaid is 16" from the top of her head to the tip of the tail. Have fun decorating her with yarn, trims, pearls, sequins, tiny seashells, glitter, charms, and more.
Audrina's hair is mohair but yarn curls would be perfect too.
She is decorated with real seashells, pearls, charms, and yarn. The pearls are pearls-by-the-yard. Decorate her however you like!
There are patterns for the clam shell, too. The shell has fun wire sewn to it so you can bend it into a cup shape.
The directions have plenty of hints, drawings, and color photos so it will be easier for you to make the dolls.
Click HERE to View/Print Supply List!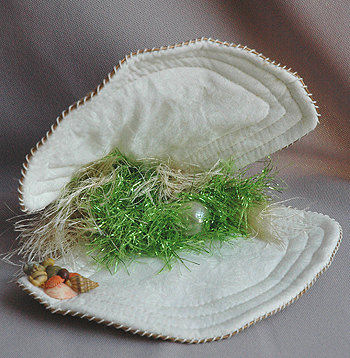 The pattern for these charming 18" Christmas Fairies is packed with construction options to mix and match. A super project for using your special Christmas fabrics and trims but they can be dressed for any time of year, too!
Have fun with the pattern and different kinds of fabric.
The ornaments they hold were purchased.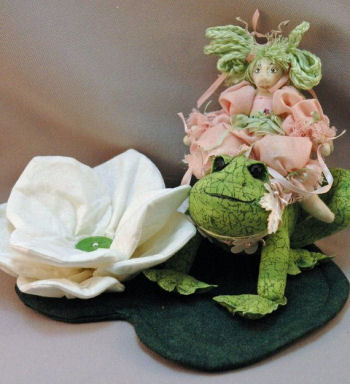 Primrose Meadowsweet
Fairy and Frog Cloth Doll Making Sewing Pattern
This sweet vignette is composed of a darling 5" fairy riding her 3" pet frog Flip.
Primrose (Fairy) has a needle sculpted nose and painted face. Embroidery floss is used for the hair.
Directions for water lily and lily pad are included. The water lily and pad are very simple to make. The pad is 6" x 7 - 1/4". The flower when cupped is about 2" high and 5" wide.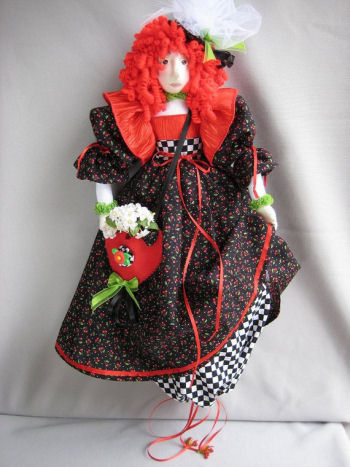 Lisette, A Gift Bag Doll
This versatile Gift Bag doll is 18" tall from the top of her hat to the bottom of her skirt and her features are needle sculpted. She would also look wonderful in holiday fabrics. Her skirt is large enough to hold pajamas if you would like her to be a bed doll.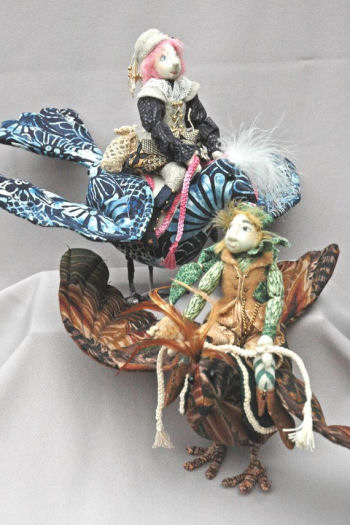 Tansy & Thistle
Bird Riding Elves Cloth Doll Pattern
Wonderful 9" elfin creatures riding lovely birds wired for posing. The pattern was updated. The birds have legs they can stand on.
These darling 10" seahorse riders are easy to make and embellish.
The pattern for these delightful mermaids comes with quilted clam and scallop shells.