Tutorials, Workshops, Classes and Patterns by
of
"Designs by Kat"
---
---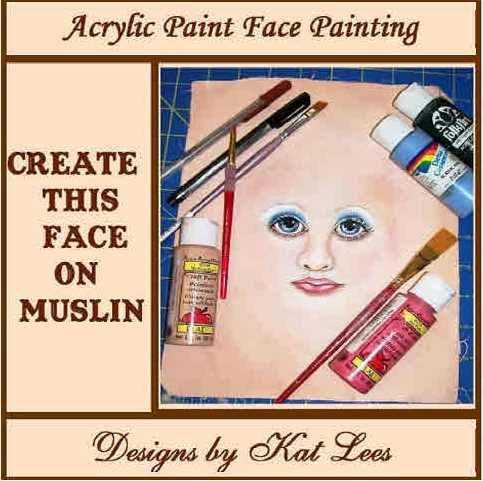 Acrylic Paint Doll Face Painting
Face Painting Basics Class CD
By Kat Lees
This amazingly comprehensive workshop will take you brush stoke, by brush stroke through creating a face with acrylic paints. You'll find detailed instruction about the use of different fabrics and textures, feature placement and then painting and finishing the face. You'll definitely take your skills to another level with this awesome CD!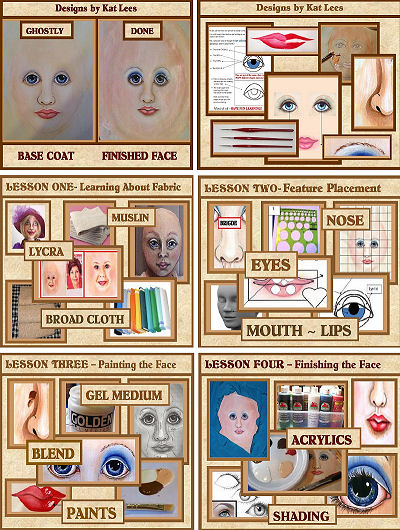 Back In Stock!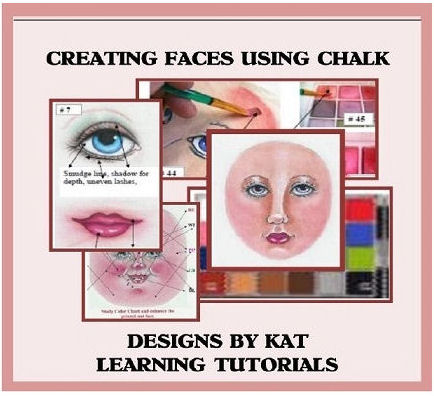 Creating Doll Faces with Chalk CD
By Kat Lees
Shading and blending color is a breeze when you learn the secrets of using
chalks to create beautiful faces. Kat's detailed step-by-step instruction
and over 60 photos will guide you expertly through the process.

Back In Stock!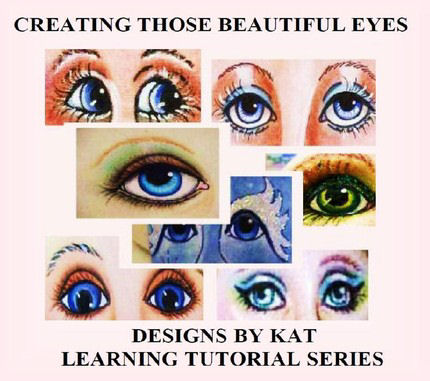 Those Beautiful Doll Eyes CD
By Kat Lees
With Kat's expert and thorough instruction you are going to discover just how easy it is to create gorgeous, lifelike eyes for your dolls in a variety of ethnicities.

Back In Stock!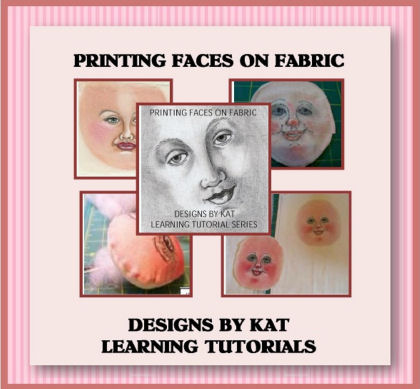 Printing Doll Faces on Fabric CD
By Kat Lees
Discover the secrets of transferring painted faces or photos to fabric in
this comprehensive tutorial that will expand your face making options.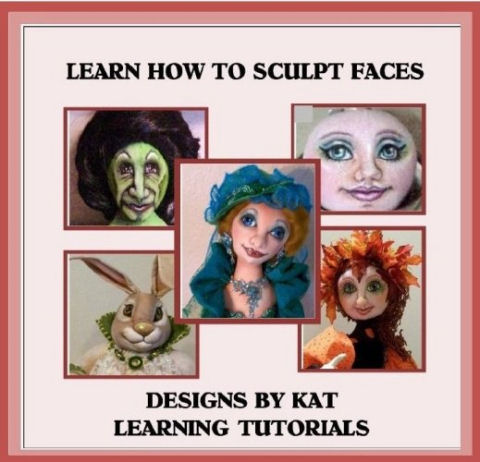 Sculpting Cloth Doll Faces Tutorial CD
By Kat Lees
This ABSOLUTELY SUPERB tutorial clearly illustrates with detailed photos and written instruction all the "ins and outs" of expertly sculpted facial features on heads made from both knit and woven fabrics. This MUST HAVE for your reference library will take your sculpting skills to a whole new level of expertise.
Temporarily Unavailable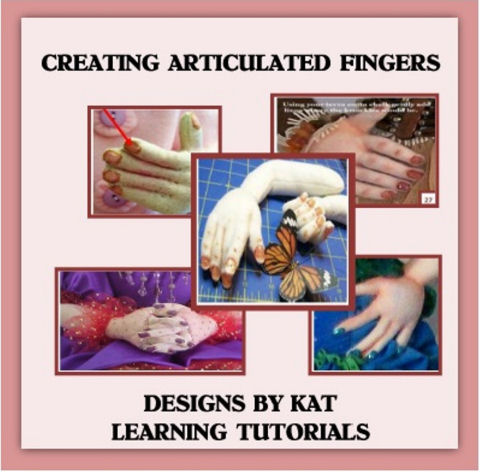 Creating Articulated Fingers CD
By Kat Lees
Learn how to make beautiful, expressive hands with wired fingers in a variety of fabrics from this wonderful tutorial chock full of tips, techniques and detailed photos and illustrations.
---
Kat Lees
of
"Designs by Kat"
---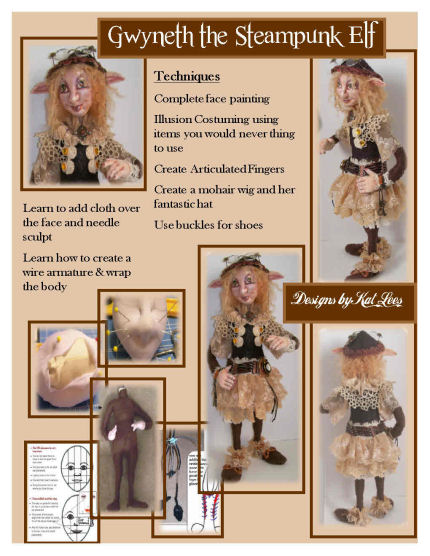 Gwynth – The Steampunk Elf - CD
By Kat Lees
This CD will teach you how to add cloth over the face and needle sculpt. You will also learn how to create a wire armature and wrap the body. You'll have plenty of fun embellishing this whimsical little elf steampunk elf!
Temporarily Unavailable
---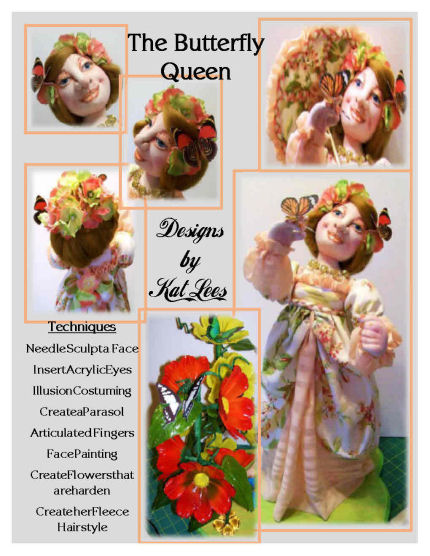 The Butterfly Queen - CD
By Kat Lees

You will learn many techniques making the beautiful queen. This CD will teach needle sculpting, inserting acrylic eyes, making articulated fingers and face painting. Your creativity will come in play making the costume and parasol.
---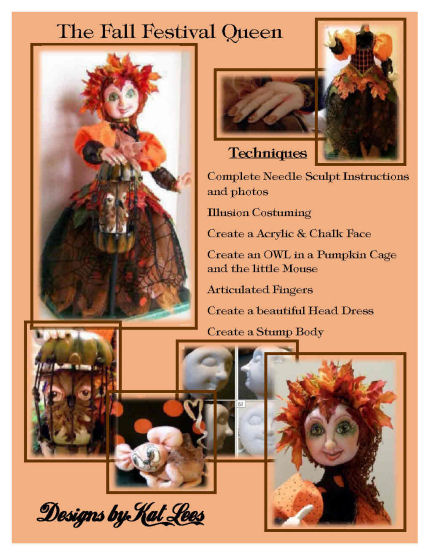 The Fall Festival Queen - CD
By Kat Lees
Making this colorful stump doll will expand your dollmaking skills! The CD includes step by step needle sculpt instructions with photos, description on how to create an acrylic and chalk face and more! Instructions are included to create an owl in a pumpkin crate and a little mouse!
---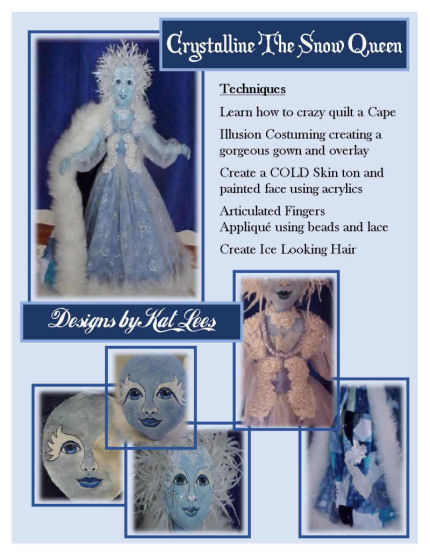 Crystalline The Snow Queen – CD
By Kat Lees
Create the COLD skin and ICD looking hair while making Crystalline The Snow Queen! You will also learn how to crazy quilt the cape, create her gorgeous gown and make articulated fingers. Perfect doll for a entrance hall shelf in the winter months!
---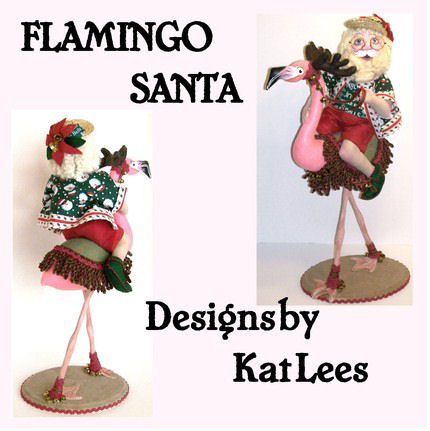 Flamingo Santa CD
By Kat Lees
Santa Claus decided to visit the tropics and his ride is a Pink Flamingo. Made of felt and trims, his legs are wooden dowels and of course he had to add antlers and jingle bells. Santa is a real hoot in his casual attire. The entire piece stands 28" tall.
Temporarily Unavailable
---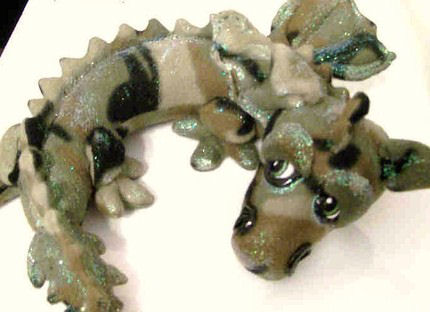 Muggins CD
By Kat Lees
As always, Kat packs the instructions with innovative techniques for this wonderful 18" dragon made of camouflage fleece. You'll learn how to sculpt his face and nose, paint shank buttons for the eyes, create his spikes, wired wings and a whole lot more with the aid of a hot glue gun!
---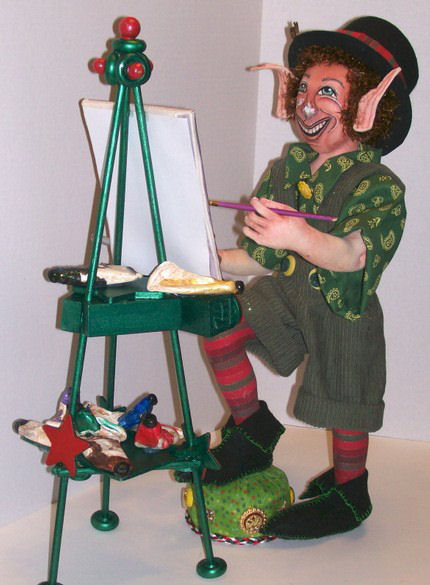 Joshua the Artistic Elf CD
By Kat Lees
| | |
| --- | --- |
| Construct this 18"elf with either a dowel or clay in the legs, wire his arms and ears and learn how to create the easel and paint tubes. As a bonus you'll learn how to transfer a family photo onto muslin to make his paint canvas. | |