An old fashioned, gently aged cloth baby dressed in Christening Gown and bonnet.
Reminiscent of the famous antique doll created by Emma Adams in 1892, this 21" painted beauty will surely steal your heart.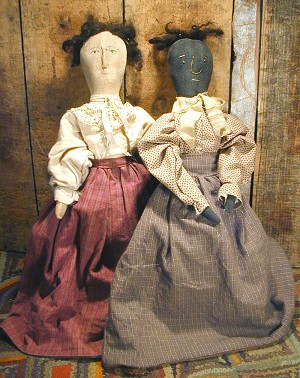 Topsy Turvey
An easy-to-make 21" version of a doll much beloved for centuries.
Temporarily Unavailable
You have the permission of the designer Shari Lutz to make up to 25 dolls from each of these patterns for your own personal use and for sale at local craft shows or boutiques. Your hangtag should include the following statement: "from a design by Shari Lutz". No mass production, wholesale distribution, Internet or catalog sales of finished dolls permitted.