New Design!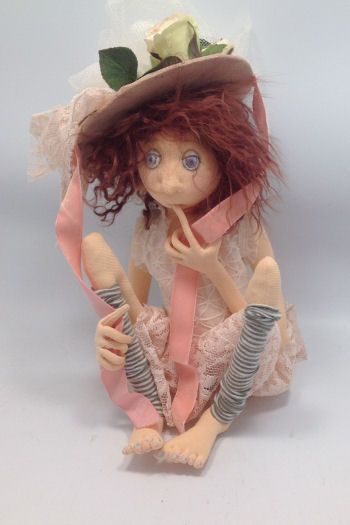 Molly
The Newest Original Design by Jill Maas!

Jill calls Molly a real stunner! This is a must make design! Molly sits at 10" (25cm). The pattern is easy to follow with very clear instructions and many diagrams on constructing this beautiful doll.
Molly's Story:
Molly's parents own a mobile home, they travel often, spending the summers in France and the winters in Spain. Molly speaks 4 languages, slips easily into new places, she keeps journals of her travels and loves seeing and documenting the different wildlife, particularly the birds.

Every morning Molly takes her dog Chester for long walk through the village before she settles down to her school work, she loves reading, maths and singing.
Designed by JILL MAAS, 15" seated Irene Mary comes from Irish ancestry and loves crazy hats. She drives her own party bus and often takes her friends to far away places where they dance in the moonlight and tell ghost stories till dawn.
Irene is known for her kind heart, she rescues small animals, works part time in a coffee cart, the rest of her day is spent making wooden chairs out of pallets and selling them at the River Traders market.
Click HERE to View/Print Supply List!
Daphne Duck stands about 17" (45 cm) tall and is ready to take off to your home right now!
Unique design and fun to make!!
Daphne is an extremely rare breed of cardigan duck found only on the mud flats of the Whanganui river. She uses her twisted aerial brain waves to connect with the moon which in turn sends down dance rhythms enabling her to make exotic patterns in the mud. Many people don't know this!
Daphne earns her living as a 'decoy' during the duck shooting season, a job that ensures generous amounts of danger money which she spends on cardigans
On Original Design by Jill Maas!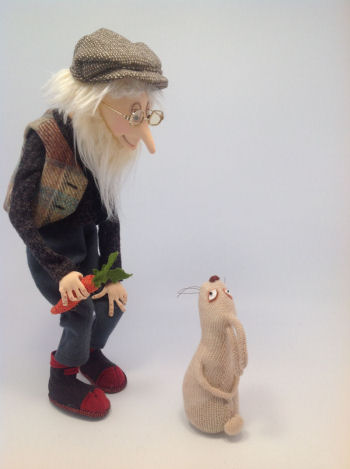 Flint the old gardener and his friend Roger Rabbit

Flint is an old gardener from Waverley, New Zealand.
He grows all his own vegetables, knows everything about compost, seeds, slugs and planting times.
Flint swaps his produce for cakes made by Molly who lives next door, grows pumpkins for the pumpkin competition and always has a spare carrot for the local neighbourhood rabbit, Roger
Flint stands about 40 cm/16 in tall.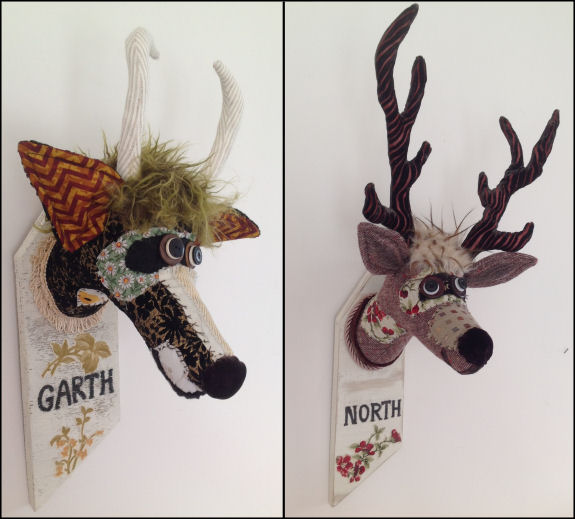 Fabric Taxidermy
Deer and Goat Cloth Doll Pattern
by Jill Maas!
Add a little merriment to your life with this fabric taxidermy project.

It's a reminder that we share this world with many amazing, remarkable animals, all of which have a purpose and place.

Enjoy creating an unusual display for your wall with no harm to anyone!

CLICK HERE to
Download FREE PDF Patterns!

Enjoy!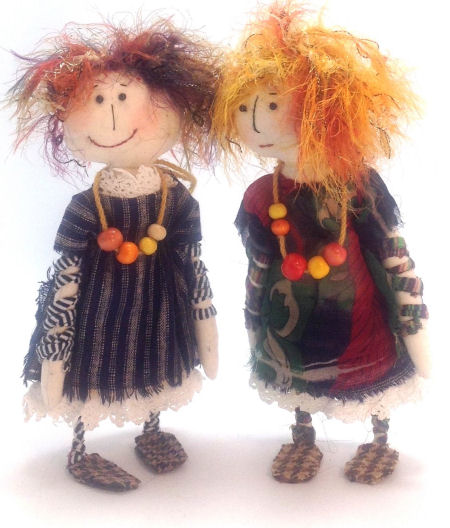 Lucky Lucy
Free 8" Cloth Doll Pattern
by Jill Maas!
Here's a 'little something' to do to fill in some of time or just want to have a bit of fun. Little Lucy is about 8 inches tall (20cm) and is an easy project to complete – and she's free!

Have a good day…………or not!

Lucky Lucy is NORMAL! She doesn't pretend every day is perfect .

On the down times she takes one hour at a time, on great days she flies, sparkling with the birds and in between days she is mirthful, contented and easygoing.

Lucky Lucy!

CLICK HERE to
Download FREE PDF Patterns!

Enjoy!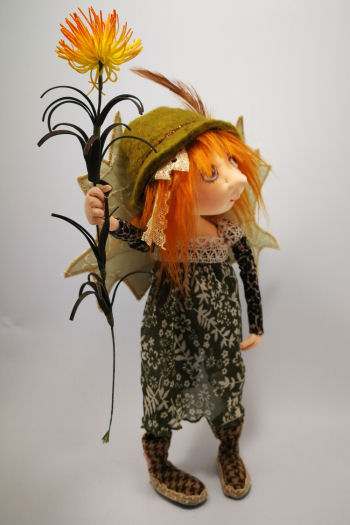 Donatella
13 ½" Fairy Doll Pattern
by Jill Maas!
Another Beautiful Original Design by Jill Maas!
Donatella's Story:
Donatella lives on a small sheep farm near a tiny village close to the forest.
Her favorite subject is mathematics, when she grows up she wants to be a mathematician and work in the financial center of New York, until then she spends her time counting everything,
(yes everything!) putting them into groups of form, size, relationships, symbols and quantities. If she sees it, she organizes and counts it!
This is no mean feat for her very patient flock of sheep who get herded around the farm and in and out of the yards several times a day.
Donatella belongs to the village children's choir, they often sing together in the forest pick wild flowers for their mothers and aunties and gather nuts from old walnut trees, of course she always counts these and makes sure there are 25 of the same size to take home.
The Newest Original Design by Jill Maas!

Fun and easy to make!
Great for gifts or just conversation pieces around the house, sewing room or office.
Jabbas' Story...
Jabbas are noxious nocturnal near sighted birds intent on
causing nightmares by their non-stop noise created by eating
heated noodles in the nude at midnight
Click HERE to View/Print Supply List!
Gracie, free spirited, full of myths, legends, fantasy and fun. A magnificent storyteller with whirlwind of talent and an extremely tender heart for animals.
Gracie stands about 17″ (42 cm) tall. She is a 'stump doll' and is easy to make as she has no legs or arms!
Poppy sits at about 10″ (25 cm) tall and looks great made from a tan colored fabric but any color of your choice will be just fine!
Poppy's Story:
Poppy is into music, several of her original songs have gone 'gold' she has performed at the Royal Opera House and in Carnegie Hall, rumor has it that she danced with a Prince at the party afterwards! Just for fun she loves busking around Europe in the Summer, often getting the children watching to dance and sing with her.
Poppy rides a 1100cc Harley, enjoys pigeon racing, reads historical novels, decorates old castles and plays touch rugby on Thursday nights.
Ettie is another beautiful design by Jill!
She stands about 17″ (44cm) tall. She is so fun to make and you will want to show her off to all your friends.
Ettie's Story:
Ettie has a strong personally, she is not easily intimidated or afraid to stand up for herself and others, her kindness and understanding makes her a loyal friend but she finds it hard to tolerate frivolous shallow people.
Ettie is an amazing violinist, travelling the world with her music, at times playing with a full
orchestra, at other times busking in the street, her talent has opened many doors, both humble and grand.
Ettie's dad taught her that girls can do anything!
An Original Design by Jill Maas of 'Slightly Weathered Ladies' And More™"
Beautiful 7" girl with a cute wee nose attached separately and sculpted lips and toes. Clothes not included, she is pictured in a simple wrap. You dress her however you like!
Sofia is another beautiful design by New Zealand artist Jill Maas!
Sofia (7 years old) stands just over 10″ (26cm) tall and she just loves elephants especially her favorite pet George. Pattern for George, the elephant, is also included.
Sofia's Story:
Sofia is devoted to learning about elephants, here are some of the facts she has learnt. Baby elephants weigh about 260 pounds at birth, one adult tooth can weigh 5 pounds.
Elephants can't jump, trot or gallop, but can swim using their trunk as a snorkel.

They can suck up 14 litres of water in their trunk and then blow it straight into their mouth. They eat about 50 tons of food a year.

The reason they spray mud over themselves when bathing is because it acts as a sunscreen when it dries.

Female elephants spend their lifetime living with their mothers, grandmothers, aunts, sisters and daughters, the adult males prefer a bachelor lifestyle.

Their trunks are very sensitive and can pick up a blade of grass or rip a branch off a tree.
Sofia plans to go to South Africa and Asia when she has saved enough money to see elephants in their natural habitat.

Meanwhile she sleeps with George every night.

Augustine is another fun design by Jill!
Augustine stands about 18″ (45 cm) tall and true delight to make. She makes a wonderful conversational piece and the perfect gift!
Augustines Story:
Augustine was born on an extremely cold, wet, windy night about 5 past 12 and immediately blown across the padlock through the fence and into the pig pen. Stuck in the mud and unsteady on her feet she was unable to make her way back to her clucking mother who ran around in worrying circles for a whole 5 minutes and didn't lay another egg for a fortnight!

Augustine was nurtured by a small pink piglet for 3 days eating only slush until her roving father spotted her.

As you can imagine the confusion of these dramatic events in her early life has caused Augustine to become slightly erratic, rebellious and allergic to bacon – apart from that she is completely normal, has a happy life near the sea, although she never swims in water above her knees.
An Original Design by Jill Maas of 'Slightly Weathered Ladies' And More™"
Designed by JILL MAAS, this plucky 16" beauty Danika, (meaning morning star) comes from Taumaranui where her Grandparents settled after immigrating to New Zealand. She was brought up on a sheep station where she mustered sheep on horseback and bagged manure for pocket money.
Locally she is known as 'the marchioness' possibly as her advice is given freely and she has quite a strong disposition, but she also has a large degree of kindness and is a hard worker.

Rocco, (of very questionable breeding) was found marauding at her boundary fence, she fell in love with his cute face, adopted him, registered him, micro chipped him and he had a small operation, (he's not quite forgiven her for that! but they have become constant companions, he protects her from wild beasts and only does trivial misdeeds when he feels ignored.)

We have many of the common supplies that Jill Maas recommends for her patterns. Check your supply list and use the links below.

Tools
~ Hemostats ~ Tiny Turning Tubes ~ Stuffing Forks ~

Supplies
~ #7 darner needle ~ Freezer paper ~ Chenille stems ~ Tacky glue ~ 16 gauge wire (coming soon) ~ Floral tape ~ Heavy duty thread ~ Pom poms ~
The Doll
~ craft velour ~ Tibetan lamb, or other fur for hair ~ Gel pens ~ Pigma pens ~ Prismacolor pencils ~ Chalk for cheek color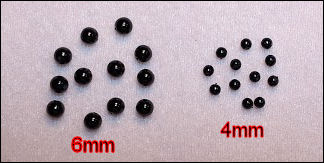 Black Beads For Doll Eyes
Sizes 4mm and 6mm. 12 Beads per package.
These beads are used as accented pupils for
many designs by Jill Maas (See pictures below).
| | |
| --- | --- |
| Bead Pupils Example - 4mm | Bead Pupils Example - 4mm |
---
Ratty stands about 12" (30 cm) tall. Fun to make and a great gift for that someone!
An Original Design by Jill Maas!
Ratty's Story:
Ratty was born in the Wairarapa quite a while ago, he has many siblings and has succeeded in creating over a hundred children,
Many of which have lived with a lot of discrimination and misunderstanding from the human race.
Luckily Ratty was adopted by a kind philanthropist in his old age and now spends his time painting, eating peanut butter sandwiches and dancing like Fred Astaire.
Ratty's favourite time of day is going to bed, he has his own wallpapered and soft fabric lined cardboard box at the foot of his benefactors bed.
Ratty has a secret past life that occasionally gives him nightmares.
~ ~ ~ ~ ~ ~ ~ ~ ~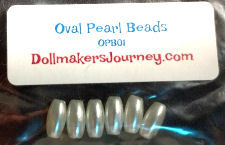 Oval Pearl Beads For Ratty's Teeth
Sizes 7mm. 6 Beads per package. Pearl White
Here is Denise, with her string of hearts, a little 'stocky' 12" lady, full of love mixed
with a little mischief. Some would consider her to be slightly 'outside ' respectable society, but it's a very difficult job working out which wishes to grant and which wishes to ignore and Denise always aims to please! Full of character a fairly easy doll designed by JILL MAAS to make and enjoy!
This awesome 14" canine designed by JILL MAAS works up beautifully with very textured wool. You may find an old garment that would be just the ticket. He has a weighted bottom for excellent posture. And as with all of JILL'S patterns he is very fun to make.
Mr Hare is similar to make up like Douglas Dog, we make up the base/ body, he is wired inside stuffed and then the fun begins, all the small scrapes of different fabrics are frayed and sewn on all over the hare shape with strong black thread, it's so much fun, a bit of a challenge but once you get into the swing of it you'll find you create a piece that is entirely original. You will learn how to use the fabrics to shade and shape him. It's a bit messy, threads everywhere!

He stands about 19″ (48cm) tall.
Delightful 10" pindolls with loads of attitude.
Have fun making this delightful 16" bird lover and her friends Betty Finch and Petunia Parrot. Knit tubes are stuffed with chenille stems to form the nest-like arrangement on top of her head.
This little 10" lady with huge charm stands alone carrying a little tray with a cupcake complete with icing and a cherry.
With her pointed elfin ears, turned up boots and gorgeous wings, this impish 13" fairy is ready to wing her way into your heart. She will look darling in any color combination you choose.
A little bit of lycra, designer scuffs and a hat to shade her from the sun will produce this 11" bathing beauty with twinkly eyes!
With his toothy smile and his small flock of prize winning breeding sheep, this 14" fellow is a real charmer.
Standing about 20" tall, these slender best friends are full of attitude and flair. Just think what a super girlfriend birthday present they would be!
Inspired by a bunch of beautiful tulips bought at a local market, this 14" cutie holding her very own bug has a bulb shaped hat with wool fibers as roots and a dress shaped at the hem to represent the flower.
Slightly retro, sassy, sexy, curvy and upbeat she stands about 18-1/2" tall. Her dress, which is part of her body, is complemented with a little crop jacket and high heels to show off her shapely legs.
This 17" sweetie is so comfy in her boots, striped stockings, woolen jacket and warm hat.
Because they are weighted in the base you are able to pose these delightful 12" creatures leaning forward, back or to the side, which makes them look as though they are moving. FUN, FUN, FUN!!!
This wiry, slightly eccentric 16" lovable gal whose first love in life is fishing, comes with her 'catch of the day', even to the extent of the largest fish gutted and worn as a hat, (or for those a little squeamish, there is also a little knitted hat pattern included.
A little exotic with her gorgeous red hair, tiny waist, dreamy eyes and high
boots, everybody's darling, this 12" beauty is ready to party or just lounge around
chatting with her loyal dog Nelson by her side. (Couch Pattern Available Below.)
Measuring 13" wide and 6" high this great couch has a basic structure of heavy cardboard that can be covered in cotton, upholstery fabric or even a short fur.
Oh what fun you'll have creating this marvelous fellow and his amphibian friends! The pattern shows you an easy way to cover a box with fabric, and it also explains how to adjust the measurements for any size box. Over all size is approximately 6" wide x 12" high.
Here is an 11-1/2" Santa in his old comfy clothes with his excited little dogs all ready for the holidays. The pattern also includes Bernie Bear, a wee softie, so easy you'll end up popping one in all your parcels.
Jill challenged herself to create a one color doll and this dreamy 14" darling carrying her own little doll is the result. What color would you choose?
Have you ever seen a sassier mermaid! What fun you'll have embellishing this 12" beauty.
This cheerful velour Granny with her lucky mascot Meredith Mouse is wired to stand 15" tall. Lots of fun costume details add to her charm.
The perfect partner of the Mother of the Bride, this dashing 17" Dad is dressed to the nines in his hired suit, new hair cut and a designer shirt. Some simple wiring enables him to stand alone – all ready for the big event!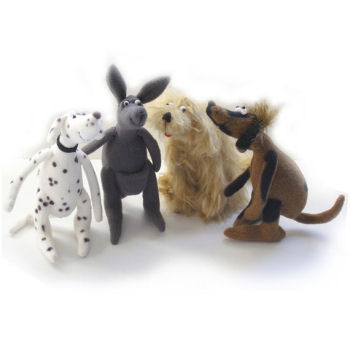 Three Dogs and A Kangaroo
by Jill Maas!
These four little 6" character critters are easy to make and as cute as can be.
Only her head is soft and sculpted, the clothing panels of this imaginative 20" doll represent an open book. The panels can be embellished with your favorite beads and trim with the addition of special verses and photos to personalize her in an extraordinary way.
With shopping bags ready, these wonderful 17.5" stump dolls are ready to hit the town. Make them out of regular cottons or decorator fabrics, then fashion their coats out of pieces of wool wrapped around and stitched in the ditch. A fun and easy-to-make project!
With silk wings and a lacey dress this spritely 14" velour angel is wired to
stand alone but point her toes, tilt her head back, lift her arms and she is
ready to fly in the breeze on a nylon thread!
Made of velour or deersuede, this marvelous 16" lady dressed in silk has a wonderfully expressive face and just enough sculpting to make her an easy challenge.
So cute, so grumpy, so likeable, and a little frumpy this old 12.5" gal made
of velour has wired legs and strong sensible shoes to hold her firmly on the
ground. She won't mind a bit if you fashion her clothing from old fabrics.
Sitting 10" tall this cheeky fellow can be dressed for Christmas or Saint Patrick's Day or as a bright wee person to cheer a dull afternoon. Requires 1/3 yard Craft Velour.
Designed for an exhibition, this wonderful 20" doll evoked memories of a dressmakers dummy of her Mum's that Jill loved as a child. You'll have a ball dressing it in your favorite bits and pieces.
Standing on her own, this 18.5" bathing beauty is heading off to the beach
in her best pearls to look for husband No. 5. Olive wears 3" glasses (Available below) and
requires ¼ yard Craft Velour for the body.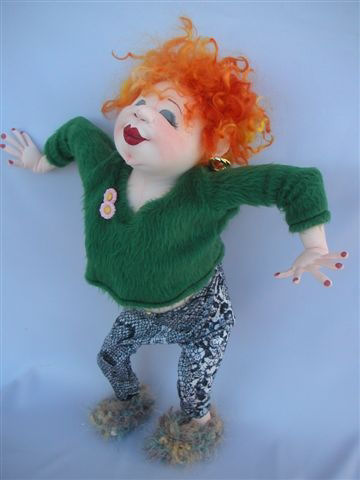 Dancing Doris
Oh to dance with abandon and live life to the fullest just like this fabulous 16" velour beauty who is wired to stand alone!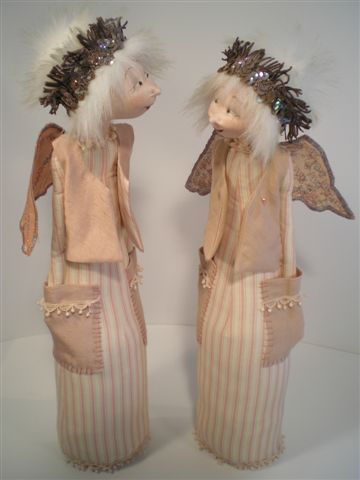 Dot the Pocket Angel
You won't have to worry about making hands for this delightful 14" angel that comes with a very special verse about her bringing hope and love and kindness.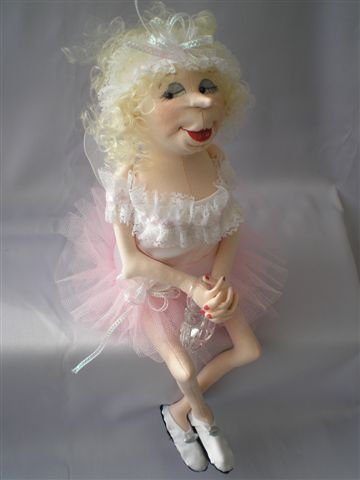 Gertrude
This delightfully mature 12" seated fairy is sure to become a trusted muse to you in your creative space.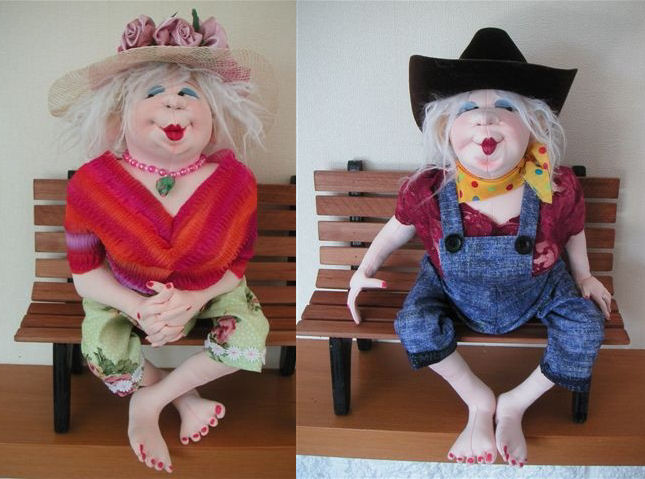 Harriet
The head and body pattern are one for easier construction of this sassy 10" seated character.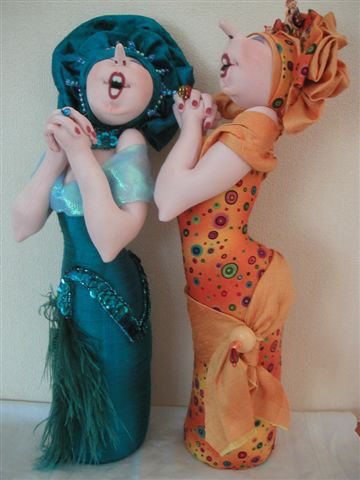 High Octave Hester

Delightfully expressive 15" character.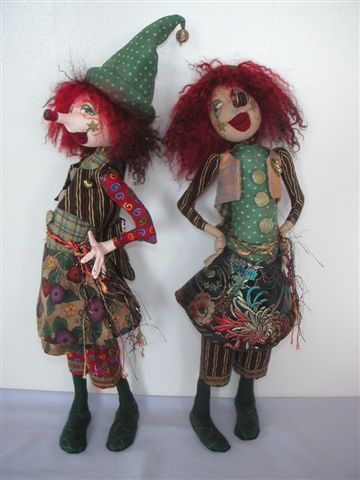 Amelia

This charming 22" character is a European circus performer.

Winnie Mae

Who can resist his utterly charming 16" mate for Wilfrid who can also stand alone!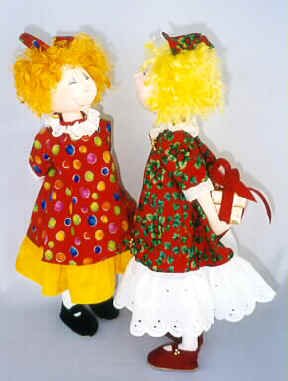 Holly

Wired legs enable this 17" charmer hiding a package to
stand alone. Makes a darling holiday decoration!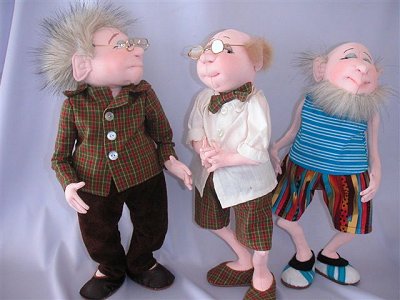 Wilfrid

Standing alone on his bent knees, this charming 17" velour gentleman with a twinkle in his eye adapts easily to become a variety of characters.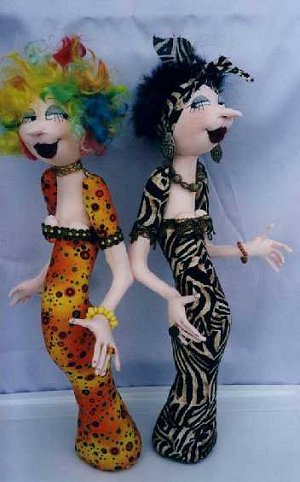 Jude

You'll have to make more than one of this sassy 18"character with lots of curves. She needs to have someone to chat with.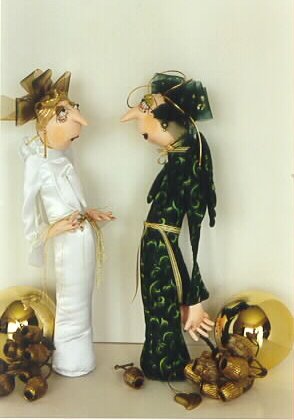 Mildred & Flossie

These 14" "Ageing Angels" are a real hoot to make.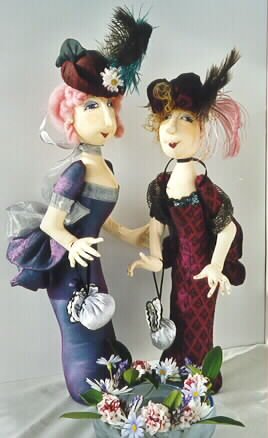 Isabella

Fabulous 18" sophisticated lady.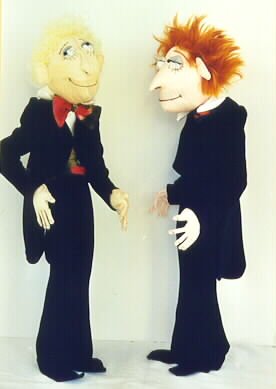 Errol

Dashing 16" gentleman dressed in tails,
cummerbund and bow tie.
"Flash Bears" are cute, easy to make and stand about 7" tall (19 cm) on their own.
These little bears are best made out of scraps of woolen fabric, although you can use whatever fabric you like to get a different look. Also you can easily make the bear into a female by giving the bear a little skirt and sewing a bow onto her head.
Jill Maas, the designer, also sewed some darling stitches in different places to give him an aged look.
An Original Design by Jill Maas!
This slightly weathered 19" housemaid with an interestingly aged body stands unaided in her sensible shoes.
What fun you'll have making these little 4.5" cuties from a variety of scraps. Full instructions for the knitted hat and scarf are included.
This little fellow, designed by Jill Maas, was made to cheer up a friend going through a patch of 'rough'. He looks great in Christmas colors too, sitting on the mantelpiece to cheer your friends. Happy Harry is about 10″ (25cm) high. His round base is weighted and he carries a little beaded heart.
This slim 16-1/2" stumpdoll is the perfect project for those who like to personalize their work using their small precious scraps of silks, laces, braids, threads and beads.
A variety of color coordinated beads are used with striking effect on this lovely pindoll.
Bits of feathers, fur, lace, beads and a petal skirt adorn this 12" beauty who likes to think of herself as a "Goth Chick" much to her Mum's dismay!
All Patterns On this Page are Printed and Mailed to You.
If you like PDF Download Patterns you will find all Jill's patterns in our Etsy Shop for easy download. For Downloads Click HERE - Etsy Shop!