Patterns by



Magic Threads
---
---

The Magic Collection!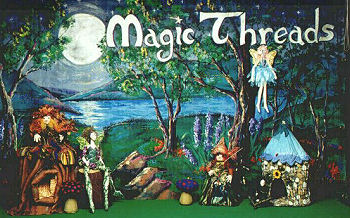 ---
This delightful 20" frogman is stuffed with plastic pellets for a beanbag effect.
This not-so-classic 23" Christmas Tree is made from prairie points and cotton strips. Decorate with tiny ornaments for a special holiday centerpiece.
A fun pattern for a whole menagerie of 11" little animals….cats, dogs, rabbits, mice, bears, foxes, raccoons etc. They make great stocking stuffers!
You can go a little mad with your fabric choices for this marvelous 23" interpretation of the famous storybook character with gently sculpted features and stuffed hair.

Life Sized Cloth Doll Pattern!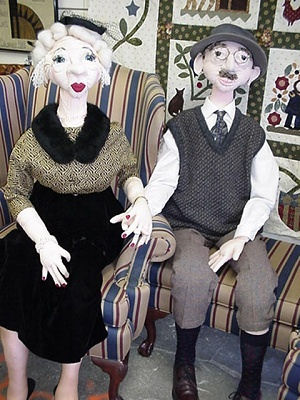 Mildred & the Professor

Life sized dolls are a hoot to make and even more fun to live with. Sculptured features make unique conversation pieces. Dress them in thrift store treasures! Recommended Fabric: 3 yards of Craft Velour.
Click HERE to View/Print Supply List!
Temporarily Unavailable
Every quilter knows someone who looks just like this busy 20" gal. It would be great fun to make one for all your quilter friends.
She also makes a great Mrs. Clause. Requires ½ yard Craft Velour.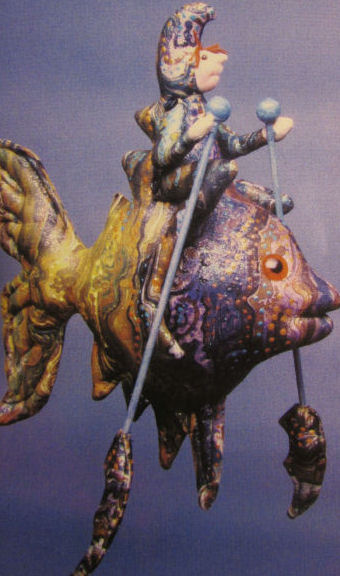 The Fisherman

Glitter paints add interest and sparkle to this easy pattern for a whimsical 16" fish and man combination. The man is holding oars to row the fish.
He would be a great gift for your favorite fisherman.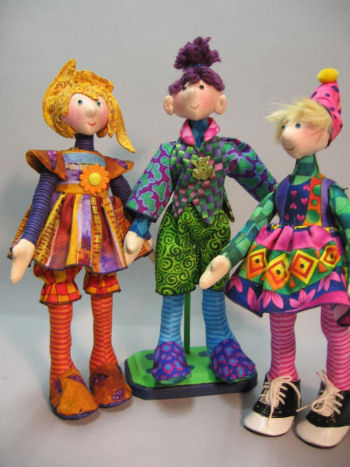 Snippets

Updated with modern colors and flash, these brightly attired 11" darlings have the proportions of old fashioned Madame Alexander, Betsey McCall and Ginny dolls.
Sweet, easy-to-make 8" fairy that can decorate a tree or float above your houseplants.
Their wings can be butterfly wings or cloth. Lots of fun possibilities with this pattern.
Click HERE to View/Print Supply List!
Use your ethnic fabrics and trims to adorn this elegant 22" doll built on a wooden base.
Make this easy and beautiful 18" doll with wings as a fairy or without as a ballerina. Paint the lace for her skirt or leave it white to create an angel.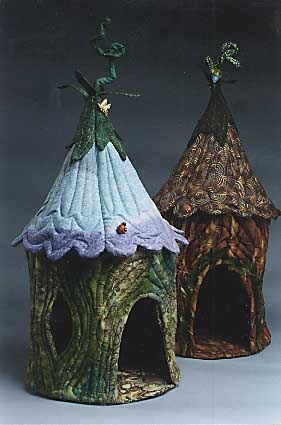 Fairy Houses

Quilted flower petal roofs top off these enchanting 22" houses for favorite dolls or animals. Makes great houses for Blossom & Twig (pattern below.)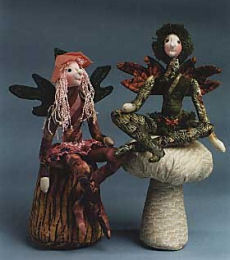 Blossom & Twig

Dainty little 10" seated fairies can be made with a felt flower hat or crocheted acorn cap. Pattern includes mushroom and stump stools. This is one of our most popular patterns because you can change them in so many ways. Don't forget their house (pattern above.)
This fun little 11" fairy can be made silly or sweet. She'd love to live in the Fairy House!
Versatile 12" stump doll that can become an endless variety of characters.She can be made as a peddler, Mrs. Santa, Gypsy, witch or whatever SHE decides! Needle sculptured faces, bendable hands with simple stump body. Great for those glitzy fabrics in your stash!
This is Julie's favorite doll to make, and they are never the same twice.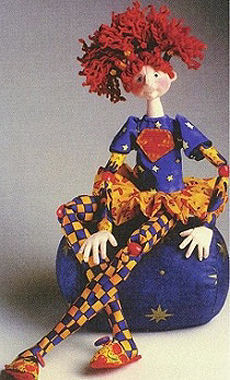 Super Zoey

23" Zoey is outrageously fun. She is Julie's all-time best selling design. Ponytail hair, sassy shoes, bendable fingers, needle sculptured features and unique bead joints make her a challenging, fun project. You can't stop with just one!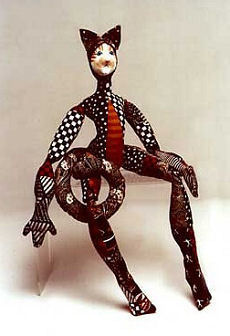 Cat Dancer

This dramatic 26" cat doll with hinged elbows and knees is made with pieced fabrics. Turn it into a stunning dancer by leaving off the ears and tail.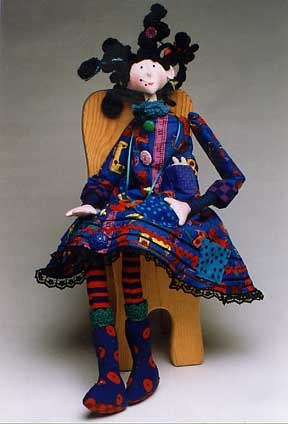 Sewphie the Stitcher

One of dollmakers' most favorite Magic Theads pattern! This 30" wacky seamstress has silly ponytail hair, hinged knees and lots of fun trims.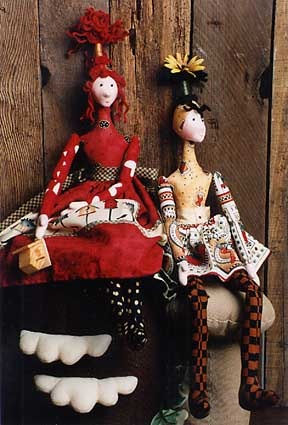 Pop Tops

A great pony tail gives this easy 19" doll lots of pizzazz.
This is Julie's very best pattern for beginners. An easy pattern for a great silly 19" doll. Make her country or crazy! Ponytails are trimmed with embroidery threads.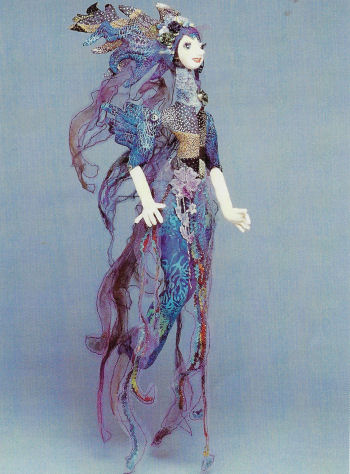 Smoke

Made in velvets or cottons, an elaborate headdress and tulle embellishments top off this fabulous 26" doll with a needle sculpted face, eyelids and eyelashes, wired fingers, and jointed elbows. Sure to be a family heirloom.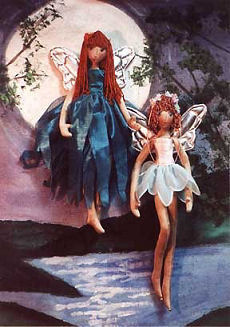 Sprite Fairy

This was Julie's first pattern designed in 1989 and still dollmakers' favorite! She is a 16" delicate little fairy. Dress her in lace, leaves or lame. Everyone loves fairies!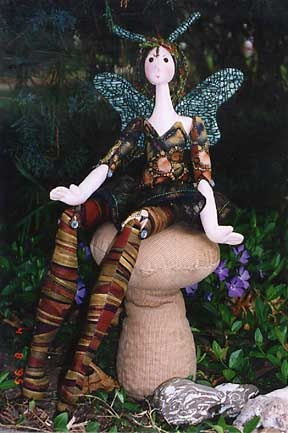 Wood Nymph

With button jointed knees and elbows, this popular 22" doll can be made as a fairy or a ballerina.

Click HERE to View/Print Supply List!