Back in Stock!
Needle Model a Pretty Face DVD
By Gloria "Mimi" Winer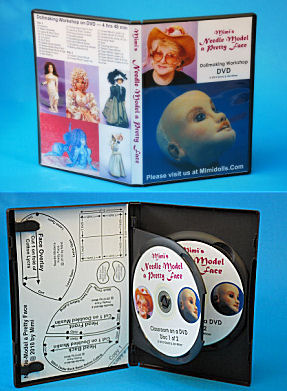 Every dollmaking reference library needs this phenomenal DVD!
2-disc DVD set with 4 hours 48 minutes of over-the-shoulder video.

31 easy to navigate chapters covering every aspect of head construction

2 copies of the pattern sheet printed on heavy card stock.

Standard 2-disc DVD plastic case for storage.
Full-sized, cut-out patterns and 4 hour 48 minute over-the-shoulder DVD video filled with the complete contents of Mimi's 2-day dollmaking workshop.
Suitable for all levels. If you can do basic machine sewing to make the seams on the skull and the darts on the face overlay, you will learn everything else you need from watching the step-by-step video.
---
---
Mimi's Mannequins and Pattern Draping DVD
Mimi's Mannequins and Pattern Draping is finally finished and it is spectacular! We have condensed the 4-day dollmaking workshop and the 2-day pattern draping workshop into almost 6 hours of classroom video full of techniques for dollmaking. We began this project almost 5 years ago, and we got interrupted by cancer. Now we're back on track with the best dollmaking workshop ever.
Mimi's Mannequins presents quarter-scale male and female mannequins as separate patterns with a single set of instructions for both. The Mannequins workshop is all about techniques and the similarity of the human form. Mimi's Pattern Draping shows you how to create patterns for clothing that will fit your own dolls. It uses the mannequins as tailor's dummies for draping the clothing patterns.
In addition to the video, Mimi's Mannequins includes:
A Shopping List e-book that you can copy to your phone or tablet (or print out) to take to the crafts store with you.

The pattern sheets can be printed on your own printer, or you can take them to an office supply store or copy center.

After watching the videos, you can use the included step-by-step, photo-by-photo storyboards on your phone, tablet, or computer to make the dolls and clothing. You can refer back to the video anytime you need it.

Who is it For?

The go-at-your-own-pace, step-by-step, picture-by-picture storyboards make Mimi's Mannequins & Pattern Draping suitable for all levels of doll makers from beginner to advanced. You need some hand sewing and machine sewing experience, and it's not really for first time (novice) dollmakers. It is particularly good for those who have trouble fitting clothes on dolls.
DVD Format - REGION 1 - USA and Canada DVD Players
(or Multi Region DVD Players)
Back in Stock!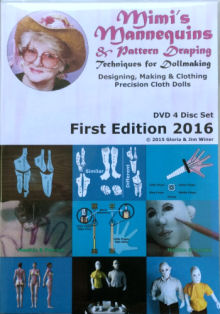 ---
---
---
Mimi's Modular Mermaid DVD
By Gloria "Mimi" Winer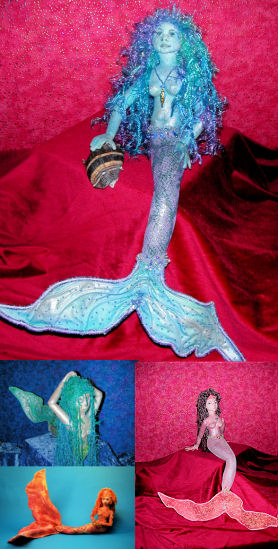 Now you can take a private, 6-Day Dollmaking Workshop with Mimi with no travel required!
6 DVDs — 20 Lessons — 163 Chapters
Here are just a few of the many HOW TOs included in the instruction:
Precision machine sewing.


Stuffing smoothly and firmly using the right tools.


Make your seams beautiful so that they are part of the design


Make hands that can grasp objects.


Make webbed hands without having to turn fingers


Make and needle model a lovely female torso.


Make 3 types of poseable hands and arms.


Make 4 different poseable tails.


Make 3 different types of flukes.


Create many different poses using modular arms, tails, and flukes.


Needle model a female face.


Use dyes and watercolor effects to paint mermaids.


Bead a stuffed figure.


Weft mohair and other fibers for wigging a doll.




Suitable for all skill levels, this classroom on a DVD
will take your dollmaking skills to new heights!
DVD Format - REGION 1 - USA and Canada DVD Players
(or Multi Region DVD Players)
Back in Stock!
DVD Trailer Below:
DVD Sample
Wefting Fibers for Doll Hair