---
New - 3rd Edition - 2017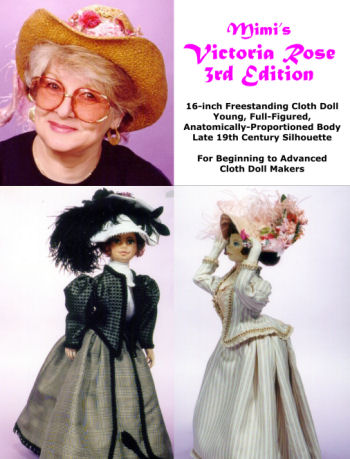 Mimi's Victoria Rose (1885) - 3rd Edition - 2017
DVD including Multiple Formats for Viewing.
By Gloria "Mimi" Winer
Victoria Rose is an easy-to-make, armatured, 16-inch, free-standing cloth doll. She has a young, full-figured, anatomically-proportioned body with a late 19th Century silhouette.
Instructions are included for three face styles:
a very easy traced face, embroidered or colored with pencils and/or crayons
a trapunto (quilted) face
a sophisticated needle-modeled face

Victoria Rose's clothing was meticulously researched. Her undergarments consist of a set of combinations (these replaced the chemise and drawers, and had no crotch), a corset, a petticoat, and a bustle pad. (The bustle returned as a pad in the late 1880's.) Her outer garments are a lined walking skirt, a dickey, (rather than a complete blouse to diminish bulk), a lined jacket, and a beautiful hat. Her Victorian boots are paperclay covered with glove leather.
Her hair can be made from either wefted mohair or from textured yarn. Instructions for cleaning and wefting mohair are included.
Suitable for Beginning to Advanced Cloth Dollmakers
This is a Step-by-Step Dollmaking Workshop that comes in a vaiety of formats to make it conveniently available beside your sewing machine and everywhere you want to view the instructions. Included are:
AZW format for Kindle or Kindle PC.
EPUB format for most smartphones and tablets.
PDF expanded format for large screen laptops and desktops.
PDF condensed format for Print.
DVD video format for DVD players.
MP4 video format for smartphones, tablets, laptops, and desktops.
(Note: some smartphones do not have enough processing power to play videos.)
Expanded 115-page instruction book included on DVD (56-pages in 2nd Edition) filled with pictures, drawings, and hints for dollmakers.

This pattern can be used for any young, full figured, anatomically proportioned, female character doll.
You are licensed to sell dolls made from this pattern.
Free Bonus Gifts Included on DVD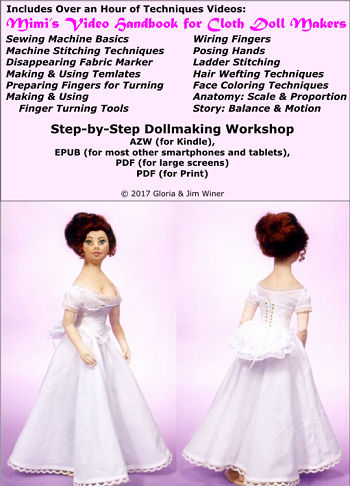 ---
---
---