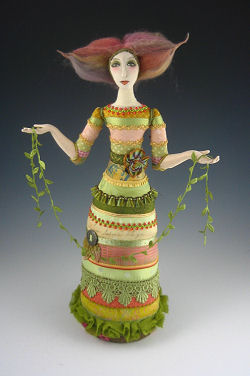 Aunt Sukey's Patch

Named for an old quilt pattern, this lovely 19" stump doll has strips of fabric and trim sew together to form her body. Her needlescuplted head is hardened with stiffener and then has a gauze overlay.
With a little bit of paper mache, paper clay, painting, wire bending and pin pushing you can create this truly marvelous 12" snow gal. The only thing that is sewn on this fun project is the hat and it's by hand.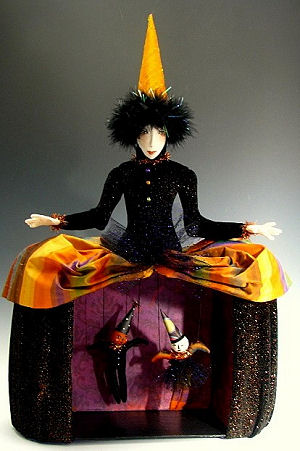 Belladonna

Both a doll and puppeteer Belladonna's hands don't actually attach to the marionnettes, her control of them is implied. Her overskirt is reminiscent of the pannier frames of the 18th century which you'll create with oatmeal and a papermache boxes for a beautifully dramatic effect. The marionettes are fabric with wooden bead heads.
Click HERE to View/Print Supply List!
Temporarily Unavailable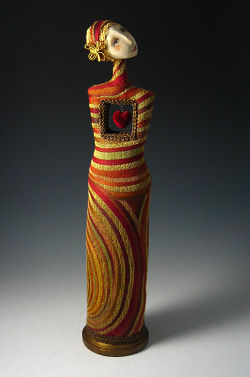 Heart Deco

With this exquisite 18.5" stump doll you will learn the technique of inserting a hanging item - in this case, a heart - from an opening in a fabric doll. The simple body lends itself to altered fabric, patchwork, or just your favorite piece! A heart dangles within the opening, but you could hang a bird, a small house charm, a miniature book, etc.
Included is a pattern for arms and hands - just in case you can't make a doll without them!
Click HERE to View/Print Supply List!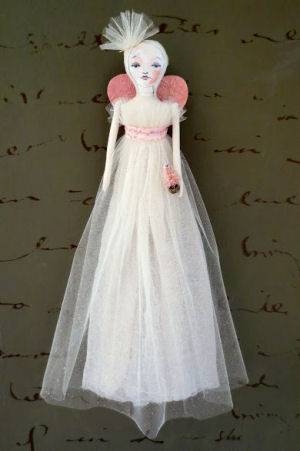 Blush Angel

This beautiful 17" wall doll has a fabric body with paper clay arms that can also be sewn in muslin if desired. Clothed in a sparkle tulle dress over a scrim underskirt, her gentle face is gessoed and lightly painted with the features drawn on with a graphite pencil. The wings are created from a wooden heart that is textured with tissue paper and Mod Podge.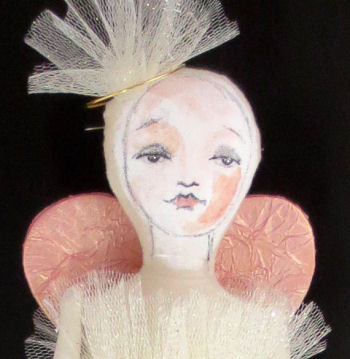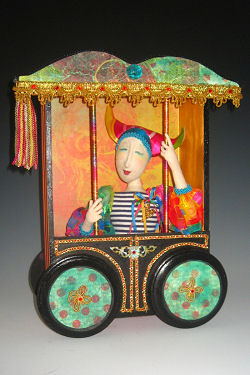 Heart, Soul and Sanctuary

Learn how to transform a photo box into this expressive mixed-media art piece that is one of Cindee's retired classes.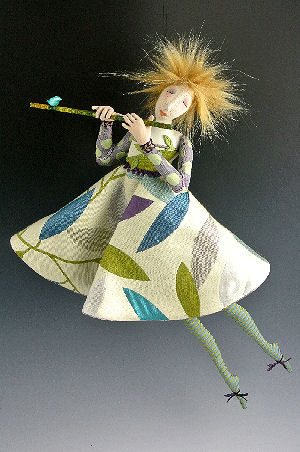 Aria

What beautiful music this 17" wall doll is making!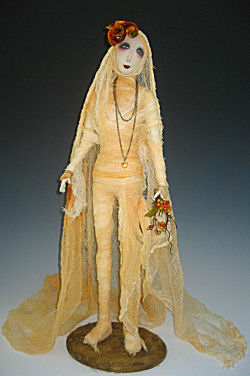 Mummy Dearest

Learn how to rust the cheesecloth and other trims that wrap this eerily unique 18" mummy.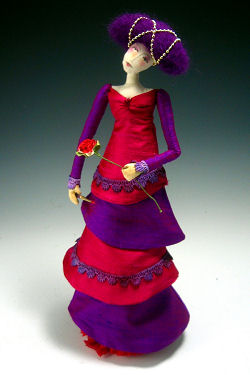 Painting Her Roses Red

This 16" Queen takes matters into her own hands, bored with chopping off heads. She has a flat face with features applied with ink and chalks and a wonderful layered costume over her stump body.
Standing 21" tall on a stand covered with aquarium gravel, this bathing beauty wears a swim cap and carries a papier mache swim ring. Instructions for all accessories are included.
This dramatic 11" jewel of an angel is made to hang.
The costume of this 15" delight mimics a Christmas Tree using a wire to shape the skirt, miniature lights and stars for trim.
Designed with an upside down heart for a body, this 17" beauty wears a heart shaped cape and balances on one "leg."
This graceful 18" figure carries a beautiful parasol to keep the color in her hair and off her skin.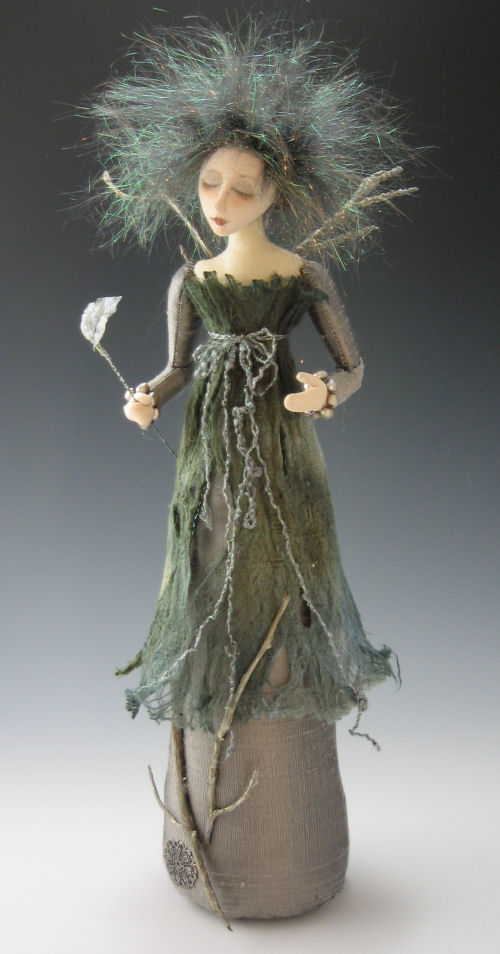 Silvanna, Angel of the Woodlands

Enchanting 16" stump angel clothed in
mulberry bark and crowned with Angelina Fiber hair
Click HERE to View/Print Supply List!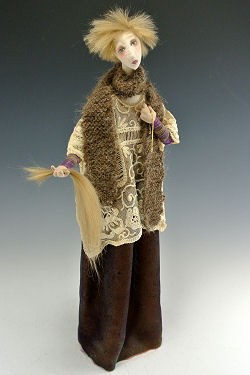 Gift of the Magi

The classic story by O. Henry comes to life in this lovely 17.5" figure. The young wife had but $1.87 to buy her husband a Christmas present. So she cut off her hair and sold it to buy the perfect watch fob for the pocket watch that had belonged to his grandfather. Alas, he had sold the watch to buy the perfect tortoise shell combs for her beautiful long hair.
Click HERE to View/Print Supply List!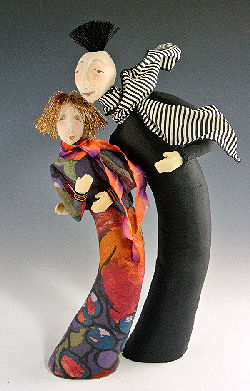 It's De-Lovely!

You can almost hear the music this wonderful couple
is swaying to! These easy-to-make dolls stand 12" & 15" tall.
Click HERE to View/Print Supply List!

Temporarily Unavailable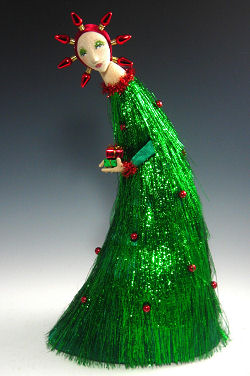 Tinsel and Wishes

Just imagine how smashing this 17" stump doll will be in your Christmas décor! Source information for tinsel is included in the pattern.
Click HERE to View/Print Supply List!
Temporarily Unavailable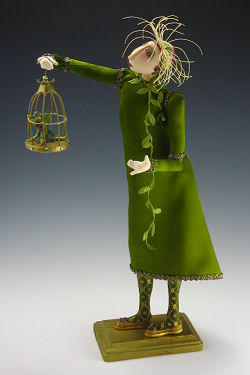 Fairy Catcher

The pattern for this delightful 16" figure includes instructions for making the cage and sculpting the tiny fairy within.
Click HERE to View/Print Supply List!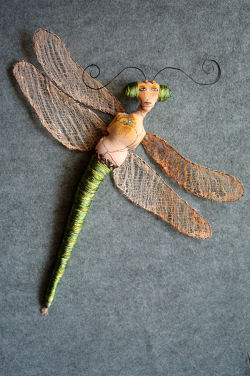 Damselfly

You'll learn how to make rusted cheesecloth (scrim) to form the wings of this exotic 15" creature whose body is wrapped in rayon thread.
Click HERE to View/Print Supply List!