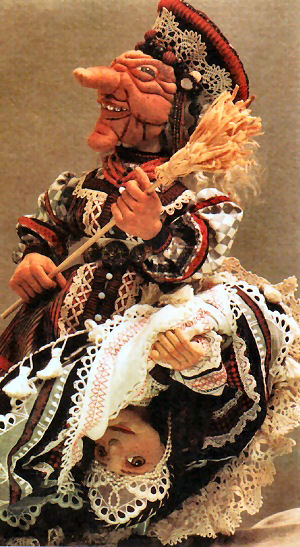 Baba Yaga and Vasalisa, Dyad Doll
19 inches topsy-turvy style artist doll.
A magnificent 19" topsy-turvy doll with both characters from the Vasalisa Folk Tale: Baba Yaga the wild woman and Vasalisa the maiden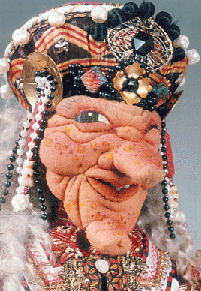 This project features face masks created with a trapunto quilting method. Melinda's purpose was to design a cloth face without a seam down the middle of the forehead and nose and instead all the seams are in places where wrinkles naturally occur in the face. The details are sewn by machine first on flat fabrics and stuffing in varying densities between fabric layers brings the mask into a 3 dimensional face. Creating the mask eliminates exact needle sculpting through the entire head.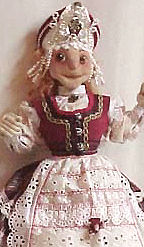 The pattern for this award winning doll includes detailed instructions for the doll faces, the body and arms, the costumes and hats, and the torch and broom. Also included is the 26-page story book containing the Vasalisa folk tale and an exploration of the symbolism and the meaning of intuition. The story is printed for you to cut and fold into a book, 3 inches by 5.5 inches.
Anyone with intermediate sewing skills can finish their own well made doll. In addition there is information about ethnic and folk costuming.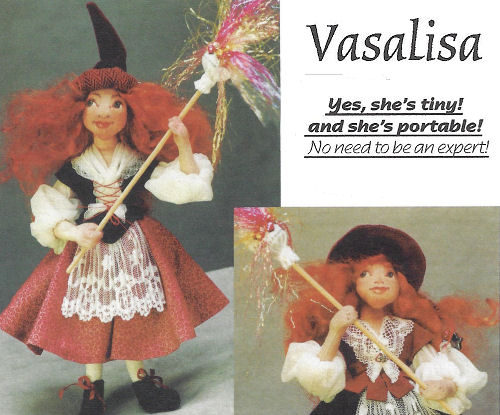 Vasalisa, Intuition-In-Your-Pocket Doll Pattern
A 7 inch and/or 5.5 inch cloth doll.

Inspired by the Russian folk tale of Vasalisa the Wise who carries her intuition doll in her pocket on her heroic adventures in the forest to earn the "fire" she needs from wild Baba Yaga (Pattern Below)!
This is an original pattern designed by Melinda Small Paterson with complete instructions to make Vasalisa in 7 inch and 5.5 inch sizes, her "skull" torch, the story book and a pocket to carry them in.
This is a great project for mothers and daughters to do together. The Intuition Doll also makes a great gift for anyone celebrating a "coming of age" event or transition. During life's trials the doll can be a constant reminder to trust your own intuition.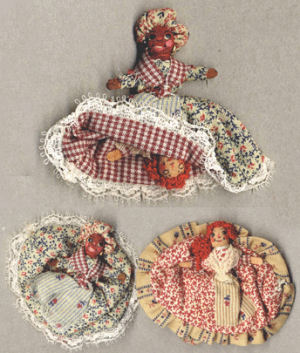 Miniature Topsy-Turvy Folk Doll Kit - 2" Tall
Kit includes actual size illustrations complete instructions, fabrics for heads, arms, dresses, aprons, scarf, bandanna, hem lace, bunka thread for hair, and beads for heads.
This is a miniature dolls and is only 2 inches tall.
Rag dolls were made from scraps, no two are alike, none are perfect, and all are lopsided and flawed, so this can be a relaxing and enjoyable project. As you work, think small and in a few hours the doll will be done!