Cloth Doll Making Sewing Patterns and Books by
---
Cloth Doll Booklets/Tutorials and Books
---
Needle Sculpting Cloth Doll Faces
By Virginia Robertson

Packed with color photos, this book walks you step-by-step through face sculpting and painting using a variety of doll making materials including several kinds of knits and woven fabric. Special attention is given to drawing dark doll faces. A wonderful basic doll pattern is included along with a step-by-step tutorial on finger turning. No question about it – this book is a MUST HAVE for your reference library.

Temporarily Unavailable

Wing It
By Virginia Robertson
You'll find a ton of ideas for creating the perfect wings for your fairies, angels and other mythical creatures in this well written book. Among the many techniques presented you'll learn shadow appliqué, machine appliqué, wire armatures, fabric painting and quilting. Several sizes and styles of wing patterns are included for your use.

Those Hair Raising Experiences
By Virginia Robertson

This little booklet is jam packed with solid instructions and tons of helpful illustrations for creating a variety of hair applications for your dolls using roving, yarns, mohair, Tibetan Lamb or even appliquéd fabric. A very handy reference guide!

Temporarily Unavailable
---
Cloth Doll Patterns
---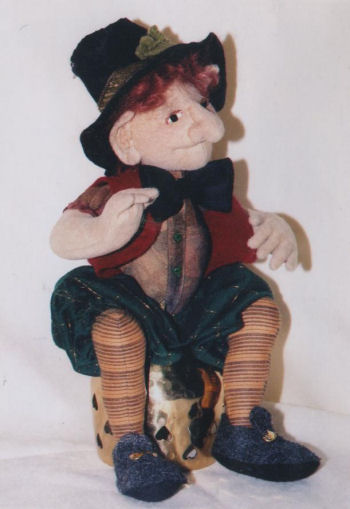 Leprechaun

This pattern makes a 9" leprechaun doll perfect for a Saint Patrick's Day table decoration. His expressive face and hands are made of doe suede (deer suede) and he sits on a pot of gold. His vest, hat and shoes are easy to do from felt. Complete instructions for face sculpting and articulated fingers are included.

With a few small changes in the costume you could make the doll into a Christmas Elf!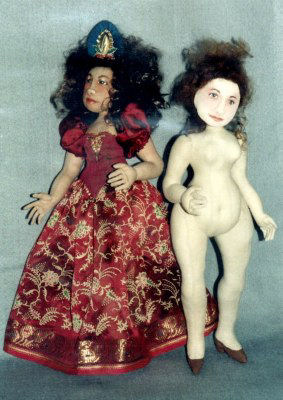 Nude Nancy
Standing alone without armature, this 18" doll pattern comes
with clothing and complete face painting and sculpting directions.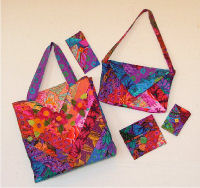 Big Bag & Accessories
You'll be quilting as you go with 2.5" strips to create all five of these
fabulous projects: a roomy 15" x 15" x 6" bag, smaller purse, needle case,
notions wallet and glasses case.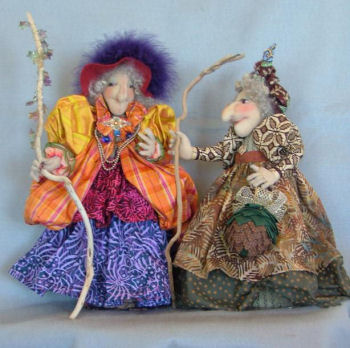 Desert Crone
Two different costumes transform this 16" stump doll with wired fingers and
glass eyes into different characters.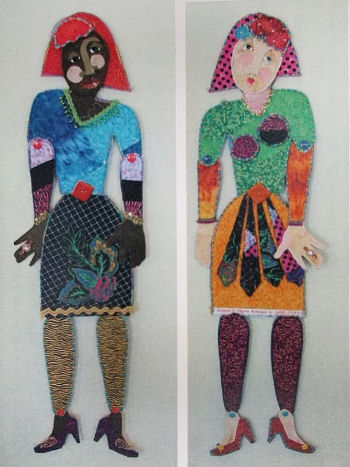 Fabric Paper Doll

Sew this 31" double faced doll to heavy weight interfacings to create these jointed double sided dolls.
Applique, embroidery and embellishment ideas are included with two different jointed dolls.
Add a fabric transfer of your own face to personalize the doll.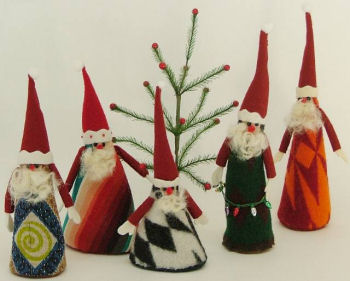 Recycle Santas

Create these 7" & 9" Santas from recycled wool clothing, felt, sweaters or old textiles.
---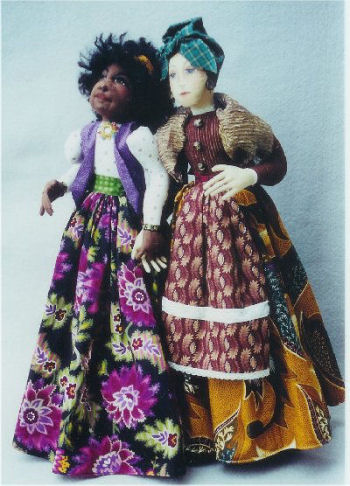 Tabetha Doll

Mix and match your favorite fabrics on this graceful 20" doll that has several head, arm, leg and clothing options.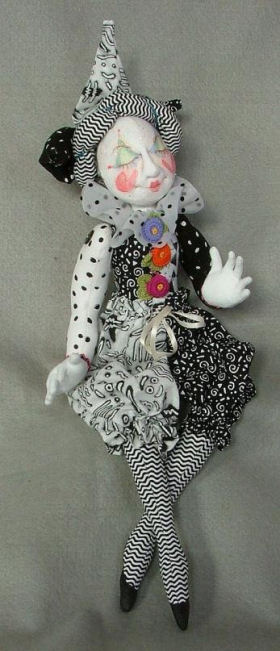 12" Jester Doll

This graceful 12" cloth doll is weighted for sitting. The glass sand filled toes help weight the doll. Articulated, poly-sand hands have moveable fingers and sculpted palms. Have fun using 6-10 different fabrics while creating this doll.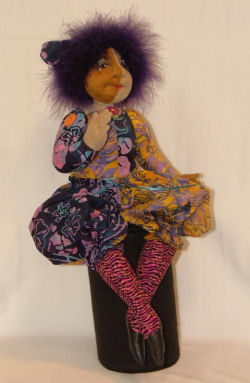 The Shadow Doll

This 16" seated doll is a fun study in using light and dark knit fabrics for the body and mixing up to 12 different fashion fabrics for the clothing.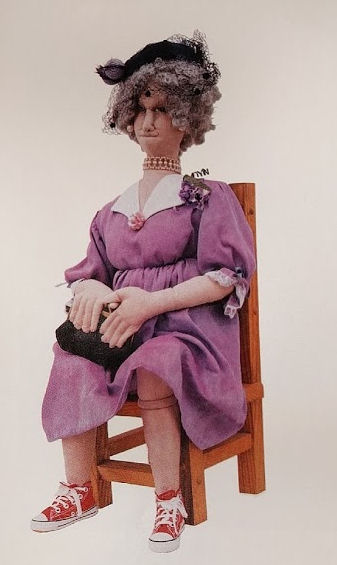 Aunt Cora

She's everybody's Aunt. The 20" Aunt Cora is an advanced cloth doll pattern which features a full figure body construction. Directions for her tennis shoes and clothing are included.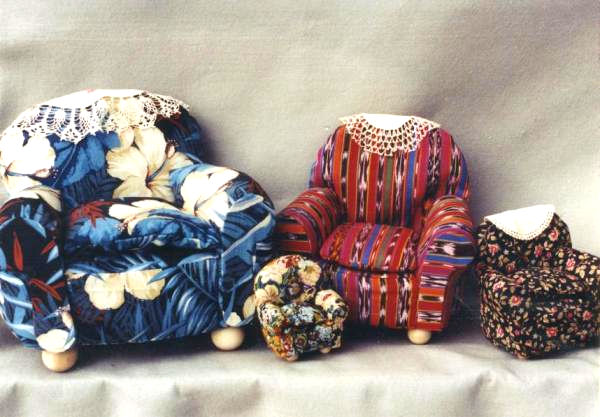 Aunt Cora's Chair
You can select from four different sizes ranging from 16", 12", 7" to a mini 5" pincushion when making this over stuffed chair created from fabric, batting, cardboard and wooded thread spools.