NEW Pattern!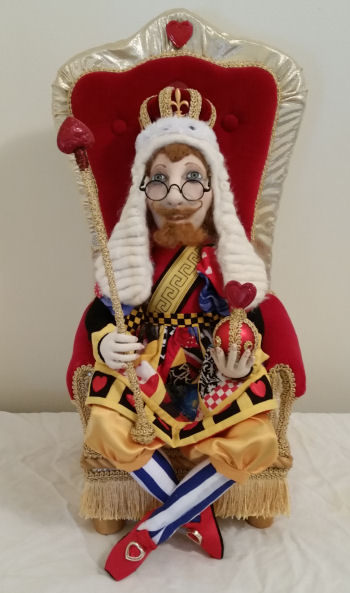 The King of Hearts and Throne
The King of Hearts and Throne is another design to add to your Alice in Wonderland Collection.
The king doll is a 55cm (21 1/2") tall cloth doll with beautiful costuming. Complete instructions and pattern are included for his throne.
An original design by Suzette Rugolo inspired by Lesiw Carroll's "Alice in Wonderland"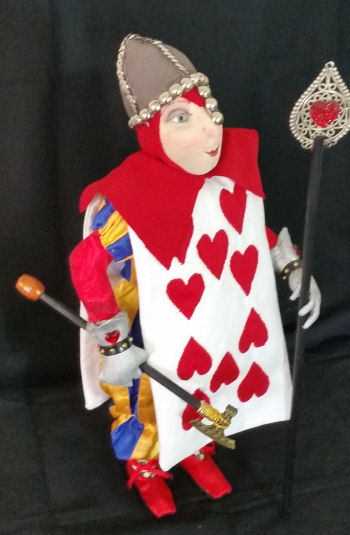 The Queen's Card Guard
The Queen's Card Guard is another doll to add to your Alice in Wonderland Collection.
The guard doll is a 37cm (14 1/2") tall cloth doll with beautiful costuming and an appliqued tabard.
An original design by Suzette Rugolo inspired by Lesiw Carroll's "Alice in Wonderland"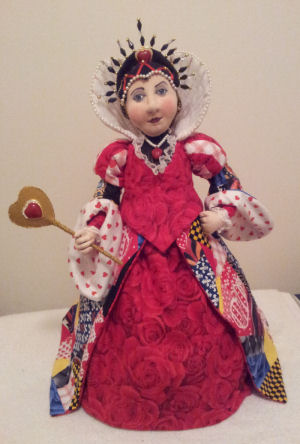 The Queen of Hearts
Beautifully dressed and topped with a beaded headdress and collar, this 20" royal majesty appears to be all business.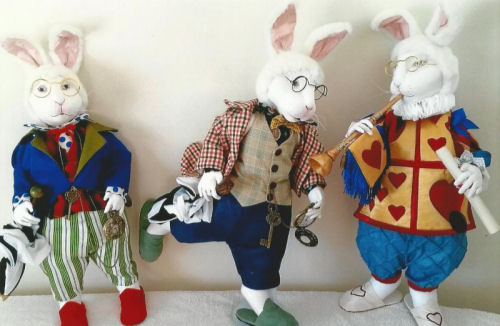 The White Rabbit
This iconic 20" rabbit is one of the busiest characters in the story. Which of the three fabulous costumes included in the pattern will you choose? Standing, Running or Ceremonial?
Click HERE to View/Print Supply List!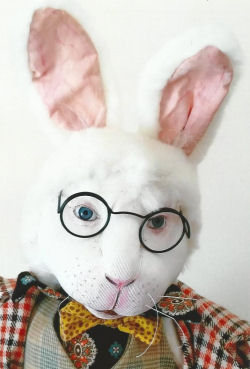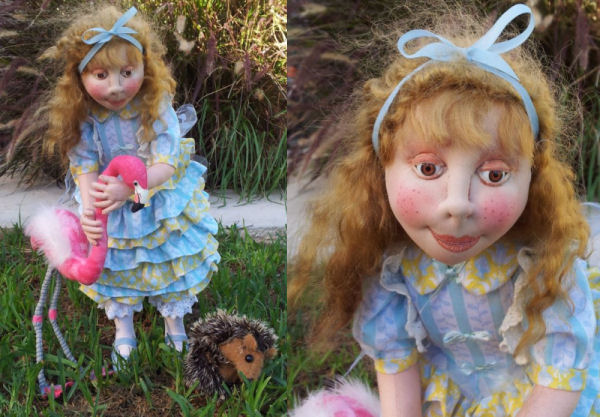 Alice Playing Croquet
Oh what fun you'll have creating this beautifully expressive 20" Alice with her fabulous flamingo and delightful hedgehog as she determinedly goes about her game of croquet.

This pattern is a treasure trove of wonderful construction techniques!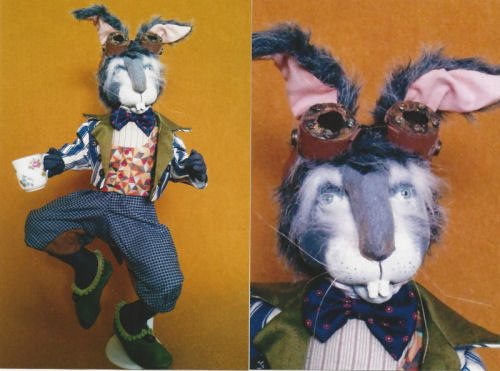 The Mad March Hare
Oh my, this marvelous 20" fellow is quite the dandy with his wonderfully expressive pose and lycra over cloth head.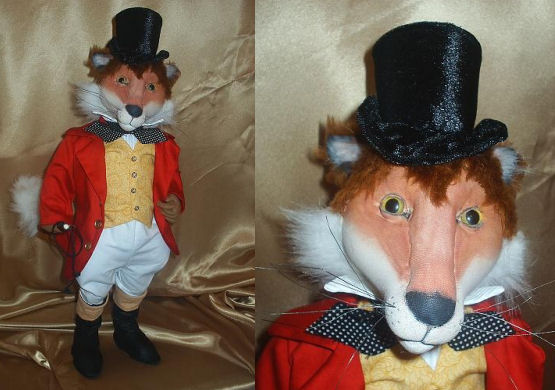 "Fox Hunting"
This jaunty 21" free-standing fox has a lycra over cloth face colored with oil pastels.
"Puss In Boots"
Fabulous 18" character arrayed in the finest fabrics and lace.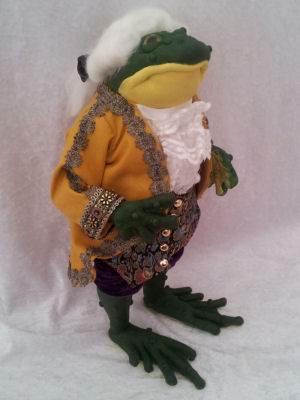 Frog Footman
14" of regal, froggy attitude – warts and all!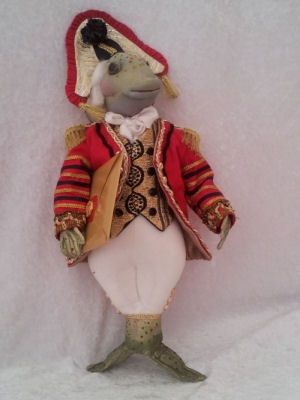 Fish Footman
This exquisitely costumed 14" fish is going about his courtly business for the Queen of Hearts.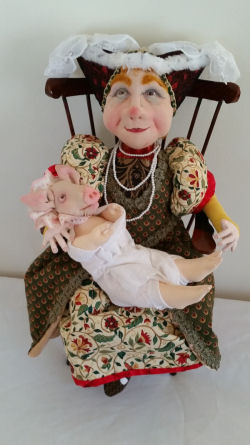 The Duchess and Her Baby Pig
The piglet being held by this imperious 20" Duchess is so life-like you can almost hear it squealing!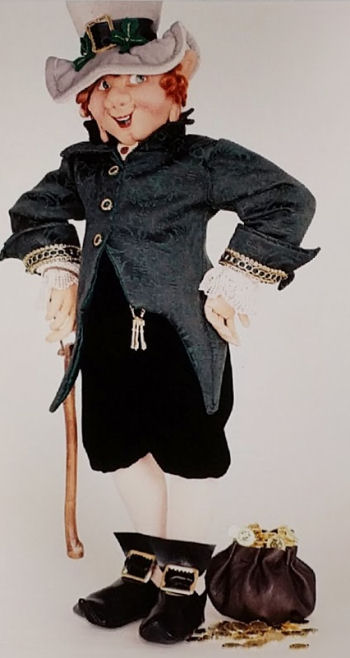 "Shamus O'Grady"
Advance your needlesculpting skills on this oh-so-dashing 20" free-standing leprechaun with a lycra over cotton head.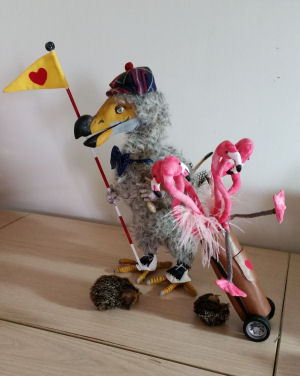 The Dodo Playing Croquet
Suzette continues to amaze with her imaginative 20" spat-wearing rendition of this phenomenal Dodo bird that is sure to bring you many hours of creative enjoyment. Pattern includes Flamingo Clubs, Hedgehog ball and cart.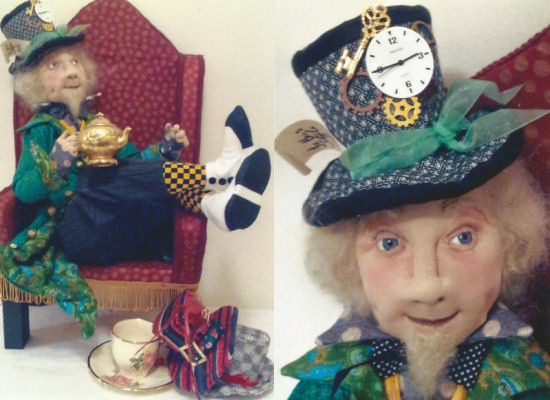 The Mad Hatter
The pattern for this jaunty 20" gent includes the instructions for the beautiful, covered foam wing back chair.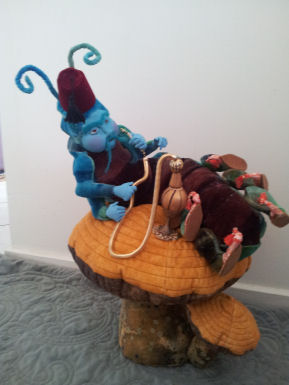 Hookah-Smoking Caterpillar
Start digging into your fancy fabrics for this exotic 20" caterpillar, the first character in Suzette's new Alice in Wonderland Series. Pattern includes directions for the mushroom he is perched on along with how to devise the hookah from old bits of jewelry.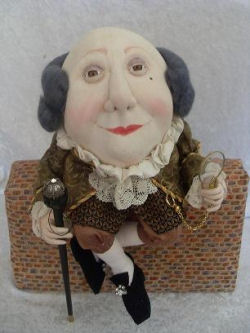 "Humpty Dumpty"
Dressed in very elegant period costuming, this 14" character has a wonderful sculpted face overlaid with lycra. Instructions for his monocle, cane and the wall are included.
"The Dodo Warrior"
From lycra and mohair you'll fashion this amazing 20" bird that carries a stately warrior with a sculpey clay helmet on it's leather saddle.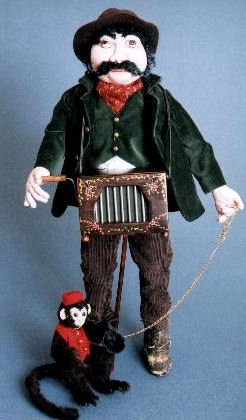 The Organ Grinder
A wonderful project that includes the 19" Organ Grinder,
his charming monkey and his instrument.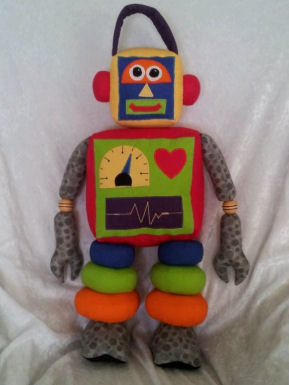 Reggie the Robot
Who knew a robot could be soft and cuddly! This colorful doll is 20" of pure fun with a handle to make it easy to carry around.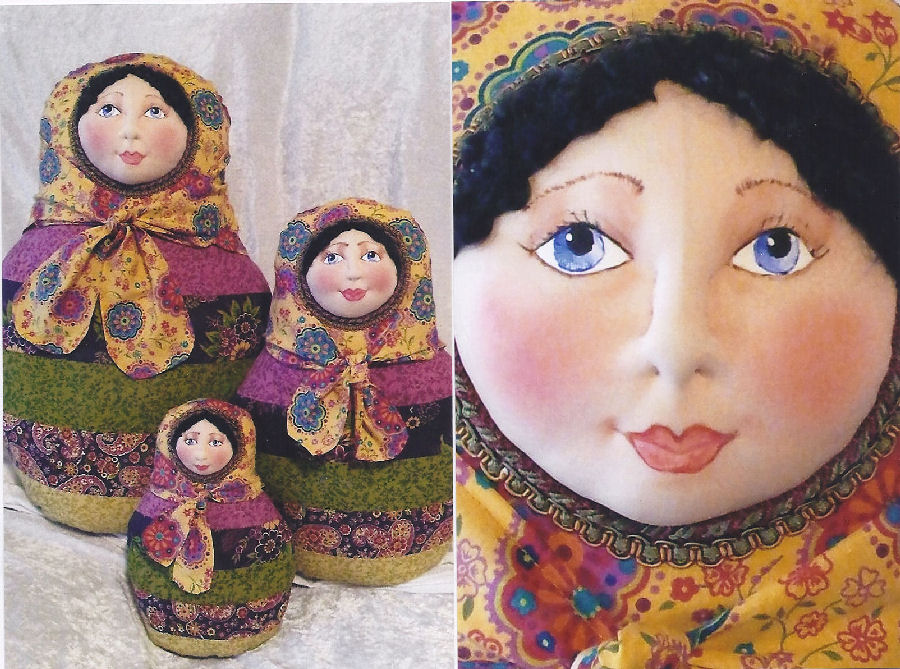 Babushka
Imagine what great conversation starters these beautiful stump dolls/pillows will be in your home! All three sizes included – 10", 16" and 22".
Elaborately costumed 16" piper with lycra overlay face and porcelain doll eyes. Instructions for making the flute are included.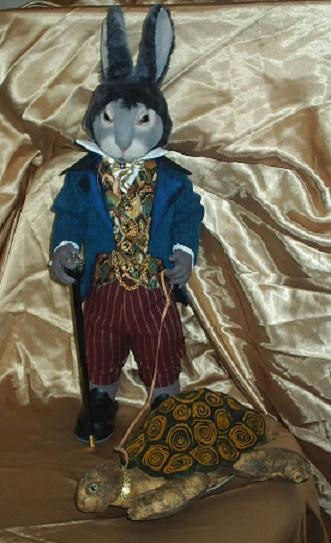 "Mr. Hare and his Tortoise"
This dapper 20" rabbit dressed in Victorian finery has a lycra overlay face
painted with oil pastels. The unique shell of the tortoise is created with
spirals of felt.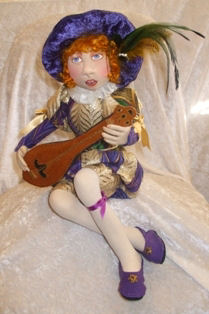 "The Little Minstral"
The pattern for this beautifully dressed 12" figure includes instructions for the mandolin he plays.
"The Aeronaut"
Magnificent 20" button-jointed doll commemorating the beginning of balloon flight.
" Lady Anne "
Learn to make an exquisite Tudor costume for this graceful 20" English Lady.
"Lionheart"
So many great techniques to learn creating this grand 20" lion in Tudor Period costuming.
" Esme "
Learn to sculpt a wonderfully aged face on this spirited 14" lady.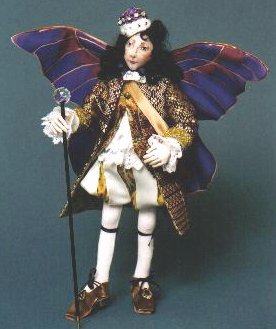 "Oberon"
Arrayed in the finest fabrics and trim, this exquisite 13" free-standing King of the Fairies has magnificent painted silk wings.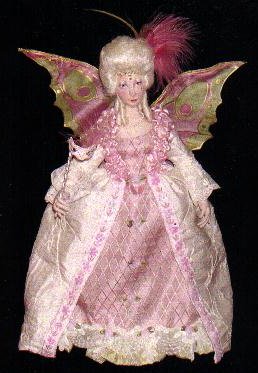 "Titania"
From dainty slippers, sculpted mask, gorgeous costume, wings and hairdo, this 13" free-standing Queen of the Fairies is a perfect companion for Oberon.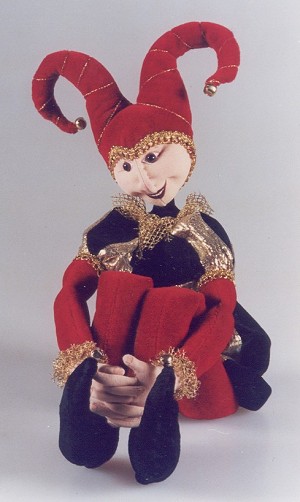 Ollie the Jolly Jester
22" when stretched out, this charming needle-sculpted fellow with wired hands loves sitting around!