Cloth Doll Making Patterns by

---


Water Lily
You'll find face sculpting and coloration instructions along with full directions for sculpting hands and making pose-able arms for this elegant yet uncomplicated 14" stump doll.

Click HERE to View/Print Supply List!

---


Froggie
This jaunty 12" free-standing amphibian with uniquely constructed marble eyes will surely brighten your day.

Click HERE to View/Print Supply List!


Monsieur Froggie
COSTUME ONLY
Bearing love tokens of flowers and candy, Froggie's first costume turns him into a dapper suitor.

Click HERE to View/Print Supply List!

Back in Stock!
---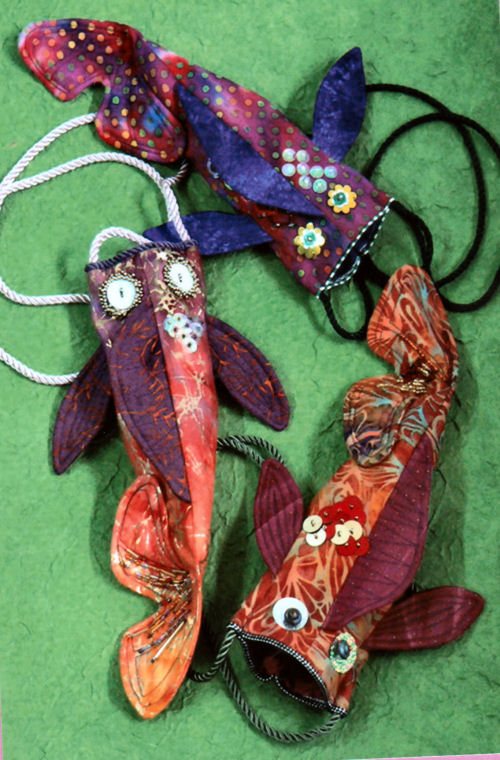 Fishlips
This fun little necklace purse holds your cell phone or your traveling
money, makes for hands free shopping and is a great conversation piece.
Included are 2 sizes of pattern for both larger and smaller cell phones.
Large size fits 5.5" to 6.5" wide phones. Small size fits less than 5". The
purse measures 10 ½" long.
DESIGNER SERIES
of costumes for the
Doll and Dude for all Seasons
Queen Odette and Prince Ziegfried from Swan Lake
by Karen Shifton
Skillful use of the finest feathers and lace will transform our Doll for All Seasons into this most graceful ballet character.
"COSTUME ONLY"
To order the Doll and Dude Pattern... Click HERE!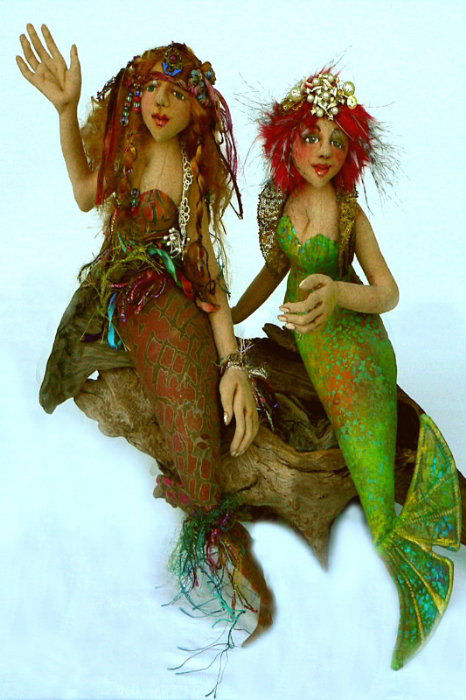 Sirens
The pattern for this beautiful 16" long mermaid includes detailed directions for making fully needle sculpted hands, a contoured torso and a weighted tail.
Click HERE to View/Print Supply List!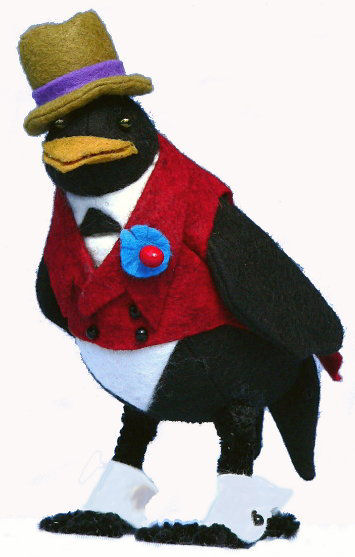 Magpie
Made from wool blend felt and chenille stems for feet, this jaunty 6" bird will do a fine job of collecting your pins and needles.
Click HERE to View/Print Supply List!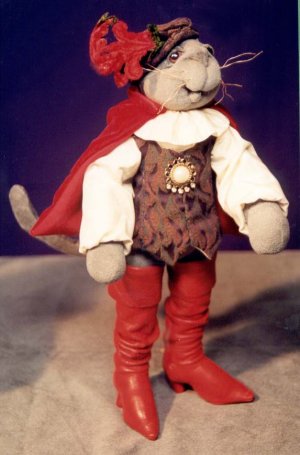 Puss 'n Boots
Stepping flamboyantly out of the pages of a fairytale, this dashing free-standing 15" feline wears his signature boots, a dashing cape and hat.
Click HERE to View/Print Supply List!
Back in Stock!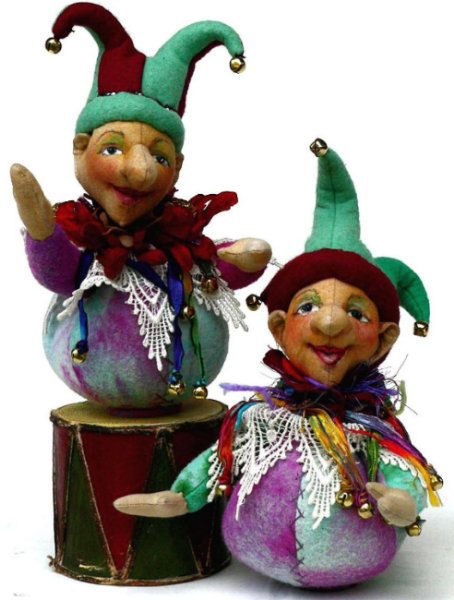 Bouffon
You'll have fun embellishing this roly-poly 8" jester with needlesculpted head and button jointed arms for pose ability.
Back in Stock!
Click HERE to View/Print Supply List!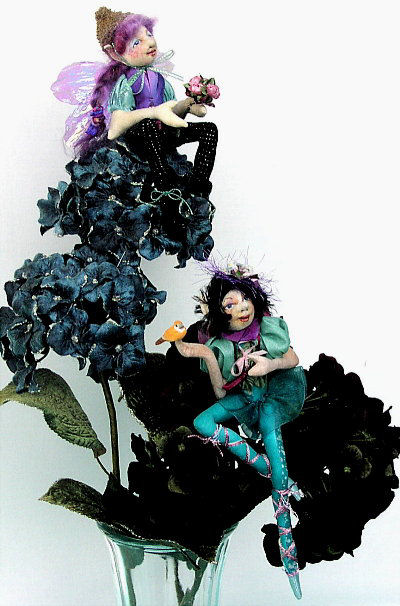 Damsel
The pattern for this easily positioned, jointed 10" fairy contains optional arms, legs and wing directions. Learn how to insert a wire armature to give a wider range of movement to this delightful sprite.
Click HERE to View/Print Supply List!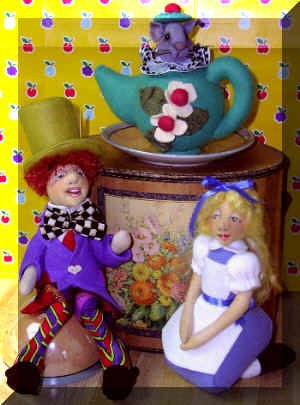 Tea Party Pincushions
This charming group of 5"-7" Alice in Wonderland characters offers something for every skill level.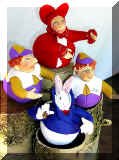 Wonderland Pincushions
You'll have fun learning how to sculpt a face and work on simple hands on these delightful 5" felt Wonderland characters that are weight balanced to stay upright.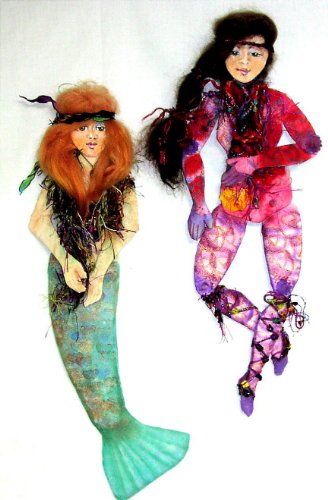 Painted Ladies
The bodies of these easy 18" paper and cloth dolls become a canvas for your personal artwork. Endless possibilities for stamping, embossing, beading and more.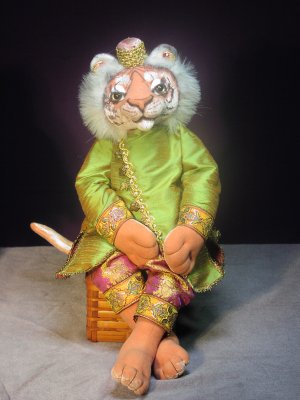 Pawsha the Tiger
This fully jointed and flexible 20" Bengal tiger is elegantly attired in Indian style clothing. His body is made from suede cloth and offers a unique and easy method for applying his stripes and coloration. He is the perfect doll for extra embellishments and ornamentation.
Click HERE to View/Print Supply List!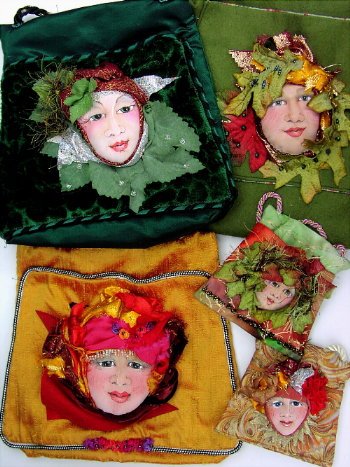 Pursonified
These fun purses in two exciting versions can be made with or without the faces in a wide variety of fabrics from wool felt to silk dupioni. Hip sling purse measure 7" wide x 8" high x 2" deep. Necklace Pouch is 4" high by 3-1/2" wide.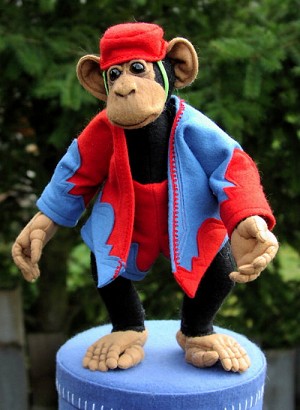 Sydney
You'll have more fun than a barrel of monkeys making this 15" fully armatured felt rascal with exquisitely needle-sculpted hands and feet.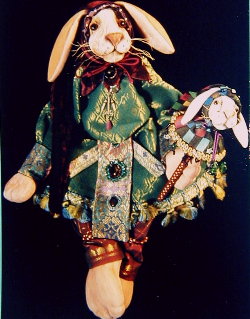 Renaissance Rabbit
This elaborately costumed 18" soft sculpture is an exciting creative challenge for advanced dollmakers.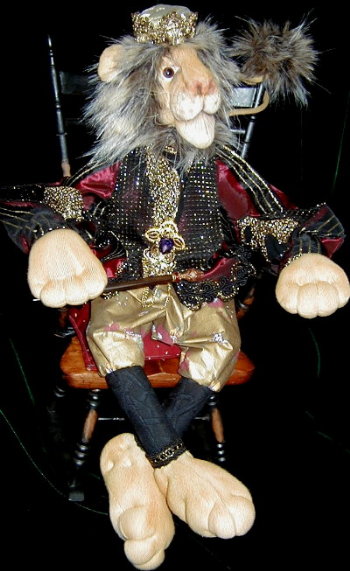 Leopold the Lion
A challenging project for advanced dollmakers, this regal, sling-jointed 18" lion is made with a combination of materials and techniques.