New!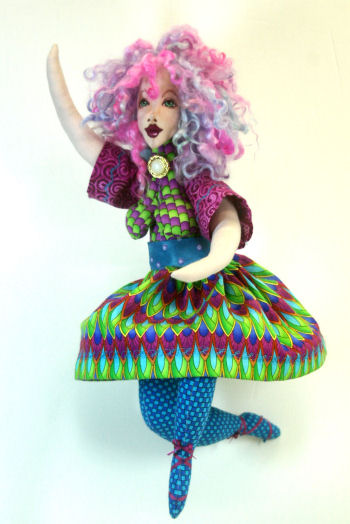 Joy! Celebrating Life
15" Cloth Doll Pattern

Middle aged Joy, with her widened hips and saggy breasts celebrates waking up every morning and all the simple joys of her life through dance. Boldly dressed in vivid colors, including her hair, she loves to draw attention to herself because she knows she is still beautiful, as all women are inside. This doll may choose to sit or dangle from the ceiling."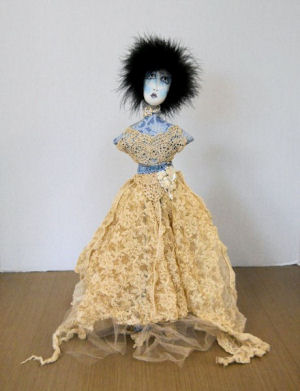 Ghoulia
You'll be tea-dying laces, tulle and cheesecloth to fashion the costume of this eerily beautiful 16" wall doll coiffed with a feather boa.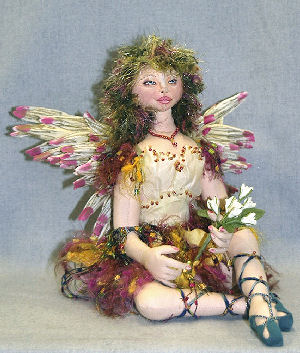 Camille
This lovely 9" seated fairy is arrayed in flower petals, soft leather beaded shoes and wild yarn hair. Learn how to create, shape and pose beautiful articulated cloth doll hands.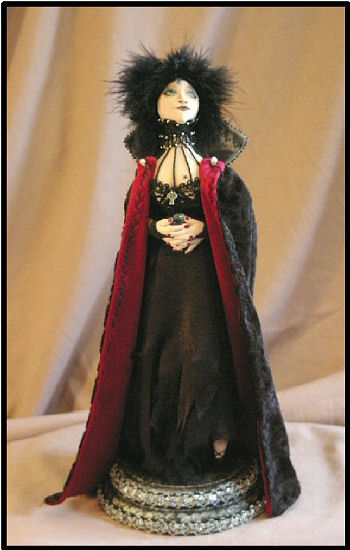 Destiny
Standing in sexy stiletto heels that show off her shapely legs, this elegant 17" beauty can be Gothic in black with a spider tattoo on one breast or by changing the color and clothing options a glorious bride or elegant debutant. You'll learn how to do a cloth-over technique to hide face seams and a variety of beading stitches for the embellishment.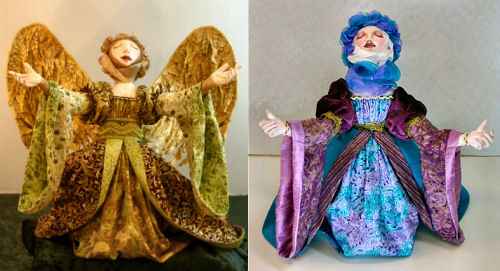 Paisley Praise
12" kneeling
Kneeling with her arms outstretched giving praise for all her blessings, this exquisite 12" angel has a costume composed of 8 different fabrics as well as ribbon for her headdress and trim. You'll create her wings with cotton "feathers" on poseable wire. Lady Paisley is a variation without the wings.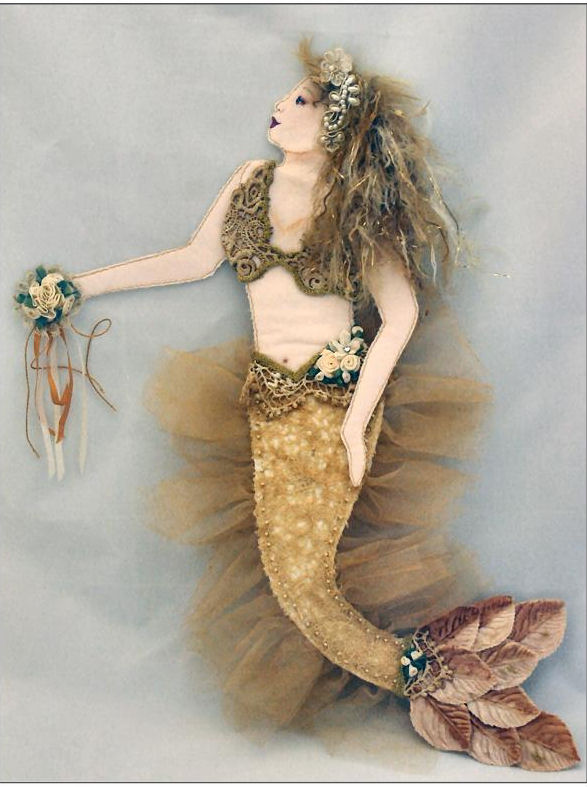 Flavia
The beautiful 18" flat mermaid can be made jointed or as a solid art piece. You'll find lots of embellishment options along with a bonus 10" Flavia paper doll.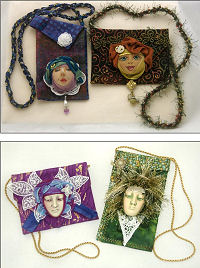 Faerie and Lace Mini Case
You'll find a ton of variations with 5 bag styles along with a beautiful flat face and a three dimensional needle sculpted face to mix and match for this versatile bag.
---
---
Lady Grace
The pattern for this elegant 22" wall doll with multi-layered head wrap and tassel trim focuses on creating graceful, expressive hands.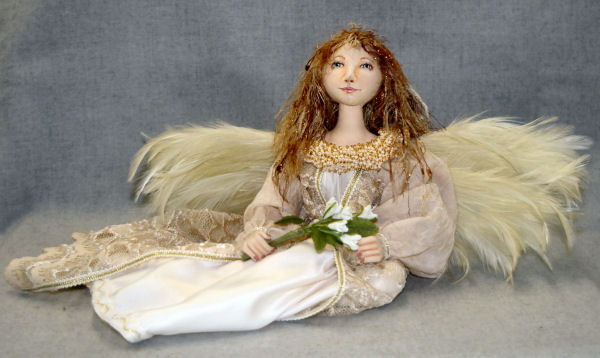 Seated Angel
Seated with her legs to one side this beautiful angel with feather wings can be made in both 6.5" and 9" sizes. Step-by-step photos guide you through the facial details from drawing, sculpting to adding dimension with color.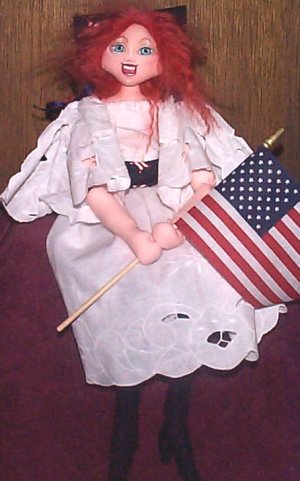 American Annie
This patriotic 15" doll jointed with buttons and beads is dressed in a Battenberg table runner.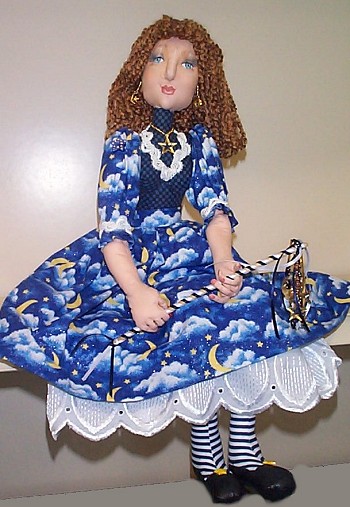 Wishing Star Fairy
This beautiful 25" button-jointed fairy
with wired fingers is eager to grant your special wishes.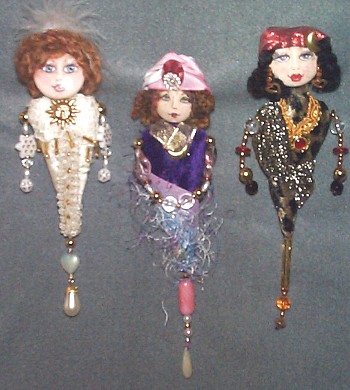 Betsy Button
Go for the exotic and unusual by working your favorite beads and embellishments into these charming 6" pindolls.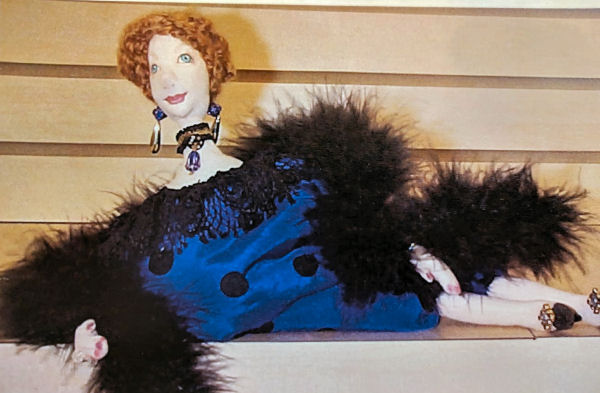 Wobble Whimsie
All dolled up in boa and detailed beadwork jewelry, this 12" vamp flops and poses wherever she is put. Instructions included for hair or turban.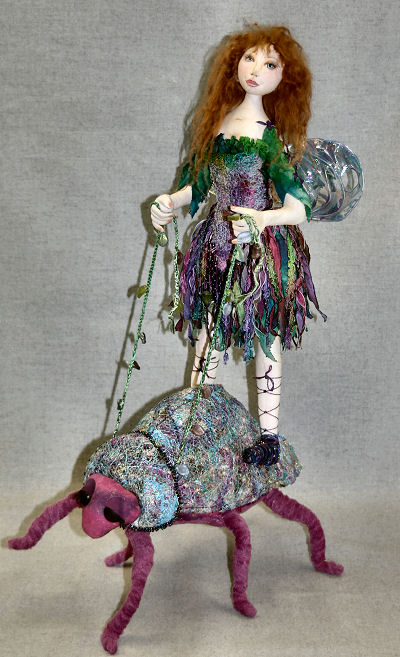 Beetle Babe
The costume for this gorgeous 15" faerie riding her beetle friend is hand dyed and singed silk draped in fibers and beads. Free motion embroidery is used for her corset and the beetle's body. Options such as a flat or needle sculpted face and articulated fingers or mitt hands make this a fantastic project for all skill levels.