Bunni Wabbit
7" Pin
©2005 by Jacque Uetz
---
Materials:
Materials needed
Basic sewing kit
¼" yard muslin
Paint..Sable brown, 14 K gold metallic, vintage white, Flesh
Crackle medium by Plaid
Scrap of fabric 1" x 12" for neck ribbon
Colorful tissue paper or printed napkin
Decoupage
Blush
Gesso
Stuffing
Freezer paper
Ring (for hanging)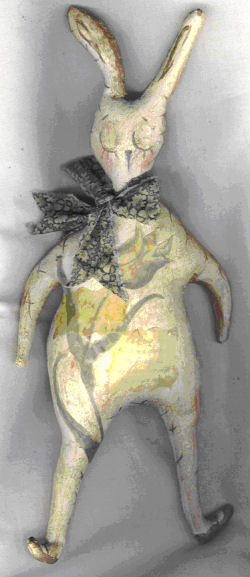 Construction:
Trace pattern onto freezer paper, this will become your template, cut template out.
Place template on muslin fabric press with warm iron (steam off) shinny side down until template adheres to fabric.

Sew around bunny template leaving right shoulder open for stuffing. Cut around template leaving 1/8" edge. Remove template from fabric, clip curves turn.

Stuff bunny, (use small amounts of stuffing at a time), stuff firmly. Stitch opening closed.
Gesso entire bunny x's 3 drying in-between each coat of gesso lightly sand before each coat. After last coat of gesso has dried and been lightly sanded paint entire bunny using flesh, let dry. Paint entire bunny with crackle medium let dry. Paint one coat of vintage white you will see the paint start to crackle let completely dry over night.

Tear or cut out patterns on tissue paper or napkin desired. Brush decoupage over the area place the tissue paper over decoupage and smooth. Let completely dry cover the entire bunny with decoupage if second coat letting all coats dry in between.

Draw shoes and face using pencil trace over face using sable brown paint, paint shoes using sable brown. Highlight around top of shoe using 14 K metallic gold paint also highlight eyelids and ears using 14 K gold paint.

Tear fabric 1"x 12" tie bow around neck. Add ring to back for hanging .
Template: Click HERE!
Click HERE to find more cloth doll patterns by Jacque Uetz