Patterns by
Judi Ward
---
Click on pictures for larger view.
A Classic Now Available!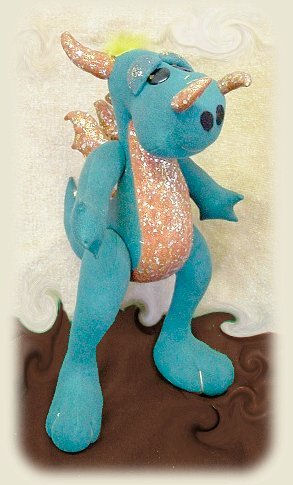 Darrell the Dragon
Darrell is about 18" tall.

He is a delightful, friendly dragon with jointed arms and legs.

He has big feet, wings, horns, eyelids and a zig-zag spine down his back.

Fun with sparkly fabrics.
~ ~ ~ ~ ~ ~ ~ ~ ~ ~ ~ ~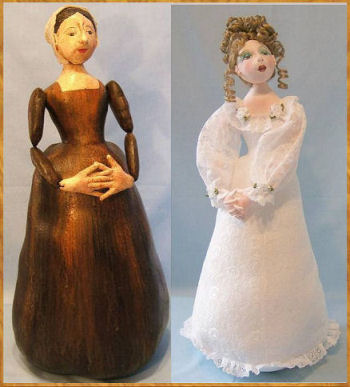 Wooden Reproduction with Supplement
Learn the painting techniques that make stuffed fabric look like carved wood
on this wonderful 21" reproduction stump doll. The Supplement includes
instructions for making a beautiful and versatile unpainted version that has
a breast plate. Full color patterns include 125 photos.
Click HERE to View/Print Supply List!
~ ~ ~ ~ ~ ~ ~ ~ ~ ~ ~ ~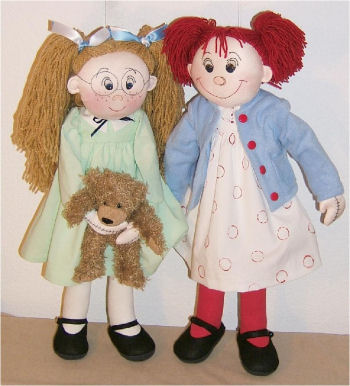 Violet Pickles and Ruby Buttons
The Darling Rag Dolls from the E. J. Taylor story books.
Are now patterns for making cloth dolls, By Permission from E. J. Taylor
Violet Pickles and Ruby Buttons, the adorable "rag dolls" springing from the pages of E. J. Taylors charming storybooks in the Ivy Cottage series, are now wonderful "rag dolls" for you to make.
These simple looking dolls are full of spirit and have a cool new head design, with faces that can be embroidered before or after sewing the dolls up.
They are 18" to 21" tall, depending on fabrics and stuffing and can be size up by 125% for the original size dolls which were about 27" tall.
~ ~ ~ ~ ~ ~ ~ ~ ~ ~ ~ ~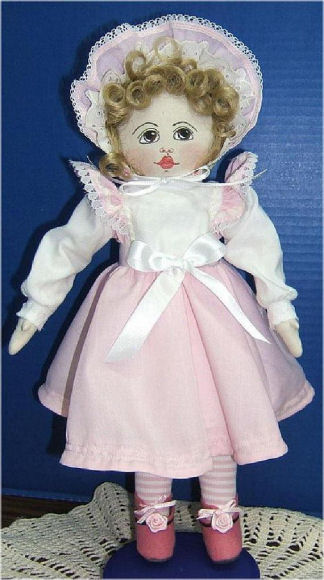 Babyland Rag
A REPRODUCTION of Horsman's, Babyland Rag doll from about 1904.
Babyland Rag dolls were produced in sizes from 12" to 30". Prior to 1907 they were made with hand painted faces…After 1907 they were made with both lithographed and hand painted faces. In 1912 they stopped making the hand painted face dolls. This doll is about 14" tall and depicts the hand painted face versions. Her clothes are designed as near as I could tell, from an old Babyland Rag catalog picture, which is in "Cloth Dolls from Ancient to Modern" by Linda Edward. The Babyland Rag pattern is very true to the real dolls construction and has an interesting head/face application, used by a number of "vintage" cloth dollmakers in the late 1800s and early 1900s.
It is a fun, easy technique that can be done successfully by beginners and advanced dollmakers alike, to produce a truly vintage look cloth doll. The pattern includes 29 pages of instructions, patterns and 2 full sized color faces. Instructions include over 90 step by step color photos.
Pattern Booklet Printed in Full Color!
Quality printed Cloth Doll Pattern which we will mailed to you.
Fun, Simple to Make and
Low Cost Pattern Series by Judi!
Judi is starting a new series of patterns titled the "Bent Neck Brigade".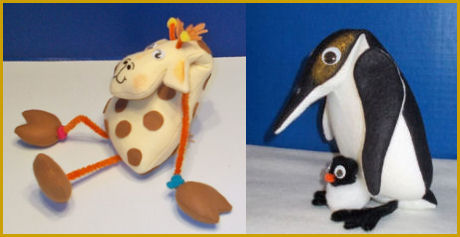 ---
Bent Neck Brigade Combo Deal...
Purchase Both "Pete Penguin" and "Gerald Giraffe" patterns
together for 10% Off. Only $10.80 for Both Patterns!
---
The 2nd in the series is "Gerald Giraffe"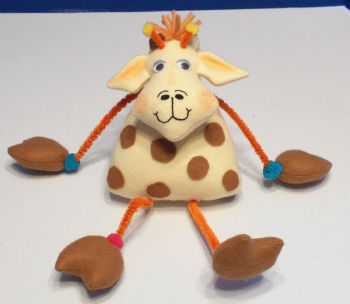 Gerald Giraffe - A Bent Neck Giraffe
Gerald Giraffe is a a cute, decorative cloth animal doll which makes a great gift. The giraffe is about about 7" tall seated and is made using a fun, simple "Bent Neck" concept. It is fun and easy!
This is a beginner/intermediate level project with excellent directions for every step.
Gerald is the 2nd design in a series by Judi Ward called the "Bent Neck Brigade". The 1st pattern in series is "Pete Penguin and Little Petey" and is also available below.

---
The first in the series is "Pete and Little Petey."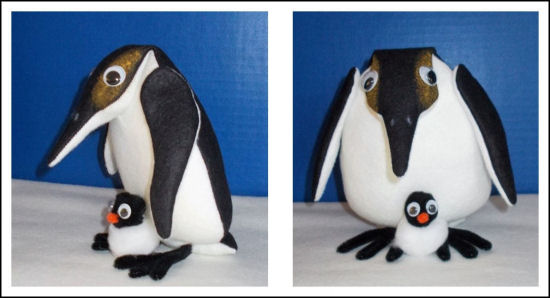 Pete Penguin and Little Petey
Pete and Little Petey are a cute, decorative addition for any time of the year. Pete is about 8" tall and Petey 3" tall. Pete is done using a fun, simple "Bent Neck" concept and will be the first of several animals done in a similar way. It is fun and easy! Petey is simply pom poms. This is a beginner/intermediate level project with excellent directions for every step.
---
Bent Neck Brigade Combo Deal...
Purchase Both "Pete Penguin" and "Gerald Giraffe" patterns
together for 10% Off. Only $10.80 for Both Patterns!
---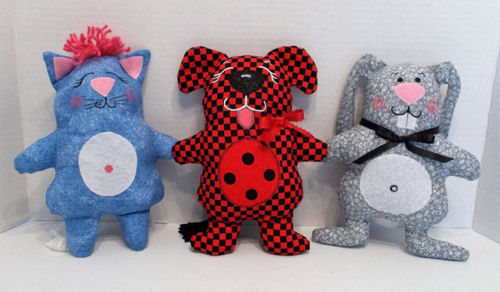 Simple Little Baby Toys - Soft Doll Sewing Pattern
These little toys are so easy and fun to make! The perfect gift for your new baby, grand-baby or great grand-baby!

Easy to make out of scraps or purchased fabric. You can mix and match colors and use plain colors to give the toy a more "real" animal look or use prints to make the baby toy more cartoon like.

You can embroider or paint the simple features with the noses, tummies, tongue and teeth being appliqued.

Fun and easy to make and will be loved by that special baby!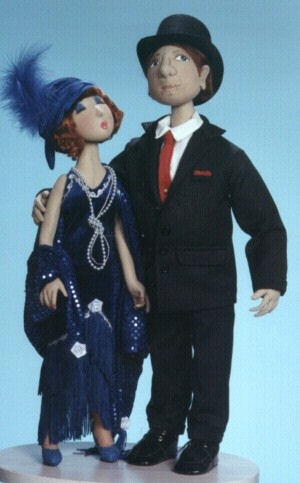 Abigail and Andrew
~ ~ ~ ~ ~ ~ ~ ~ ~ ~ ~ ~ ~ ~ ~ ~ ~ ~ ~ ~ ~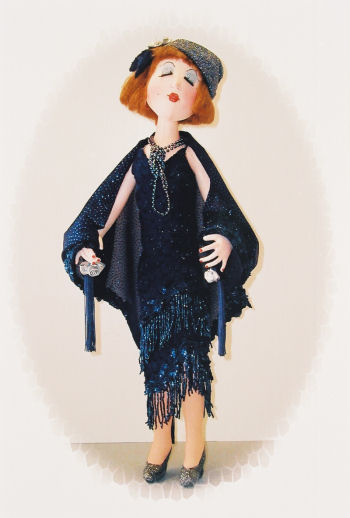 Abigail Anne Asbury
Abigail Anne Asbury is a delightful "Flapper" doll, with style and sophistication. She is designed using the techniques taught in Judi Ward's Design Your Own Dollclasses (beginner and advanced.) But not everyone takes the classes, soooo, here she is in pattern form.

This 21" lady has a small bust, befitting the era, and a beautiful beaded gown and cape. Her cloche hat and "bobbed" hair depict the look to a tee. She even has the "rolled down" stockings that were so popular during the 20s. She is invisibly jointed at the hips and shoulders.

And AHHHH! what a self-important and imperious look she has on her face, she just knows she is the "Bee's Knees"!

My exclusive "Clay in the nose" and Thread and Needle Finger Turning directions included!

**** Andrew Pattern Also Available Below ****
~ ~ ~ ~ ~ ~ ~ ~ ~ ~ ~ ~ ~ ~ ~ ~ ~ ~ ~ ~ ~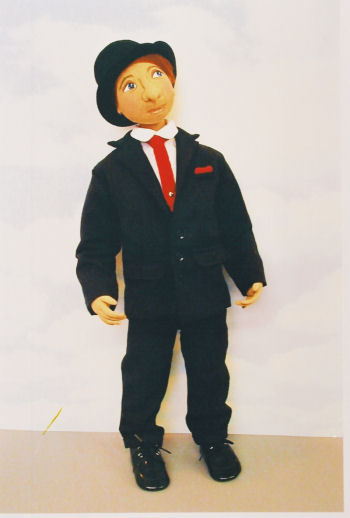 Andrew Alan Arbuckle
Andrew is about 24" tall. He is Abigail's classy boyfriend. He is all dressed up in a fine suit, shirt, "four in hand tie", boxer shorts, baby socks and doll oxfords. (Available from a catalog, I tell you where and what in the pattern.) He has a great Man shape, with broad shoulders, a trim waist and muscles in his arms and legs.
Andrew is an "older" looking male doll, with a virile face and "five o'clock shadow". Andrew is jointed at the hips, shoulders, and uses my new tab head neck jointing method too.
Abigail adores him, and he adores her. Do you hear Wedding Bells?
**** Abigail Pattern Also Available Above ****
Fingers, toes, ears, nose, bellybutton, bottom and 13 joints! This wonderful 27" doll is shaped like a little girl about 6 years old and has a lovely, lightly needle-sculpted face using Judi's "Practically Foolproof" one stitch methods. Make yarn hair or put a real doll wig on your fabulous Dahnia. Patterns for her beautiful dress, pinafore, pantaloons, shoes and stockings are included with the doll pattern.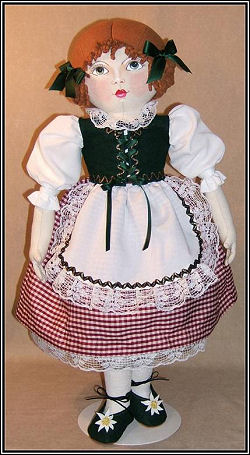 Hannah Maggie

This 21" vintage style doll in Bavarian dress has felt hair, terrific
underlining techniques and an optional weighted bottom for good sitting.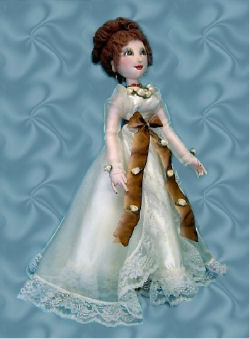 Savannah
For intermediate or advanced dollmakers, this beautifully detailed 25"
fashion doll is invisibly jointed at the hips and shoulders. Learn Judi's
famous clay-in-the-nose technique and so much more.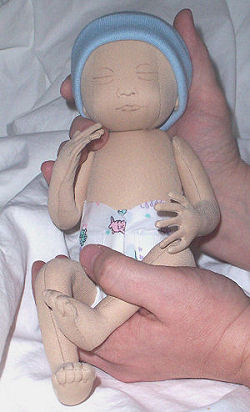 Preemie Doll Pattern
by Sandy Eding
Adapted from Judi's newborn pattern, this doll has been developed to be as
realistic as possible and increase understanding of premature babies.
Instructions included for making 13 through 40 week gestation baby dolls.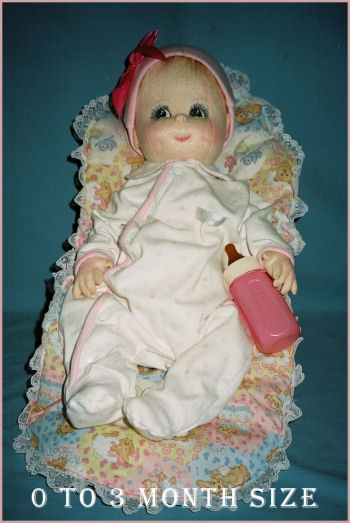 0 to 3 Months Size Baby
Realistic 21" newborn baby that can wear real baby clothes as pictured or you can use the included clothing pattern to make your own topper, panties and bonnet.
The doll has slender arms and legs, and may be weighted if you desire.

Click HERE to View/Print Supply List!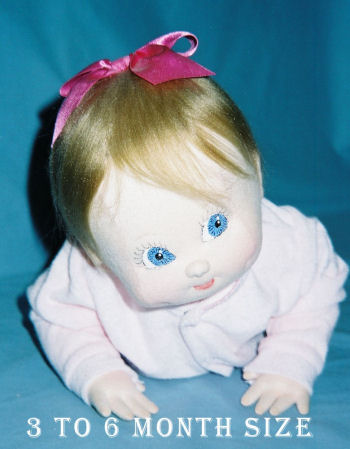 3 to 6 Months Size Baby
Realistic baby doll about 24" long. Designed to lay on her tummy, or sit with her hands in her lap, just like a real baby learning to sit up. Clothing patterns for pajama set much like the one she is pictured in here are included.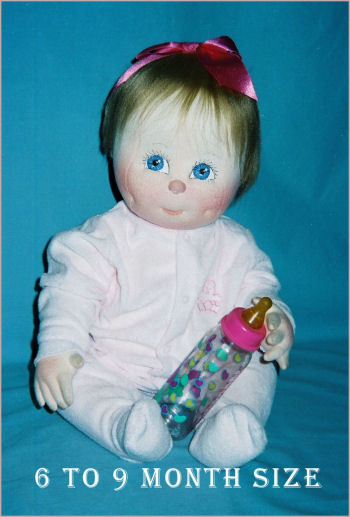 6 to 9 Months Size Baby
Click HERE to View/Print Supply List!
Sweet 26" baby with bent legs can sit up all alone. Clothing patterns
include a cute round yoke dress, panties and Mary Jane shoes.
Realistic 28" tall, chubby, stout little toddler. She stands all alone if you put real baby shoes on her! Her fat little legs are just adorable! She has 2 arm styles too. Clothing patterns included are a one piece, bubble sun-suit and a jumper to go over it. Also High Top walking shoes.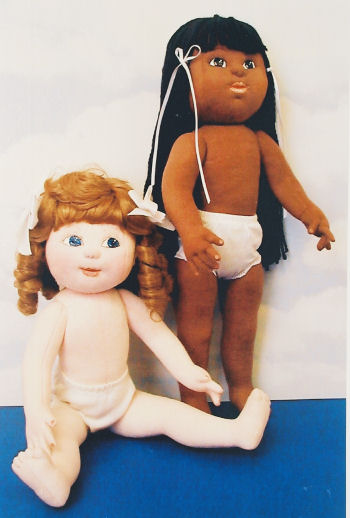 18" Dress Me Dolls
Fully jointed (neck too!) cloth doll that can wear all the great clothes and clothes patterns for the American Girls® dolls. This cloth doll has beautiful shape and form with articulated fingers, belly button, ears, bottom, nose and toes. Yarn hair or doll wig.

This is a very versatile pattern, with several faces and hair styles. The face can be lightly needle-sculpted, using my "Practically Foolproof" one stitch methods, or left un-sculpted.
---
18" Dress Me Doll Wardrobe
The Pattern contains a button front dress, jumper, shirt or sweatshirt, sweatpants, leggings, pantaloons, stockings and two styles of shoes. One a dress shoe and One a lace up boot.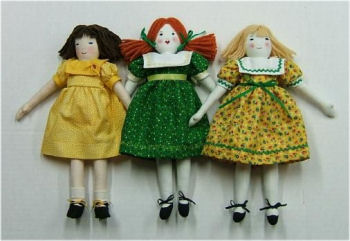 ***A Little Counterpane Doll in 2 styles***
This pattern is for a 11" reproduction of a doll made in the 1930s to be played with on a bed (counterpanes are bed coverings.) During the depression these little dolls were made from the scraps left from the making of the large WPA cloth dolls.

Pattern description includes 22 pages of
step by step instructions and color photos.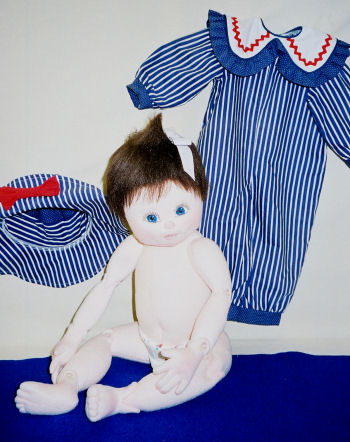 Baby Darby
A life sized baby (about 27") that is lifelike and poseable with 13 joints!
She has fingers, toes, ears, nose, belly button and bottom.
Romper and hat pattern included. She can wear real baby clothes too.
Her hair is easy to make from long pile fur.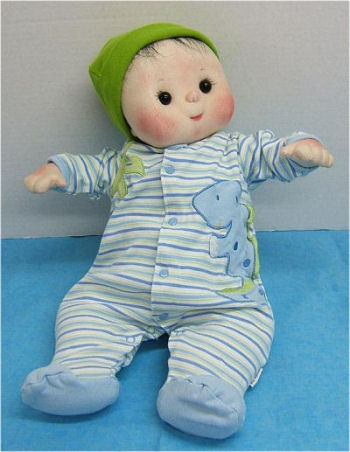 Bare Baby
This baby (about 20" long) has a wobbly feel with an innovative jointing method. Lightly sculpted face with easy button eyes or sculpted, asleep eyes. Angel Wings pattern included because Bare Baby makes the sweetest Baby Angel.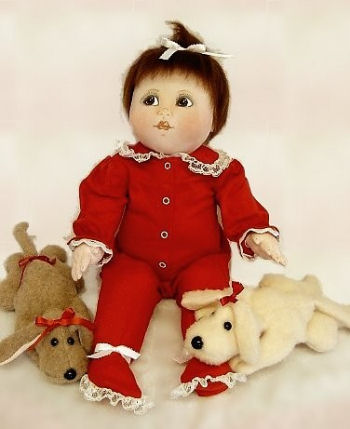 "Baby Bottoms" and "Precious Puppy"
Doll Pattern - Baby Bottoms is about 26" long and includes Judi's "Adapting Patterns For Needlesculpture" skill sheet if you want to add needle-sculptured dimension to your babies.
Precious Puppy Pattern - Pattern for 2 sizes of floppy, bean bag puppies (13" and 9".) EASY to make from felt, plush felt, velour, terry cloth, fur, etc. Weight them with plastic pellets for a floppy feel.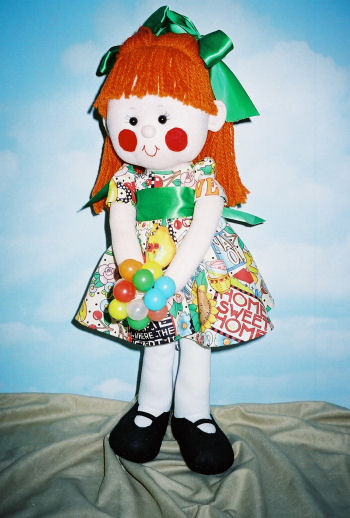 Fiona
Fiona is a whimsical little girl (about 19" tall) with the cutest, easy face. Her shoes are "built on" so they never get lost. Her yarn hairstyle is fun and easy too. This is the ideal, unjointed play doll, when you are ready for more than the Raggedy style play dolls. A full, little girl dress, and panties complete the sweet look.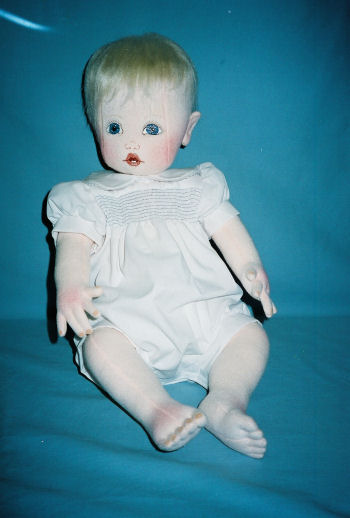 Baby Prince William or "George Alexander Louis"
Vintage Pattern From 1983
A bouncing baby boy (about 24" tall) who is anatomically correct. His face was designed to look like the little prince when he was about 6 months old. This baby is such a cute and chubby baby!
Little Girl Lori is about 22" tall with adaptations to make her taller if desired. A sweet toddler doll who can be a play doll, or is pretty enough to be a display doll too.
Lori is a Tab Head doll with stitched on limbs, and 4 choices for the elbows and knees.. Stitched across, beads, tied, or straight.
She has a pretty face and uses the reverse template method for getting that pretty face design to the cloth. Perfect for the non artist. Her face can then be painted, embroidered, or done in colored pencils and pens. Detailed, step by step painting directions are included too.
The directions for this doll will allow a beginning dollmaker to succeed in making a lovely doll.
Her clothing patterns include the dress with a "mock" apron, pantaloons, stockings and shoes.
This delightful 23" monkey made of a combination of craft velour and felt is invisibly jointed and can stand alone in real baby shoes. The full color pattern features 125 photos detailing every aspect of the construction – as thorough as a class!