dream – imagine – create – grow– believe - magic
---
---
Hello Dollmaker's Journey Friends,
A few weeks ago we sent out a message from Mary Ann about the changes in her life's journey. If you missed her message it can be found HERE. Today we want to take a minute to introduce ourselves.
Some of you may know Paul. You may of seen his name as the webmaster of Dollmaker's Journey, administrator of Friends of Cloth Dolls, in connection with the Doll Net, hosting the Annual Cloth Baby Doll Challenge and/or other online doll sites. If you were a dollmaker back in the winter of 1997/98 you may of seen Paul and Laurieann featured in "The Cloth Doll" magazine (Vol 12 No. 4) article, "Paul Phalen: Bring Together A Wide World of Dollmaking" by Bonnie Boots. This was the beginning of the online world and the cloth doll community was on the front line of the early Internet. The article featured the Doll Net and included a picture of the pride and joys of our life, our 3 kids... Now full grown kids!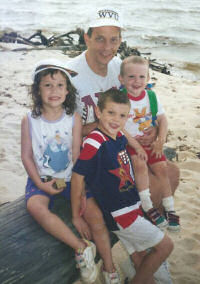 Photo from the Cloth Doll Magazine
(Winter 97/98)
While Paul is the Internet guy always dreaming of new ways to support the online doll community he also is not the best at organization and that is where his wife has become an integral part of Dollmaker's Journey. Laurieann has been a teacher and scientist for many years and not only has the organization skills but is also an expert editor and keeps the inventory ordered and organized! Laurieann is also very creative. Paul's first website was "Cards by Laurieann" featuring her stenciled greeting cards.
After a month and a half into our journey we would like to thank all of our customers, especially those who have helped us over a few bumps in the road. We are both having a fantastic time learning all about our designers and customers. Also Paul says the business is like having Christmas everyday. Boxes after boxes are delivered daily with everything from turning tubes to goat hair to new designs from as far away as New Zealand!
Although you may see some changes in the future our plans are to continue the Dollmaker's Journey that Mary Ann has so well started and always remember that you... the doll community, comes first!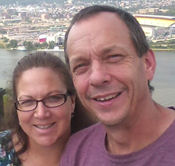 We are also very grateful to the ones who make this wonderful experience of Dollmaking possible for all of us… the Cloth Doll Designers. We want to thank them for sharing their imagination and the sharing of their skills.
If you ever have any questions, comments, suggestions, complaints, or just want to say hi, please feel free to email us at info@dollmakersjourney.com

Laurieann and Paul
info@dollmakersjourney.com
~ ~ ~ ~ ~ ~ ~ ~ ~ ~ ~ ~ ~ ~ ~