dream – imagine – create – grow– believe - magic
---
---
My dearest Dollmaking Friends,
Shortly after moving back to the US in the summer of 1996 from living in the Philippines, three key things happened that charted a new course for my life: I attended the San Diego Quilt Show where I was entranced by the Art Doll Display, we got a computer, and I happened upon an online dollmaking group called Virtual Dollies. I had made many dolls in my life but Art Doll making was an exciting new world to me and I dove in with great enthusiasm. Each day as part of the Virtual Dollie discussion group (now known as FOCD – Friends of Cloth Dolls) I was exposed to more and more aspects of cloth dollmaking that expanded my skills. There were several doll swaps organized through the group and BONNIE B. LEWIS in Virginia was one of my exchange partners.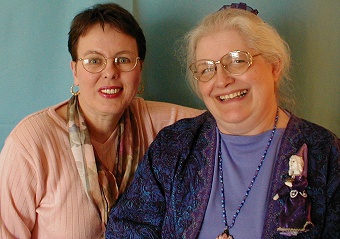 Mary Ann Kaahanui and Bonnie B. Lewis
One year later we moved back to a home we owned in Springfield, VA and within two weeks I attended an all-day dollmakers gathering at the Tabbard Inn in Washington DC with Virtual Dollie members living in the region and I met the Force of Nature know as BONNIE B. LEWIS in person.
Our partnership began with my desire to learn how to make realistic looking doll shoes. I tried my best to find books that would teach me this without much success. Bonnie invited me to her home to go through her extensive collection of dollmaking books and magazines to see if I could find what I was looking for. I came to the realization that we needed to write a book about it ourselves and Bonnie agreed to be my partner. We outlined the book in a phone call, divided up the chapters to write and came up with the name DOLLMAKERS JOURNEY. At the time we were taking JUDI WARD'S incredible online doll design classes at CraftyCollege.com. We decided that we would teach the material as an online class first to ensure that the way we presented the material was easily understood. We submitted the course to Crafty College's PAUL PHALEN and he accepted it.
The course went well and we each chipped in $250 and had 100 Creating Fabulous Footwear for Fantastic Dolls printed. We picked them up on our way to attend the We Folk of Cloth dollmaking conference. Carrying the books in gym bags we found ourselves selling them in the lobby, the elevator, at the dinner table, everywhere we went. I have to say we felt a little bit like drug dealers! By the end of the weekend they were all sold and we had enough money to get 200 more printed.
We quickly realized that to reach a wider audience it would be best to have a website to sell them. I had begun designing patterns and we had a number of friends who asked us to sell their patterns for them. Returning to PAUL PHALEN we asked him to be our webmaster and THAT was the most significant decision we ever made. PAUL immediately understood the spirit we wanted to convey in our business as two enthusiastic cloth dollmakers seeking to serve other dollmakers by providing them with quality dollmaking patterns and books at reasonable prices with speedy delivery. At first we shied away from supplies, considering the selection of supplies to sell like a Pandora's Box. Well, as they say, it is all about Supply and Demand. The designers asked us to carry dollmaking fabrics and other items that would make it easier for those purchasing their patterns to get what they needed and so we did.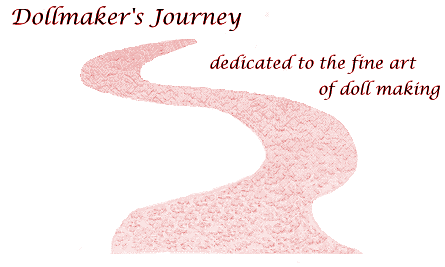 Original Dollmaker's Journey's Logo
We have always credited PAUL and his dedicated care of our website as being one of the most integral elements of our success. After several years BONNIE and her family moved to West Virginia and there didn't seem to be a good way to divide up the day to day responsibilities of running the business that had always been located in my home. With the demands of BONNIE'S large family and her devotion to her church responsibilities we quietly transitioned to my sole ownership of the business.
Since August 1998 when DollmakersJourney.com went live we have had the joy of serving dollmakers all over the world. It is fantastic to know that we live in a world where we can now send packages to such far flung places as Russia, Bulgaria and Namibia and the packages arrive in good order. Not only that, I have moved four times since the business began without ever closing the site for a single day. Over the past year we have expanded to downloadable patterns through our Etsy Shop - www.etsy.com/shop/DMJourneyDownloads as well as being very active on Facebook - www.facebook.com/DollmakersJourney and Pintrest - www.pinterest.com/dmjourney


Mary Ann Heading to AFICC 2015 & DMJ at AFICC 2015
I turned 65 in September and have had a number of new and exciting interests come into my life that I feel called to pursue and have decided that now is the best time to do it. PAUL and his wife LAURIEANN expressed the desire to keep DOLLMAKERS JOURNEY going and we have just completed transition of the ownership to their loving hands and dedicated spirits. Two days after Christmas they arrived at my home with a large U HAUL and enthusiastic family members to move the nearly 2000 items that are sold on the site to their home in Delaware. They are settling into it beautifully and I know with all certainly that they will continue to provide the same quality products and stellar customer service DOLLMAKERS JOURNEY has always been known for.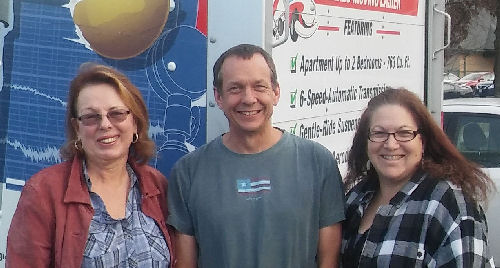 Mary Ann, Paul and Laurieann on Moving Day.
I want to thank each and every one of you for being a part of my life and allowing me to serve you these past 18+ years. I especially want to express my appreciation to the fabulous SARA BAKER who has been such a joy to work with and my long-time invaluable assistant LUCIA WANG who got the packages in the mail every day and expertly held down the fort while I was running back and forth to NJ to be with my parents during their final years.

Wishing you all the best as you continue on your dollmaking journeys,

Mary Ann
maryann@dollmakersjourney.com

~ ~ ~ ~ ~ ~ ~ ~ ~ ~ ~ ~ ~ ~ ~
The Journey Continues…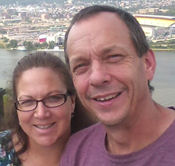 We are honored to follow in Mary Ann's footsteps as the new caretakers of Dollmaker's Journey.
Our goal is to carry on Mary Ann's legacy by supporting the online cloth doll community and continuing the Dollmaker's Journey tradition of quality products & personal support.
Many of you may already be familiar with Paul and wonder who Laurieann is, but today is about Mary Ann and her fascinating journey. We will share more about us in the near future.
Looking forward to serving the dollmaking community,