New Pattern!
**** Special Event ****
Join Sharon Mitchell on Facebook for a "Work Along" for this design. Dollmakers will work together and share ideas, pictures and ask questions! More information available at... https://www.facebook.com/events/256310035083089/
****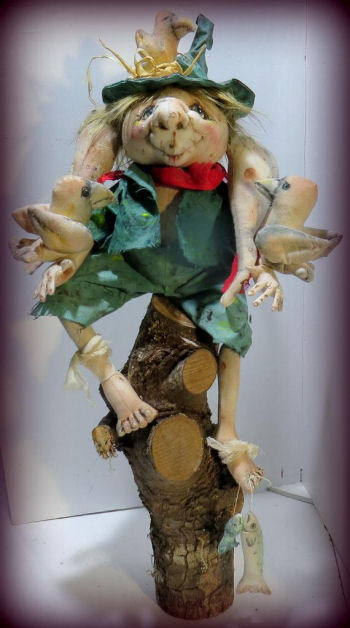 Woodsy
A 16" Delightful Woodland Creature Pattern

This delightful 16 inches (40 cm) woodland creature is a protector of birds and a clever fish tickler!
"Woodsy" has moving arms and legs, and hinged knees for sitting.
The unusual thing about Woodsy is that he is completely made in good quality quilter's muslin, or homespun, and once constructed; he, the birds, and fishes are painted using a wet-on-wet technique, giving a choice of colors, each time he is made! Of course, if you choose not to enjoy that experience, use other fabrics!
The instructions include a fairly easy needle-sculpting sequence to make the face, with plenty of photos and diagrams that explain the making of this woodland creature.
You may also shrink the pattern to make a cute smaller creature and/or change the ears to make something different. There is no limit to what you can do with this design!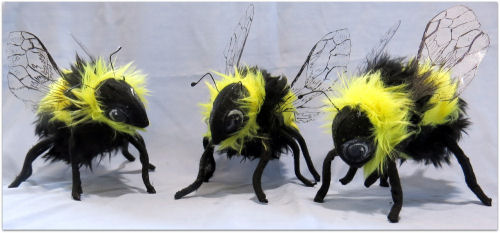 Humble Bumble
by Sharon Mitchell
'Humble Bumble' is a delightful bee for adults!

The Bee stands around 4" (10 cm) high, 5" (12.5 cm) long, and the pattern can be resized to make larger if you wish.

A great project for a group. Can be made by hand, or on the machine. Make a swarm! Good for a stall. Make in a day! Make two, or three for impact – or to give as a gift! A bee pet, to sit on your shoulder for a laugh!

Not a toy for children, but can be admired!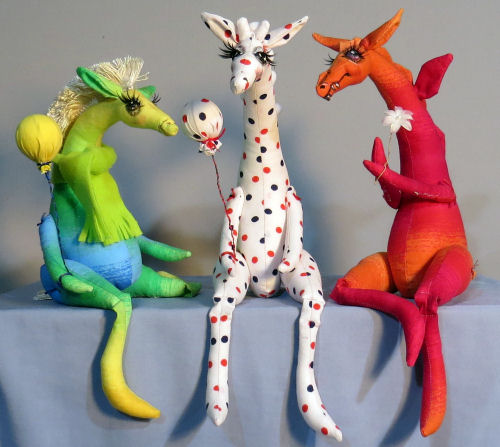 Whimpey Dragon, Giraffe & Horse
by Sharon Mitchell
This is a fun and whimsical 3-in one pattern for all levels of dollmakers! The dragon, giraffe and horse stand approximately 7 to 9 inches tall.
Once you start making these colorful creatures you will not be able to stop!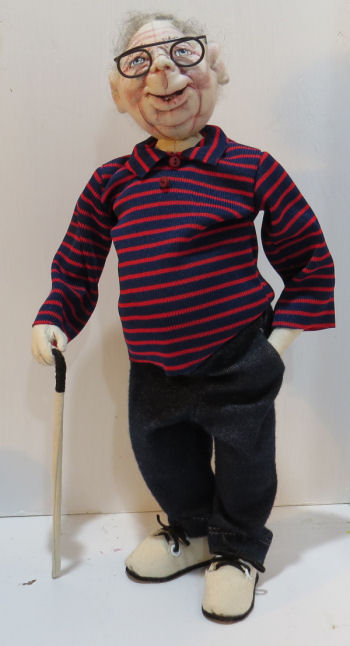 Baby Boomer Brian
by Sharon Mitchell
Baby Boomer Brian (13" tall), is an advanced character doll of mature years, with a great new body shape, and wire armature legs.
The pattern includes instructions for making the shoes and clothing – even the walking stick!
Learn how to needle sculpt and colour his craggy features, with many step by step pictures and diagrams.
He is well balanced, and stands unaided. Brian could be a golfer, an angler, a painter. He might enjoy reading, or going to the races! He'd look great in overalls, or dressed as Santa – well, he's got the belly for it! Give him a mate to gossip with!
Baby Boomer Brian was made in response to a character head I was teaching.

There is a female version coming soon! Enjoy making Baby Boomer Brian!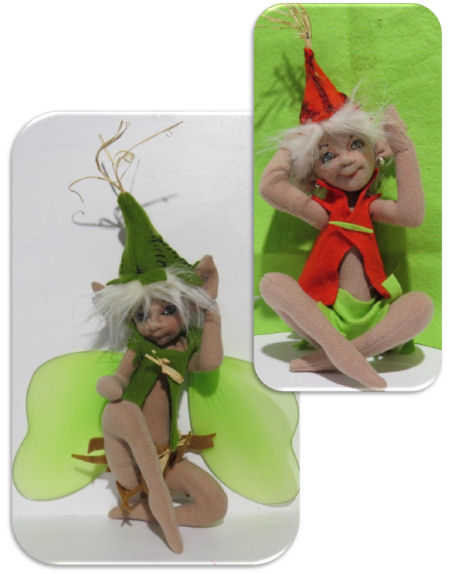 Pix & Pax
9" pixie/elf/fairy doll sewing pattern
by Sharon Mitchell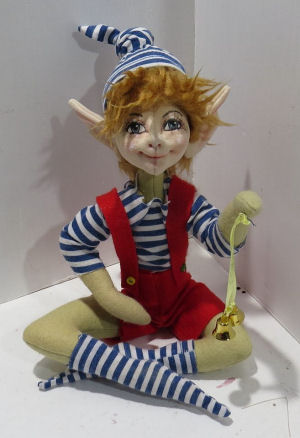 This pattern will teach you to make a 9" or 10" sitting pixie/elf/fairy doll! (Wings not included)
With 15 pages full of step by step photo's of how to make this beautiful doll you can't go wrong.
The needle sculpting of the face is minimal, but effective.
Fun to make several dolls and dress and pose them all differently.
This little doll will make a lovely ornament for Christmas, as a gift, or a simple project.
This is an original design by Sharon Mitchell.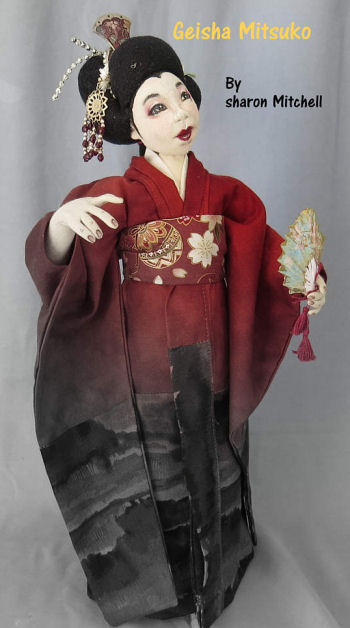 Geisha Mitsuko
16-inch Stump doll
by Sharon Mitchell
Geisha Mitsuko is a 16-inch Stump doll. The pattern is s full of step-by-step pictures and diagrams, to guide the doll maker to make this Art Doll. Originally an online workshop this pattern is 41 pages long.
Dolls are storytellers, and Geisha Mitsuko tells of an era of elegance grace and beauty.
Join fabrics, or use whole pieces of contrasting or tonal colors.
Designed for intermediate to advanced doll makers, although a beginner could follow this pattern with some success.


Pink Flamingo Marionette
Marionette Pattern
by Sharon Mitchell
Pink Flamingo Marionette is a a fun project and can be made in only a few hours!
Just the right height for a toddler. Make one for your kids or grand-kids!
Made from Microfleece and feather boa!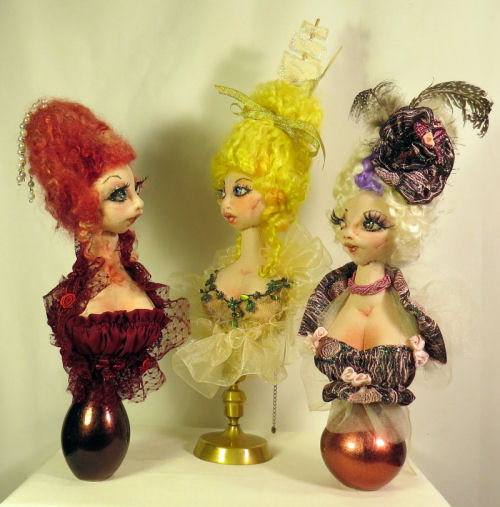 Marie Antoinette Bust
by Sharon Mitchell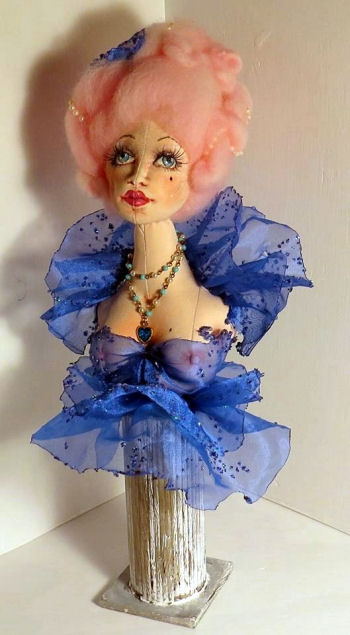 Marie Antoinette Bust
Intermediate to Advanced dollmaking skills required for this bust doll that you can make into a piece of art! She is an embellishers dream and can be as dramatic, or as simple as you like!
Depicted here as Marie Antoinette, this bust can be anyone! The bust figure is approximately 7 inches (18 cm) high. The hair and the stand make it taller.
Learn how to make Big Hair, needle felting, different eyes, needle-sculpt a face and part of a torso, make a plinth and a sailing ship.
All this in one 31-page pattern, full of systematic photographs and drawings, with two, easy to follow needlesculpting sequence diagrams, that show how to needle-sculpt the face.
Make two at once – for company!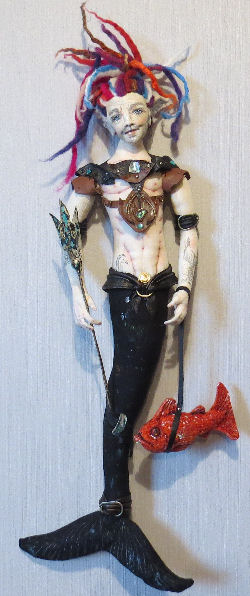 REIF - Guardian Of The Deep
27" Wall Merman Doll Pattern
by Sharon Mitchell
Guardian of sea creatures, and general RMM - Reef Maintenance Merman!
Reif is often seen working with Greenpeace, during clashes on the high seas! Currently organizing shoals of fighting fish, using his guard-fish Snapper, to repel and disrupt underwater blasting in NZ waters and create general mayhem to protect the undersea environment!
As a 27" wall doll he will transform any wall in your studio or home into the undersea world! This Cloth Art Doll Tutorial e-pattern covers everything, from needle-sculpting face and body, colouring the face, styling the dreadlocks and costuming to steps to create the trident and construct the armature.
This is an Intermediate to Advanced pattern tutorial for those needing a bit of a challenge to take their doll making skill to a new level.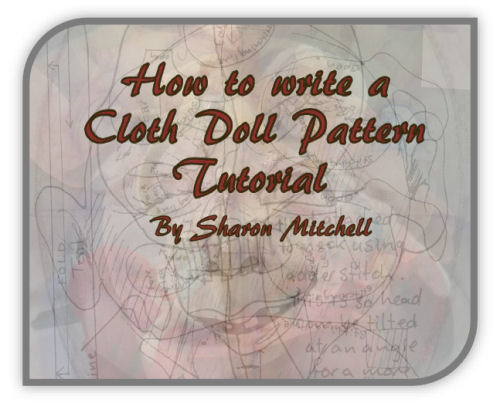 How to Write a Cloth Doll Pattern Tutorial
An instructive tutorial on the art of Cloth Doll Pattern writing.
by Sharon Mitchell
This tutorial by Sharon Mitchell is just what you need! You have been making dolls for years, making your own designs but never took the next step of publishing a pattern. Now you have no excuse :)
"How to Write a Cloth Doll Pattern" tutorial covers it all… including writing the pattern, taking photos, digital files and more! So what are you waiting for? Dollmakers worldwide are waiting to make one your doll designs!


Needle-sculpting Tutorial!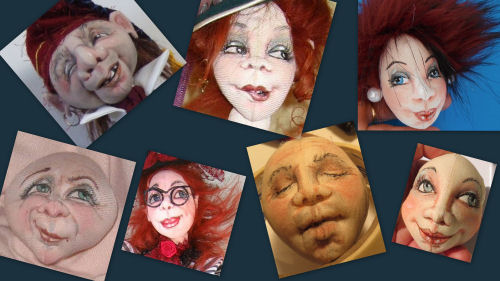 Needle-sculpting, drawing and colouring faces!

A Needle Sculpting Tutorial
by Sharon Mitchell
What makes an expressive face? This Tutorial shows different ways to make an expressive face and includes a head pattern to practice on, with pictorial step-by-step instructions for sewing and needle-sculpting it.
The tutorial offers different things to do to colour, and give expression to the face. It talks about different fabrics and how they may behave, what can be done with mouths, eyes, and hair, and what tools to use.
This Tutorial is a good place to start for gathering information, for the person interested in developing further skills in figurative cloth dollmaking.
A 23 page tutorial packed with step by step diagrams and color photos!

Full size (life size) Dressmaker Dummy!

Patroness Of TOTE

Full size (life size) Dressmaker Dummy with 2 Face Styles.
by Sharon Mitchell
Included in the pattern, is a tutorial for constructing the WHOLE dummy from an old wire dressmakers form, and how to mount it on to a pedestal.
Written and pictorial instruction on how to needle-sculpt and colour two different faces is also included. One has raised eyes and the other has flat eyes with separate eyelids. Both have false eyelashes.
The pattern/tutorial is full of color photographs explaining every step.
Includes 2 Face Styles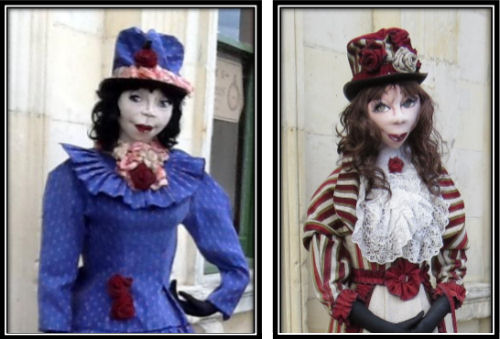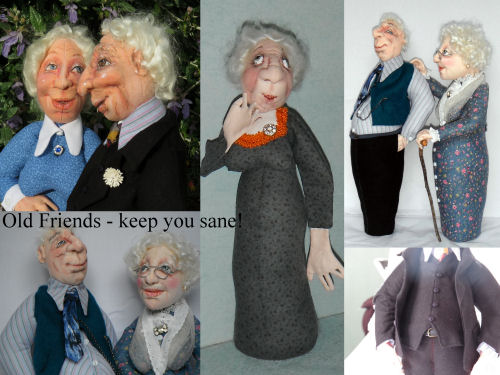 Old Friends keep you sane!

A Needle Sculpted Stump Doll
by Sharon Mitchell
Old friends keep you sane! It's true! Here is a stump doll pattern (previously a workshop) to make two character dolls in the shape of Old Friends. You can make a pair, or a group! They would make great Santa & Mrs Clause!
Pattern includes diagrams for needle-sculpting the faces and color photos on how to draw and colour the faces and hands. Their clothing is part of their body, so no extra clothing required!
Make some old friends for anniversaries or weddings, or just for fun!

44 Page Pattern!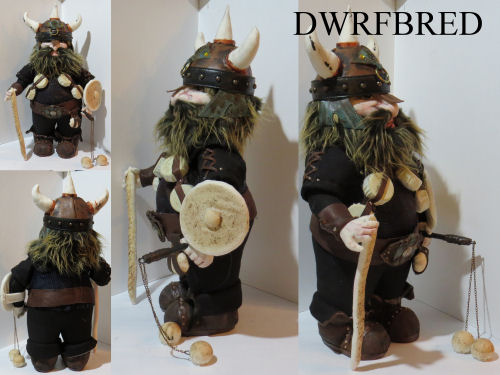 DWRFBRED
(a play on words)

16 inch mixed media cloth doll.
by Sharon Mitchell
Dwrfbred is a mixed media cloth doll who really looks the part! You can tell he is really a softie at heart by his chosen weaponry – mind you, have you ever been clouted by rock hard bun! Pattern can easily double as Santa, or any old character doll with a beard!
Incredible Value!
Includes 44 pages of step-by-step instructions illustrated by diagrams and color photos!

Fun Animal Pattern!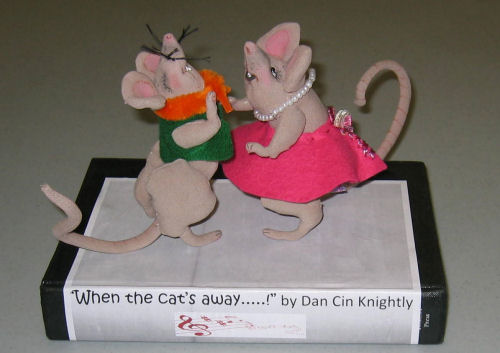 Ragtime Rats

Standing at 5" tall (not counting the tail!)

by Sharon Mitchell
While the cat's away, these Ragtime Rats are having a ball, swing dancing amongst the books!
Dress them in different colours – a bow tie, hats, sunglasses, to name but a few of the ways you can express yourself with these quick and easy dolls. Dress them for Christmas, Easter or any holiday! Make them as a Christmas tree ornament or a fairy mouse with a tutu and a wand!
An armature helps them stand alone. The legs and arms can have any position, so you can play with making them anything you want to. Clothing is easily made from felt.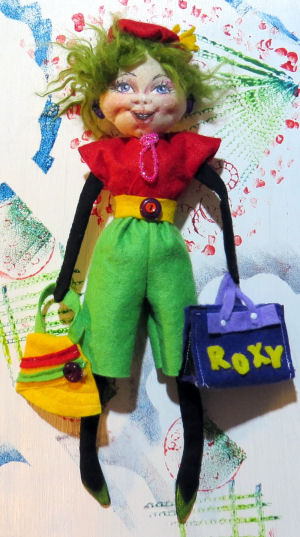 Foxy Roxy

12" Cloth Doll

by Sharon Mitchell
This versatile, 12 inch doll pattern can be anything - pixie/fairy - Christmas elf, child doll, any gender, pin doll, shelf doll, dress-up doll, fashion doll, travel doll or dressed for the races! Here she is a shop-a-holic, called Foxy Roxy!
Only the head and body are stuffed. Though no stuffing in the legs, they can be wired with chenille stems for posing if desired. Limbs can be lengthened and feet weighted for a leggy look! A stitch across the knee & elbow makes it more posable.
There are instructions for needle-sculpting the face, or it can just be painted.
Let your imagination flow with this one and enjoy making Foxy Roxy!
You'll get three different heads and body parts of these darling, expressive mice to mix and match to your heart's content. Between 6-8inches high, chubby, small and tall they can easily be made by Beginners to Advanced dollmakers.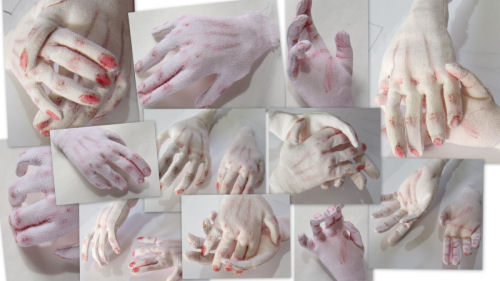 All About Hands Tutorial
By Sharon Mitchell


This is a 13 page tutorial for making cloth hands for a cloth figure. The tutorial features two hand designs for practicing, in two different sizes. It shows all the tools required to make them and explains the use of each one. Essential to the tutorial is how to turn the fingers, what can go wrong and how to make it right. Woven fabric was used in the making of this tutorial but the same techniques apply for knit fabrics as well. How to detail the hand and how to needle sculpt it, is also included. Hands can be just as important as the face when it comes to making a good doll.
You'll have a ball learning to make these amazing 19" Cone Dolls with a wonderful array of variations. Make them with arms attached to the cone, hanging loose or folded. Stitch a finger to the lip or face, for a comical look! Put on a hat or make them like a clown! Dress them up or down, fancy or plain these wonderful dolls will delight children and adults alike.
Inspired by a novelty ashtray made in Germany called Happy Feet, SHARON instantly saw how it would look as a baby, expressing its delight in its toes and its parents, as well as expressing parental pride! You'll find plenty of drawings and colored photos are in this 21 page pattern to show how to needlesculpt and paint these characters that fit in the palm of your hand.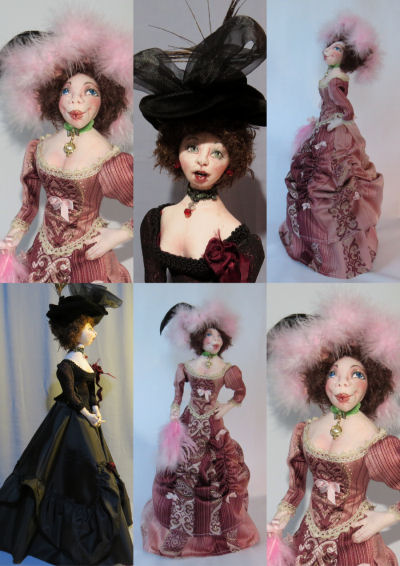 "Hello Dolly!"
Inspired by the musical of the same name!
"Hello Dolly!" – An 18" (46cm) functional Doorstop Doll of welcome, hospitality and positivity at the entrance of your home!

This brand new Intermediate pattern by designer Sharon Mitchell of NZ, is intended to be made from recycled materials, and is economical to make, a delight to embellish and includes pictorial instructions to make tiny bows.
The costume is easy to make, with clear construction notes and diagrams and best of all, this pattern has step by step photographs designed to make needle sculpting easy to follow.

Make one for your mother, a friend or yourself!
Oh my gosh, how much fun will it be to have this fabulous 18" pincushion doll keeping you company in your studio! Cleverly designed as an upper body attached to a covered bottle you are sure to have fun creating her! Instructions for some simple needle felting techniques are included.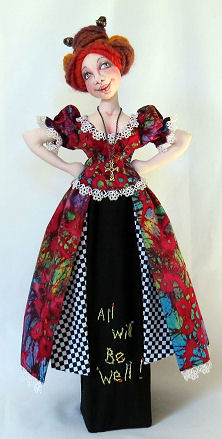 Santos Doll – "All will be well!"
The pattern for this lively 22" modern version of a "Santos Doll" will help you bring your facial expressions to a whole new level. You'll also find imaginative construction techniques for the body, hair styling and much more.
"Jeanne, the Innkeepers Wife" (below) finally has her mate! The pattern for this crusty 16" fellow, inspired by the character from "Les Miserables" features amazing facial expression and wonderful costuming details. The body could easily be made into a Santa or other male figure. As a BONUS a detailed 6-page tutorial for cobbling shoes is included.
Inspired by the character from Les Miserable, this phenomenal 16" doll has an armature and body stocking that is fully sculpted and an incredibly expressive face. You'll find full instructions for everything including the stool she is seated on and a last for making the boots.
What fun you'll have learning to create the expressive face of this jaunty 20" beauty that is biting her lip. Her wonderful outfit includes combination underwear, a hoop skirt and petticoats, gown, bolero hat and reticule! You'll find three different arm positions along with instructions for optional full body sculpting in this terrific pattern. Free directions for the dog, hat box and trunk can be found on the designer's blog.
This 11" foppish dandy is an embellishers dream in his fancy garb. The superbly written pattern includes instruction for making his weighted stand.
This 20" beauty has a fully sculpted face and body and can be dressed in any style. A wire armature holds the ankles firm for easy posing. A four piece body with nicely sculpted breasts gives her a lovely shape.
Made from velour or deersuede this 18" wall doll with an open mouth expresses pure joy!
These charming male and female children can be created from one 11" doll body made from either knit or woven fabric. Wired legs and removeable shoes help them stand alone.