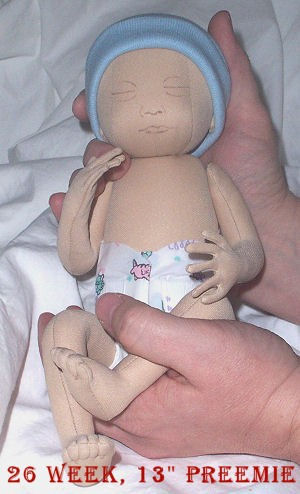 Preemie Cloth Doll Pattern
by Sandy Eding
(Based on Judi Ward's 0-3 Month Size "Newborn Alice" Pattern)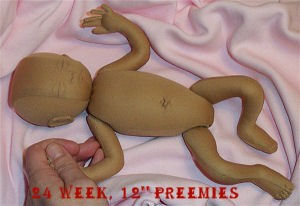 Preemie babies are very skinny, with out the fat cheeks, fat rolls, and wrinkles of full-terms. Most dolls and patterns advertised as "preemie" are actually just small full-terms which can be very inaccurate. The Preemie Doll Pattern have been developed to be realistic as possible and increase understanding of premature babies.
The Preemie Doll Pattern includes instructions for making 13 through 40 week gestation baby dolls. Instructions to resize pattern also include baby sizes from 4 inch to 20 inch baby and 1/2 lb to 7 lb baby.
*** Pattern Includes Color Photos on the Front and Back Covers! ***
Click HERE to View/Print Supply List!