Welcome...
Dollmaker's Journey was founded in 1999 by doll artists and designers Bonnie B. Lewis and Mary Ann Kaahanui. Their goal was to provide dollmaker's worldwide with cloth doll designs, dollmaking tools/supplies and a place to "dream, imagine, create and grow - thus the Dollmaker's Journey!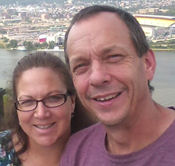 After 18 years, Mary Ann decided it was time for a new direction and turned the journey over to long time webmaster and also cloth doll community supporter Paul Phalen and his wife Laurieann.
Paul has been an integral part of the online doll world for over 20 years. He started by hosting many well known doll designer's sites and founded the Doll Net. He has also sponsored many different online communities and happenings such as the Friends of Cloth Doll online club and the annual World Cloth Baby Doll Challenge (2017 will be it's 8th year.) Paul and the Doll Net were featured in "The Cloth Doll" magazine (Winter 97/98) article, "Paul Phalen: Bring Together A Wide World of Dollmaking."
Laurieann, having been a teacher, and a scientist for many years makes a great partner by bringing organizational skills, product research, and editing skills to the business.
Paul and Laurieann are both committed to carrying on the original Dollmaker's Journey's dream and are committed to putting the Dollmaking Community first.
And, last but not least Dollmaker's Journey would not be what it is today without all the fabulous designers. They continue to amaze all our us with their creativity and their willingness to share!

So in the tradition of of Dollmaker's Journey... dream – imagine – create – grow– believe and see the magic!
Laurieann and Paul
info@dollmakersjourney.com