ANNIE LA BOUCHE CHALLENGE
---
Page 2
There are 3 Pages of Pictures. Make sure you view them all!
Click on pictures for larger view. Click on your back button to return to this page.

"Annie La Pied"


by Jeanne White




La Pied means the foot. I would say feet, but I don't know much about French
and have no idea what the plural of pied is.


"Pineapply"


by Dolly Francis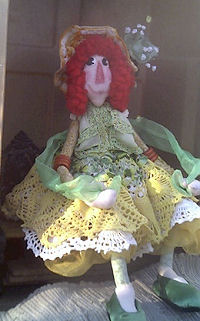 Her body and arms are a golden tone on tone print. The stockings are green tone on tone. I call her Pineapply. She chose the green and yellow vintage doily and then decided she needed a pineapple crocheted petticoat. She was plundering through the vintage stash and came across a pale green hankie with crocheted edge that made a great bodice for the skirt. Then she found this potholder and a green silk flower. She fashioned it into a floppy hat. While I was sewing the hat she wandered into the silk organza stash and decided she needed a shawl from the green filmy stuff. Pineapply said the petticoat was scratchy so she found some yellow filmy bouffant silk organza to form another underskirt. She also decided patent leather slippers were too ordinary so she had the shoemaker do some Kelly green satin slippers. Her unmentionables remain just that.

"Ms. Kitty La Chatte Extraordinaire"


by Suzanne Holloway




This is the lady for all cats. She will do anything to get a cats attention. Her dress is covered in cats. Her fluffy little cat helps attract other cats. She is always up for some furry fun. One day she will probably be one of those old ladies with 100 cats in the house.

"Annie the Hippy Chic"


by Carol Rier




My daughter helped with the planning, the apron is made from a collection of vintage lace pieces and one of my grandmother's hankies. The jewelry was designed from an old set of earrings that I had in the 70's.


"Susie Cutie"


by Jackie Westfall




This doll was a lot of fun to make. She has eyelet pantaloons and a pink silky slip under her jumper.

"Kaylee"


by Jane Carr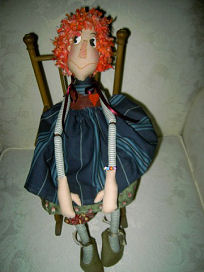 "Rosalie Redshoes"


by Romona King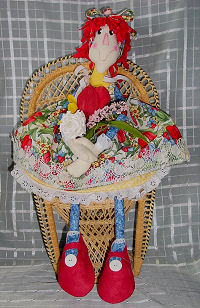 "Raggedy"


by ?




I made this doll for my friend who loves Raggedys.


"MaryLu Rennalls"


by Gail S. Wilson




"Ivory and Ebony"


by Muriel Argus



Entry #23
"MAIDEN U'ESSAY (pronounced Made in USA !) "
by Andrea Luliak

Popular - 1st Place


I used red star fabric for her arms and blue star fabric for her legs. Her pantaloons are made of white fabric with light blue stars in the background. Her pinafore is blue fabric with shiny Mylar stars, and I sewed ribbon with stars and stripes on the bottom, also using that ribbon for her pinafore ties at her shoulders. She has star buttons as well at the top of her pinafore. Her apron is made with red shiny star fabric and the white pantaloon fabric, with blue jewelled stars sewed on the white stripes. Her hair is flag fabric that has been ragged. As you can see, I also made her a Raggedy Andy doll to take to the rally as well as a red, white and blue miniature quilt to sit on, or use in her lap. Her shoes, which were fun to make, are made of tan ultra-suede, with "flag" button attachments on the front. This is the fourth doll I have attempted, and she was really fun.

"Red Hat Annie"


by Laura Lunsford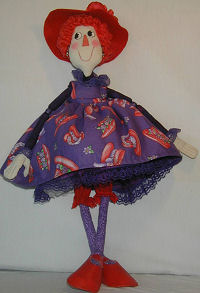 Go to... Page 3
There are 3 Pages of Pictures. Make sure you view them all!