<- What's New! ->

---
October 2015 Sale
20% Off
Doll Hair Products!
---
New Patterns by
Maureen Mills
and
Ginny Lettorale
---
Come Join The Fun On Our Facebook Page!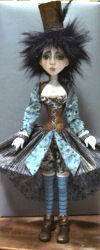 Our next WORK ALONG EVENT kicks off July 1st, 2015
This event features SHERRY GOSHON'S imaginative "Jeannie B" that can be purchased printed on paper or in PDF format that will be emailed to you.
See Pattern HERE!
Those who wish to join this completely online event making "Jeannie B" together can share their progress, photos, comments, what tools/fabrics/embellishments they are using, videos, and ask questions.
Pick up your pattern today then click HERE and start having fun!
---
ANNOUNCING!
DOLLMAKERS JOURNEY
DOLL-ARS!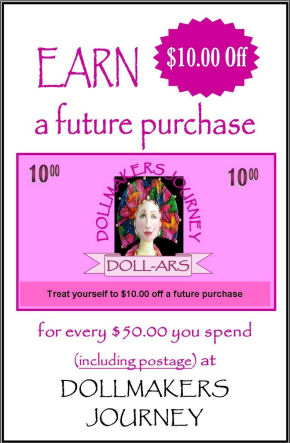 You will receive $10 worth of Dollmakers Journey DOLL-ARS For every $50 spent on an order (including the postage fees) to use on a future purchase .
That's just like getting a FREE pattern or having your POSTAGE PAID on your next order!
---
Now On Facebook!



Special Coupon for FANS!
"Like" us on Facebook!
---
FREE
Tips and Techniques
Videos!
---